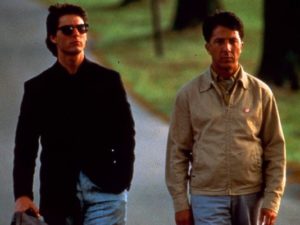 Much value is placed on being part of a victim class today. A whole political party has banked its future on creating a hierarchy of social status based on separating people into groups and judging them on their misfortunes relative to each other, and superficial characteristics are emphasized and manipulated to entice people to use them as a crutch preventing upward societal mobility. Conversely, it is traditionally a conservative notion that people be measured by their individual ability, merit, character, and ethic — both work and moral. That is why we should be celebrating and encouraging the movement to liberate autistic and mentally affected people from a negative stigma and open the doors of opportunity and independence of which they rightly want access.
Although we don't fully understand the causes of Autism or other cognitive disabilities (tip: it's not vaccines) we do know that diagnosis has risen in recent years from an expansion of the medical definition of Autism and now it's time to look ahead to how we as a society value people most often seen for their disability than for their unique abilities.
In a leap of awareness in which many people associated autism or neurodiverse people (such as those with Asperger's Syndrome) with Dustin Hoffman's character in the film "Rain Man" or the famed professor and autism advocate Temple Grandin, to likely having first-hand interaction with someone on the Autism spectrum, the employment rate for these same individuals has not kept pace. With an estimated employment rate of 37 percent according to the Disability Statistics Compendium released by the Institute on Disability at the University of New Hampshire, there is a large pool of hidden talent ready and willing to unleash their potential — they are just waiting for an opportunity.
One unintended consequence of the burgeoning economy is that companies are creating opportunities: they are widening employee searches and accepting of less traditional job applicants, (which for the purpose of this commentary are neurotypical) and are taking job seekers on the autism spectrum. Major companies are recruiting, hiring, and supporting them. Microsoft, Deloitte, Dell, JPMorgan Chase, and EY are working with non-profit organizations to help identify needs within their companies and pairing them with skill sets of Autistic individuals who are then hired and become invaluable assets. In turn, the newly hired employees gain confidence, an opportunity to thrive and create, and most importantly a life of independence previously closed to them. Some companies have gone further, developing internal neurodiversity programs. In a May 7 Yahoo Finance article, an EY program director described a recent hire: "The young man had been living at home, supported by his parents. When his father passed away recently, he was able to buy his own home and move his mother in with him to take care of her."
This is the exact definition of valuing every life based on his inherent worth as a person. We should continue to champion an environment of opportunity and unlimited potential. When we meet someone on the autism spectrum are we merely seeing the superficial characteristics – maybe the different speech patterns, the aloofness and averting gaze – or are we assessing them based on skill, merit, or work ethic?
We are near a precipice in our culture where we must decide what value we place on life. Do we nurture and cherish it as a gift? Is a disability, however defined, a curse or death-sentence or part of a life worthy of every ounce of love and opportunity as any other person? Or do we look at those who are perceived as a burden as just that: an obstacle to be worked around, to shutter away and place in the "dependent" bin and treated as a piece of broken furniture that has outlived its usefulness? A November 27, 2018, New York Post article reported doctors in Belgium under investigation for the 2010 death of Tine Nys, a 38-year-old woman diagnosed with Asperger's syndrome, who was "improperly euthanized" according to the criminal complaint filed by her family. According to the article: "[In Belgium] It is legal for doctors to euthanize patients who have psychiatric problems that cause 'unbearable and untreatable' suffering. Among Belgians put to death for mental health reasons, the most common conditions are depression, personality disorder and Asperger's."
Contrast that culture of death to how Israel embraced neurodiversity: The Israel Defense Force has a "Visual Intelligence Unit" known as Unit 9900 consisting of an inspiring and highly intelligent group of soldiers diagnosed on the autism spectrum. Unit 9900 is dedicated to geography, mapping, interpreting aerial and satellite photographs, and space research. The soldiers in this group are lauded for their ability to successfully detect small details that go undetectable to most people because they have high visual and analytic capabilities. Further, they are now included in a sort of rite of passage for Israelis from which they previously were excluded: service to country and protection of homeland, and they are doing a spectacular job.
As we look at the current debate on when life begins, I hope we keep in mind that it isn't just about babies or court decisions, but families and adults and the chance to break free from a world of isolation and forgotten dependence. Everyone deserves the opportunity to pursue happiness and live a life of liberty. By chance, I happened on a television show on A&E titled "The Employables." It's a miniseries in which each episode follows two neurodiverse people on a journey to employment. At the end of one episode, after hearing his adult autistic son received a job offer at a computer software company, his mother said with tears in her eyes, "For the first time, I am not afraid. I think he'll be okay." We should never be afraid of embracing life and giving every opportunity for it to thrive.
Published in General