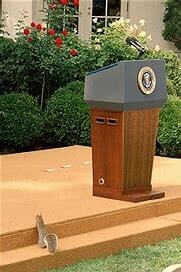 Earlier today, President Trump commented about a planned infrastructure meeting that he just left with Speaker Pelosi and Senator Schumer. This was followed by Pelosi and Schumer describing how the President left the meeting without the discussion on infrastructure even taking place. They were ready to present a 35-page plan and said the President just shut it down. They went on to describe how he "ran away" from the meeting.
Apparently, the President asked them to stop the constant harassment and re-investigation (of the Mueller Report) and threats of impeachment (of which there is no basis) so they can sit down and work together amicably. Is this unreasonable? Is it not insane to constantly backstab, threaten, and investigate, then expect to come into a meeting all smiles and get anything done? Would the meeting on infrastructure have gone well, had the Democrats accepted the two years of investigation that cost us, the American taxpayers, $35 to 40 million (and I think we're still counting) several weeks ago when it was released?
I am beyond frustrated as a taxpayer and a US citizen. What if it were me, my administration, and my family who was interrogated for over two years, with investigation concluding no collusion or obstruction? Yet, they still chose not to accept the report, continued to ask for further investigations, and I was expected to enter a meeting all smiles ready to go? I would define that as insanity.
I also question why infrastructure investment was not a part of Obama's plans. Why are our roads, bridges, grid, airports, etc., still needing a costly overhaul? The example of the failed high-speed rail debacle in California explains a few things, filed under the heading "Mismanagement." Both Pelosi and Schumer said they "were ready, as part of their infrastructure plan, to create jobs." Trump has and is already creating jobs. We have the best economy and lowest poverty rate in decades. The picture they are attempting to paint is that the President is unwilling to work with them, is unhinged, and they will innocently tiptoe back to their offices with their 35-page infrastructure plan and pray. Really?
There is more here than meets the eye. Are they nervous about what is and will continue to be revealed about what really happened to lead to this investigation? Is this their nuclear option – pressure from behind the scenes, maybe from the past administration or even Clinton herself, to do something to shut down the revealing information about what really happened or distract from it? In their follow-up speeches, they touted Roosevelt's plan, talked about Thomas Jefferson, and their great infrastructure plans! What? Were their elections sabotaged, and eventually their presidency, as we are witnessing today? How can they even compare it?
In spite of all the pressure on this President, he and his administration are still moving forward with getting our country back to prosperity, security, and strength for all. People like Sanders and other Democrats are still hollering about racism. Have not all minorities been lifted and supported, women, families, strengthened by this President's policies? What racism are they talking about specifically?
In my state of Florida, the Democrats have been the ones holding up the funds for rebuilding after the enormous destruction of Hurricane Michael. Our state representatives have hit brick walls and we are just now seeing a green light for funding. The Democrats porked it up with all kinds of other things, not wanting to release critical infrastructure funding, while a very important Air Force Base, Tyndall, waits for money. People are still living in tents and trailers in the Panhandle, while infrastructure is still being assessed, repaired and cleanup continues.
What do you see unfolding here?