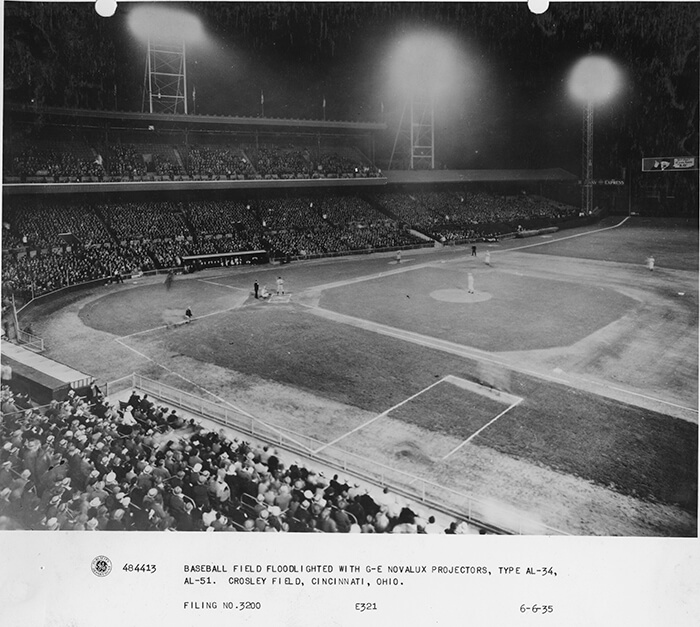 On May 24, 1935, almost 84 years ago, the first major league baseball game was played at night under the lights at Crosley Field in Cincinnati, Ohio. It was a big enough deal that President Roosevelt got involved in the event pressing a gold telegraph key in the White House which switched on a signal lamp 500 miles away at Crosley Field thus notifying Reds general manager Larry MacPhail to flip a switch to illuminate the playing field with 632 recently installed floodlights. The first night game was on.
A recent book, Let There Be Light A History of Night Baseball 1880-2008 by Robert Payne discusses the history of night baseball. The May 24, 1935 game was not the first baseball game to played under artificial light. It wasn't even the first professional baseball night game.
The first night baseball game took place in Hull, Massachusetts, a small hamlet of 383 souls, in 1880. The playing field was "illuminated" by three towers, 100 foot in height, containing twelve lamps totaling 30,000 candlepower. The lamps were arc lights, the first type of electrical light. The game was played by amateurs (members of two Boston department stores – Jordan Marsh and R H White) which ended in a 16-16 tie. The players in the that night game considered the light provided by those arc lamps was inadequate and compared its' intensity to that of reflected moonlight. Another amateur ball game played under lights occurred in Fort Wayne, Indiana in 1883. Again, the lighting was by arc lamps and the purpose was publicity for lamp supplier, Jenney Electric Company who was trying to sell an exterior lighting system.
Jumping ahead a bit to the mid-1920's, we come to probably the most important event in the history of night baseball. By this time, the filament or incandescent lamp had improved dramatically in every measure – light quantity & quality, efficiency & longevity – from its' humble 1879 origins enough that it should be able provide economical lighting for outdoor athletic activities such as baseball. A General Electric engineer, Robert J Swackhamer, whose job it was to provide lighting systems for railroad marshalling yards and similar industrial applications, was well aware of this. With this in mind, he set about designing and installing a lighting system at an athletic field in Lynn, Massachusetts owned by General Electric and then promoting an exhibition game to be played under those lights by two minor league teams, Lynn and Salem, of the Class B New England League. The game, which was played in May 1927, was well publicized and was played before a crowd estimated at 5,000 including many players and coaches of the American League Boston Red Sox and Washington Senators. The managers of both the Red Sox and the Senators were impressed with the lighting system and star Washington outfielder Goose Goslin expressed his desire to play baseball under the lights.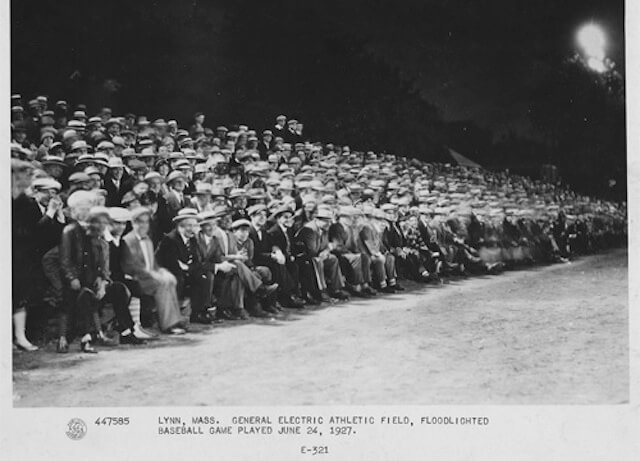 Shortly thereafter, organized baseball in the form of the minor leagues began to play night baseball. In 1929, E. Lee Keyser president of the Des Moines team in the Class A Western League, announced at the annual National Association meeting, that he planned to play the 1930 season home opener at night. And, the Des Moines Demons did play their 1930 home opener under their newly installed light system involving 144 – 1500-watt GE floodlights on four towers (also designed by GE engineer Robert J Swackhamer) on May 2, 1930 before a crowd of 8,000 including one very special spectator, the commissioner of baseball, Kenesaw Mountain Landis, who was there to see how well the players performed under the lights. However, the honor of the first minor league night game falls to the Independence Producers of the Class C Western Association who hosted the Muskogee Chiefs before 1,000 fans on April 28, 1930. Minor league owners saw the financial advantages of night baseball (much larger attendance) and by 1934, fifteen of the then nineteen minor leagues had one or more parks equipped with lights.
Before moving on to the major leagues, I should at least mention one other pioneer of night baseball – the Negro Leagues, specifically, the Kansas City Monarchs. The Monarchs, under the ownership of J. L. Wilkinson, made their money by barnstorming playing games against any and all comers anywhere. Wilkinson purchased a portable lighting system in order to be able to play even more games.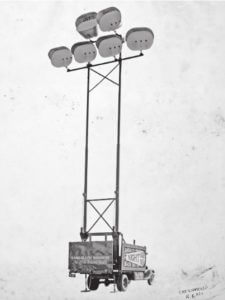 By 1933, the Cincinnati Reds were a failing franchise both financially and on the field. The team was in the process of finishing last in the National League for the third year in a row and club owner Sidney Weil was wiped out by the Great Depression. The Reds went into receivership in 1933 with control of the team transferred to the Central Trust Bank which hired former St. Louis Cardinals employee and the minor league Columbus Redbirds owner Larry MacPhail to run the team. MacPhail was one of the most innovative baseball executives of all time. He played important roles in the following innovations: night baseball, regular radio broadcasts of games, season tickets, televised games, old-timers games, air travel and batting helmets. He was also one of the most self-destructive characters in the game's history. As Dodgers General Manager, his relationship with manager Leo Durocher, was no less dysfunctional than that which later took place between George Steinbrenner and Billy Martin. Later, as part-owner and president of the New York Yankees from 1945-47, he brought chaos to that organization culminating in bizarre behavior on his part in the immediate aftermath of the Yankees 1947 World Series victory over the Dodgers effectively ending his career as a baseball executive.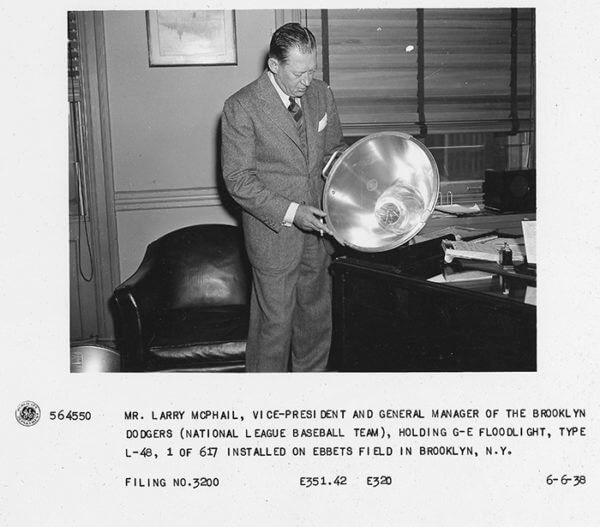 MacPhail's first order of business was to find a new owner for the Reds and he was able to convince his first choice, local businessman Powell Crosley Jr., to purchase the team. Crosley would own the team until his death in March, 1961 (a season in which the Reds would win the NL pennant for the first time since 1940). Crosley was a prolific and very successful entrepreneur. He was an idea man and promoter constantly coming up with new ideas and products, while his brother Lewis, concentrated on running the day-to-day operations of their many endeavors which included radios, appliances such as refrigerators, a legendary radio station (WLW) and automobiles (although most of his cars look like mutant toys to me).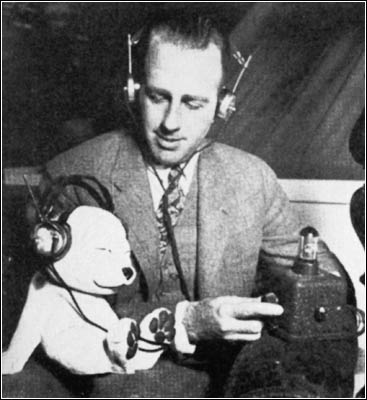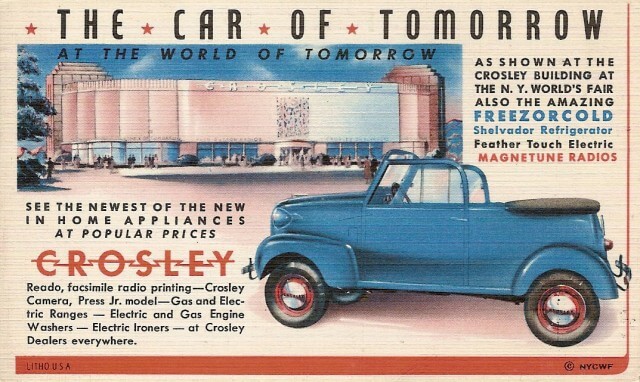 In the 1934 season, the Reds finished in last place again and drew only a hair more than 200,000 fans in the process (only 2,651 per game). In the winter meetings after the season, Crosley and MacPhail requested and received permission from commissioner Landis to install a permanent lighting system at Crosley Field. They were limited to only seven home games a year – one against each of the other seven teams in the league. However, the New York Giants would refuse to play night games and so in 1935, the Reds would play two night games against St. Louis. 
With approval in place, there would be less than five months for the permanent lighting system to be planned, designed and installed. With the teams' still precarious financial situation a budget of $50,000 was set for a lighting system that needed to twice as bright as that of the top minor league park (45 foot-candles). The installed lighting system met the requirements of an overall field lighting of 75 foot-candles both in the infield and the outfield. The Reds entered into a contract with General Electric as the overall project manager for the permanent lighting system. GE (Mr. Swackhamer again) determined the lighting requirements, provided the lamps and hired the construction contractor, while most of the lighting design was performed by the Cincinnati Gas and Electric Company (CG&E) engineering staff. The final lighting system consisted of 632 1500-watt floodlights on eight towers 115 feet in height and was in place for the first night game.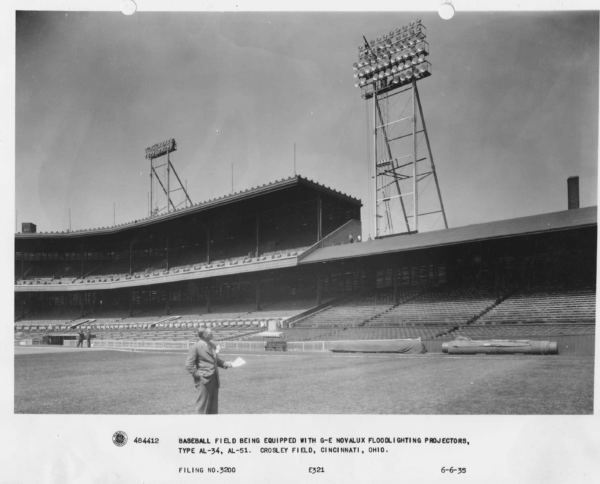 On May 22, two nights before the first night game the Reds ballclub practiced under the lights for the first time in front of 2,000 fans. On May 24, 20,422 spectators witnessed the first night game in major league history. In a crisply played game (one hour and 35 minutes with no errors), the Reds beat the Phillies 2-1 (boxscore) as Paul Derringer pitched a six-hit complete game. The game was also broadcast on WLW Crosley Radio with play-by-play man Red Barber. Thus, the first night game was in the books. On the season, the Reds would win four of the seven night games and more importantly they averaged 18,620 fans in these seven games versus an average attendance of 4,607 for the other day games. The increase in attendance meant that the Reds had more than paid for the new $50,000 lighting system with those seven night games. After the first game, probably the most noteworthy event of those first night games occurred during the July 31 Reds-Cards game when a local nightclub singer, Kitty Burke, took over the game for a minute taking the bat out of the hands of Reds right fielder Babe Herman in the on deck circle and striding to the plate for an (unofficial) at bat.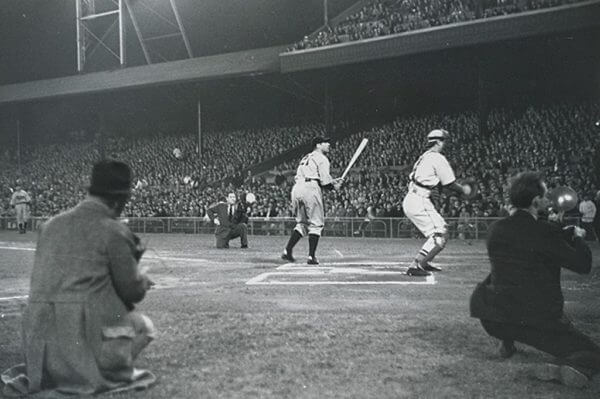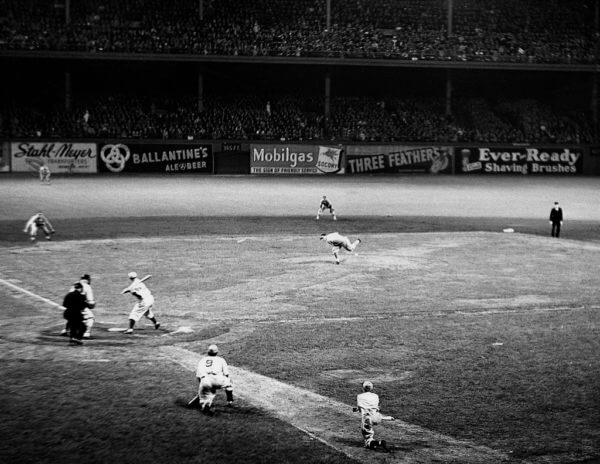 The next team to get lights was the Brooklyn Dodgers under the aegis of Mr. MacPhail who had become the Dodgers GM. The Dodgers first home night game was against the Reds and just might be the most famous night game in baseball history as it was the game in which the Reds Johnny Vander Meer pitched his second consecutive no-hitter, a feat which remains unmatched (boxscore). The Dodgers had the same experience as the Reds with attendance more than tripling during night games (26,069 for the average night game vs 7,102 for the average day game). After the Dodgers, the installation of lights grew rapidly – eleven teams had lights by the time Pearl Harbor would stall further stadium lighting until after the war. The table below provides information regarding the first night game for each of the original 16 franchises.
Stadium …….Team ……Date ……Opponent Result Attendance
Crosley Field Cin Reds 5/24/35. Phil Phillies W 2-1 20,422
Ebbets Field Bro Dodgers 6/15/38 Cin Reds L 0-6 32,574
Shibe Park Phi A's 5/16/39 Cle Indians L 8-3 15,109
Shibe Park Phi Phillies 6/8/39 Cin Reds L 2-3 16,123
Municipal Sta Cle Indians 6/27/39 Det Tigers W 5-0 55,305
Comisky Park Chi White Sox 8/14/39 StL Browns W 5-2 30,000
Polo Grounds NY Giants 5/24/40 Bos Bees W 8-1 22,260
Sportsmans Park StL Browns 5/24/40 Cle Indians L 2-3 24,827
Forbes Field Pit Pirates 6/4/40 Bos Bees W 14-2 20,310
Sportsman Park StL Cardinals 6/4/40 Bro Dodgers L 1-10 23,500
Griffith Stadium Was Senators 5/28/41 NY Yankees L 5-6 25,000
Braves Field Bos Braves 5/11/46 NY Giants L 1-5 35,945
Yankee Stadium NY Yankees 5/28/46 Was Senators L 1-2 49,917
Fenway Park Bos Red Sox 5/13/47 Chi White Sox W 5-3 34,510
Briggs Field Det Tigers 5/15/48 Chi White Sox W 4-1 54,840
Wrigley Field Chi Cubs 9/9/88 NY Mets W 6-4 36,399
Man, that table is pathetic! Oh well… Let me try another table. This one is a brief list of a few major league night game firsts.
First Batter – – Lou Chiozza Phi Phils May 24, 1935
First Strikeout – Paul Derringer Cin Reds May 24, 1935 (Johnny Moore Phi was the first strikeout victim)
First Hit —— Billy Myers Cin Reds May 24, 1935
First Run Scored – Billy Myers Cin Reds May 24, 1935
First Double – Billy Myers Cin Reds May 24, 1935
First Triple — Pep Young Pit Pirates May 31, 1935
First Home Run – Babe Herman Cin Reds July 10, 1935
First RBI —- Ival Goodman Cin Reds May 24, 1935
First Walk Received – Billy Myers Cin Reds May 24, 1935 (Joe Bowman Phi walked him)
First Putout — Billy Sullivan Cin Reds May 24, 1935
First Assist — Billy Myers Cin Reds May 24, 1935
First Error — Gus Suhr Pit Pirates May 31, 1935
First Stolen Base — Johnny Vergaz PHi Phillies May 24, 1935
First Complete Game – Paul Derringer Cin Reds May 24, 1935
First No-Hitter — Johnny Vander Meer Cin Reds June 15, 1938
OK, that list is a little better than the first one.
Here's an interesting question. How has playing at night affected the game over time? Does the night game give an advantage to the offense or the defense? Several years ago, a fellow named Shane Tourtellotte explored this subject at The Hardball Times. Let me provide a few graphs from that study below.
This first graph is a way to look at whether the offense or defense has the advantage at night. The statistic OPS (which is the addition of on-base percentage and slugging percentage) is one way to assess offense – the higher the OPS, the more offense. In the graph below league OPS in day games is compared to league OPS in night games. A ratio greater than one indicates that offense is better in day games, while a ratio less than one indicates that offense is better in night games.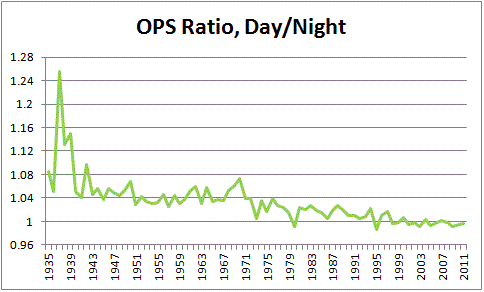 The graph indicates that in the early years of night baseball, the pitchers had the advantage and that this advantage decreased over time to the point that since the early 1990's there is no perceptible advantage to be had. One caution on these graphs, in the early years there were so few night games in relation to day games that the spikes may just be noise.
In the early years of night ball there were only a handful of night games each year. Over time that has gradually increased to the point where today close to 70% of all major league games are played at night. In fact, the number of night games has not changed much since the 1970's.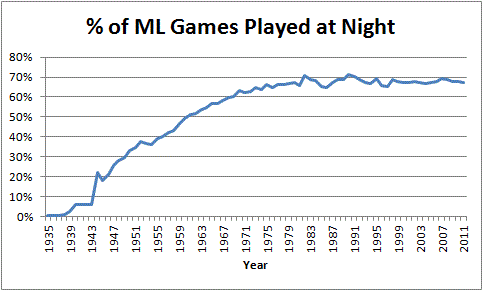 I think I'll only show one more graph from the article – that being a comparison of day and night error rates. For those interested in this subject there is more information at the link provided above.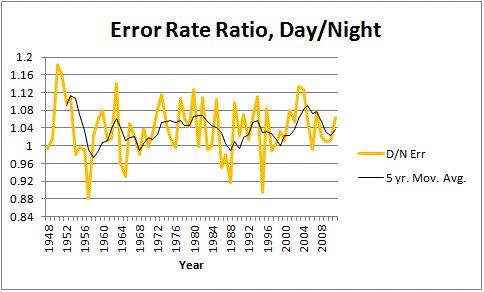 According to the graph there have generally been more errors during day games than during night games, which seems a little counter-intuitive.
One last thing I want to briefly discuss is the improvement in stadium lighting over time. This has been a continuous process since the 1927 GE lighted field in Lynn, Massachusetts. That lighting system provided 14 foot-candles on the infield surface and 10 foot-candles on the outfield surface. As mentioned earlier the minor league lighting systems that were installed circa 1930 provided 45 foot-candles, while the lights for Crosley Field provided 75 foot-candles for both the infield and outfield surfaces via 632 1500-watt floodlights. The Yankee Stadium lighting system of 1946 used 1245 1500-watt floodlights, twice as many as at Crosley. Of course, Yankee Stadium was bigger than Crosley Field, but not that much bigger. The improvement of stadium lighting systems continues apace to this day. A significant reason for the improved lighting was not related to the needs of the game, but rather to the televising of the game in color which began sometime in the mid-1960's. Lamps have changed from incandescent to Metal Halide and are currently changing to LED. Current parks, such as PNC Park, home of the Pittsburgh Pirates, have lighting systems that provide 300 foot-candles of light on the infield and 200 foot-candles on the outfield surface.
As I was writing this post, I got to thinking that perhaps major league baseball waited so long to start night baseball because they were afraid something like this would happen.
Finally, if you're a baseball fan, you might want to join The National Pastime, a Ricochet group that was recently started.
Reference:
Let There Be Light by Robert Payne 2010
Published in General