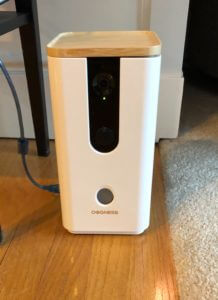 There may be a lesson in human behavior from the addiction of Bob the dog to a device called Dogness. Or maybe not. Actually, I'm not sure I'll find a moral before I end this post. Wish me luck.
Marie and I will be taking a cruise around the Mediterranean in a couple of months, and I wanted to give Bob some comfort while we're gone. He's a terribly needy dog with a severe case of separation anxiety. The lady across the street is going to come to the house twice a day to look to Bob while we're gone, but I know Bob will still miss us. To ease his distress, then, I bought Dogness, the treat-dispensing device you see to your right.
Even aboard our ship sailing on the Mediterranean, I can talk to Bob through a speaker on the device ("Hi Bob! Good dog"), dispense a treat or two, and take a photo or video.
Unfortunately, Bob is now in thrall to Dogness, as you can see by the submissive look on his face in the photo below. When our robot masters take over, it looks like our pets will easily fall into line like the rest of us. It won't be so bad. In fact, I've heard, but can't confirm, that the robots are at this moment building Dogness-like devices for humanity that will spit out little cupcakes, kale, vitamins, and Hershey kisses — a perfectly balanced diet that will keep our skin clear, our will compliant, and heal our broken hearts. It's going to be nice.
There may be other lessons that flow from Bob's behavior, but I can't think of any more. Besides, the robot stuff was just a lame excuse to post some pics of Bob the dog. You know me. I can't be trusted.
Here's Bob waiting for Dogness to dispense his next treat.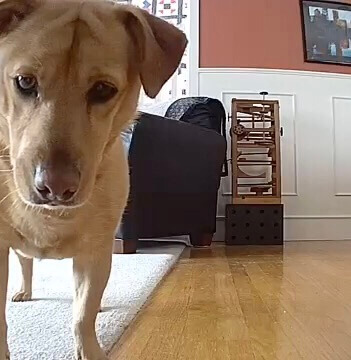 Published in General