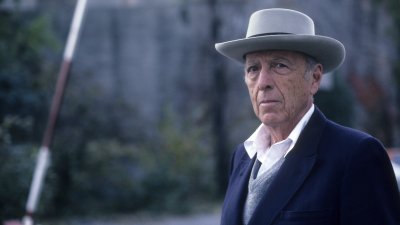 He was many things. A gag writer, a sailor at war, a novelist, the grandson of a rabbi. But above everything else, he was a storyteller. Herman Wouk has died at age 103.
He is best remembered for his breakthrough novel, The Caine Mutiny, and an epic pair of television mini-series The Winds of War and War and Remembrance. Caine won the 1951 Pulitzer and was made into a classic film starring Humphrey Bogart as the mentally unstable Captain Queeg.
His parents were Russian Jewish immigrants who settled in New York. When his maternal grandfather joined them he took over the boy's education in the Talmud. Although he resented it at the time his faith would become an integral part of his writing. In an age when it was fashionable for writers to look skeptically at religion or dismiss it entirely, Wouk embraced it. He would later call his grandfather and the United States Navy the two most important influences in his life.
It's almost amazing to think that he began his career as a radio gag man. For five years he toiled for satirist Fred Allen, although writing for Allen was not exactly a comedy writer's dream job. Anyone who wrote for him had to understand that you would be the most re-written writer in the medium as Allen would produce the final draft of every script that hit air.
He joined the Navy after Pearl Harbor and served on two different minesweepers in the South Pacific, eventually serving as the XO of the USS Southard. Here, he said he learned about three things: Machinery, how men behaved under pressure and Americans. All of that came together in his novels and the television adaptation of his tale of the Henry and Jastrow families, led by Navy Captain Victor "Pug" Henry. (Played to perfection by Robert Mitchum.) The two miniseries commanded almost 42 hours of screen time and were major hits for ABC in the 1980s. It remains the second-most most watched series event behind the original adaptation of Alex Haley's Roots.
After dedicating the better part of two decades to telling that tale, he turned to writing about his other loves, his faith and Israel in The Hope (1993) and The Glory (1994), two historical novels about the Jewish state's first 33 years of existence. He also wrote two non-fiction books on Jewry, This is My God (1959) and The Will to Live On: This is Our Heritage (2000). Reportedly, he was still working on a new novel at the time of his death.
Not bad for a radio gag man.