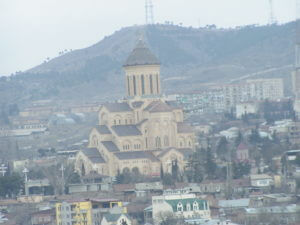 I am a Baptist and a missionary that was on the field for 14 years and I worked primarily in Georgia but other Orthodox countries as well. My experience with culturally Orthodox and faithful Orthodox believers are from these countries in descending order of interaction, Georgia, Russia, Romania, Ukraine, and America. I was inspired by this post from @heavywater on the conversion of the Bible Answers man to Orthodoxy. What I wanted to do here is to lay out the practical differences I found between not just the teaching of Orthodoxy and Evangelicals generally but how the teaching is put to work in the real world. I am a Baptist and I would be a Reformed Baptist, on the question of salvation, to lay down a theological marker.
I am not trying to win or even make an argument here, I am not interested in this post who better reflects the teaching in the Bible or the wishes of Christ, instead I want to lay out how the differences in the teachings of the two churches play out in the lives of people practicing the two faiths. I want to illuminate what motivates the conversions that move people from Orthodoxy to Evangelicalism and what often motivates the reverse. I intend to take a more bottom-up look at what happens here so instead of starting with theology and then working down to the people I am going to start with the people and work my way up to some insights on the theology.
Let's get started with part of a testimony of a girl that went from Orthodoxy to Evangelicalism.
"My first doubt about my faith is when we went to sacrifice a chicken to the Lord at the local Orthodox church. We had sinned and the Priest said we needed to sacrifice a chicken to Lord to atone for it. So my parents brought the chicken and while we prayed the Priest slaughtered the chicken and threw half in a basket before the altar and then took the other half for himself. Before I could control myself, I said aloud, "That is for God, why are you taking it?" My parents were mortified but the Priest just smiled at me and said, "Christ also takes care of his Priests."
Now any, even nominally educated, Orthodox believer will quickly tell you the above story is a mess. Orthodox theology does not need chickens, no one atones for sin with the blood of animals. Some even question whether the above incident could have even happened. No one in Georgia would bat an eye at it however, they all know it happens. I am here to tell you though that Orthodox theology does not allow the Priest to act the way he did and it is true even if the people believed the chicken was sacrificed for their sins it was only because they were taught incorrect Orthodox theology.
Even Priests in Georgia, educated ones used to foreigners, will tell you what we see here is simple folk practice. Country priests have to find various ways to supplement their income to survive and people build up stories about once simple rituals to give them greater importance and so we get bad theology. But they are also quick to assure you that it is alright and the people's faith in the Church is justified and their salvation is secure. Why is that? Well, one more story.
My sister in law, Nino, is out on a camping trip with her girlfriend and some male cousins and friends. They are feasting on fish the boys have caught in the stream and the next day they are going to a church up in the hill country called Tetri Giorgi (White/Silver George) the church is ancient and very holy. It is said the earth all around the church is black from the tens of thousands of cattle sacrificed there over the centuries. One of the boys noticed a gold chain around her neck and said, "You better hide that or even bury it out here." Shocked Nino responded, "No, way. Why would I do such a thing?"
The boys explained that Saint George and other Saints located at the church are very hungry for sacrifice and if they "see" the gold they will demand it from her and if she does not give it they may even curse her causing her death. Nino, then explained that the church they are going to is simply a piece of cultural heritage to her and there are no saints who do anything like they say, and that her faith is in Jesus Christ regardless and Jesus doesn't really need nor wants her necklace.
The boys then launched into long stories about how magical the church was, how the Saints can mess with the Earth's magnetic field and essentially tell horrifying ghosts stories with gruesome ends for those that tried to defy the Saints of the church of Tetri Giorgi. When Nino and her friend still weren't moved and tried to explain that even according to normal Orthodox teaching what they were saying about the church was wrong. The boys were so angry the girls were frightened and asked to go home and one the cousins drove them away from the camping trip.
What to make of these two stories, stories used often when explaining to others why the people that experienced them became Baptist instead of Orthodox? Well, normally the conversation derails on high theological grounds and defenses based on the fact that the bad actors in this story were not acting as true Orthodox and who seem ignorant of basic Orthodox teaching.
I think this misses the point. The Orthodox are basically unchallenged in Georgia. They have government backing and have been free of Communist oppression for more than a generation. If the Orthodox Church in Georgia wanted to stop these practices, they certainly could. A priest or monk coming out of the church of the Tetri Giorgi and telling everyone with a cow in tow that there was no reason to kill the cow and that it would bring them no advantage would swiftly put an end to the practice. They chose not to end it. Why?
Church Authority in Salvation
The reason these practices horrify Baptists and usually get rueful shrugs from Orthodox Priests is their different views of the role of the Church in salvation. For the Orthodox, the membership in the right church brings a person to salvation. The hard work of the priest and the church hierarchy is to bring their flock into salvation the flock does not have to do much more than belong and stay members in good standing with the church to make it into heaven.
Imagine for a moment that you are a priest and strongly believe that people need salvation and that salvation is on offer in the Orthodox Church. You head out to a village or small town and start caring for the flock. As you teach standard Orthodox theology you find that many people are surprised by what you are teaching and they start questioning many of their folk's beliefs. As you try and reassure them that their folk beliefs are wrong they begin to worry about their dead grandparents and other relatives and get upset. The flock is troubled and there is dissension in the flock with many accusing you the Priest of teaching bad or "new doctrine". You have a big mess on your hands, you are barely paid anything, you depend on donations from the flock who are upset and angry, other Priests around rebuke you for rocking the boat, and in general your life becomes very unpleasant. What would you do?
Well, I think we can forgive a Priest for asking, "Do the people really need to know any of these things?" They are in the right church, it is your job to secure their salvation by blessing a few folk practices you make a lot of people happy and you will give them correct sacraments and really isn't that the most important thing?
People yearn for the supernatural and the unexplained, they desire meaning in their lives and folk practices, superstitions, legends, and Saints give them something to get them through hard days and for the Priests there really is no harm done since the people are in the right church. They obey their "Fathers" and they get the correct and very powerful sacraments and that is simply enough for salvation. I should say here too that the Priests I knew of or knew personally did not, for the most part, hide their deeper theological truths from their people but they took a very God-focused approach to sharing theology. If God moved someone to really ask questions and wanted to read books the Priest would help them do those things and teach them, because they figured they really wanted to know. They were always careful to leave some wiggle room for the customs and practices of the local people however, no matter how weird. As long as the practice did not detract from the authority of the Priest or the church he served.
There is a movie that gets at this as well. It is called Leviathan. A 2014 film from Russia. In the movie a man is losing his lands to a corrupt official but the innocent man knows a lawyer so he fights back to keep his land. This land stealing has been normal for a while in the region and the corrupt official Vadim is giving some of the land to the Church and using some of his wealth to build up the church in the area. There is Bishop in the movie and he is pretty good. I could not find the scene I wanted on YouTube but when Vadim thinks he is about to be undone by his victim's lawyer he goes to the Bishop for advice. The scene starts at the 1:11-minute mark in the movie and Vadim confesses he is feeling uneasy about his criminal behavior, he is not sure if he will succeed. The Bishop carefully keeps himself from hearing any details of crimes and instead checks in on the man's faith. He asks if he is going to the mass and talking with his confessor and then spiritualizes the conflict for him. The Bishop says that the realms of the two men are different, Vadim is in the secular realm and must use his strength to solve his conflicts. Vadim is doing God's work, yes? Then act like a man and don't let the Enemy win over him. The Bishop rebukes him for being a child and having doubts and then blesses him and sends Vadim off. Sure enough, the lecture works and Vadim solves all his problems with some carefully applied violence and fear and soon all his enemies have fled, committed suicide or are in jail.
Again this is not what the great moral theology of the Orthodox theology would teach. What is shows how easy the Orthodox fall into the trap separating what happens inside and outside the church. In the Secular world, you do what you must to accomplish your goals and the "greater good" when you are in the world of the church you obey the church authority and trust in them for your salvation.
Again the point here is to not show how the Orthodox Church "really" works I am discussing flaws in the system thate convince people to leave the Church for another denomination or faith.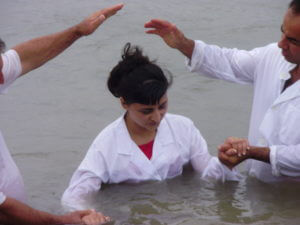 So what about the Baptists?
While I have been discussing cracks in the Orthodox practice, it has to be said that the system overall is quite popular. Things like this don't last if they are not popular and do not appeal to a side of our human nature. Since this post is about conversion, I thought I would line up how Baptist practice, and Protestant more generally, match up against these fault lines.
The first is the practice that matters here is the emphasis on Bible reading. It is often alleged that the Orthodox don't read the Bible because they are not allowed too. That was not what I experienced working and living with Orthodox for 14 years. There is rarely, if ever, any command not to read the Bible by any Orthodox authority. Instead nearly all Orthodox believe, especially those in Orthodox countries where I have direct experience, the Bible is challenging and confusing. Reading the Bible directly is a holy exercise that requires regular access to a Priest and a lot of time. It is troublesome to read the Bible so it is better to read the readily available and curated books that Priest have put together where you read Bible verses and/or chapters with explanation in one book. Passages that are too troublesome are just left out.
This usually meant that the normal Orthodox member you ran into wasn't just ignorant of the Bible, most people everywhere are Protestant, Catholic, Orthodox or other notwithstanding, they were shocked to learn what was in the Bible. In other words, Orthodox were often truly ignorant of the Bible but confident they were not. Reading the Bible, especially passages they didn't know existed, would shock many Orthodox and undermine their trust in the church. I would say that of all the Georgians and others who sat down and read the Bible with me over the course time 80% of them became Baptist. Now, getting them to read the Bible with you for a period of time was very difficult but if they did they were very likely to convert.
This was not because the Bible "disproves" Orthodoxy; it was because they had been told for their whole lives that the Bible was confusing and that the Church would take care of the salvation. Reading the Bible, they did not find it very confusing and the Bible was pretty clear about having faith, yourself, in Christ to be saved. The church hierarchy didn't seem to factor into this according to the Bible.
The second aspect of the Baptist practice that attracted people away from the Orthodox Church was fusing their normal secular lives with their faith. As a missionary, the hardest lift for me in teaching and preaching was not convincing people that Jesus loved them and they needed a personal faith Christ but that faith in Christ meant their "public" life was to match up with the "church" life. When people realized that Christ could affect their whole life, through a relationship with Him, the rituals of the Orthodox Church would feel empty or even pointless. Doing rituals to get rid of sin as you went pales in comparison to Jesus Christ who forgives all sin, once and for all so that we can love Him and love others more freely. This strikes many Orthodox as a life of greater integrity and fulfillment than one of ritual obedience to the Church. Once you believe that you are in a relationship with Christ and his Holy Spirit dwells within you the idea that Saints of any kind or Holy Water, Blessed Crosses, Holy Candles or any other aid or intercessor is necessary loses their appeal. Instead, converts felt these things distracted from Christ instead of drawing Christ closer to them. If Christ loved them instead of being angry with them, why do you need someone that Christ "really" loved, like a Saint, intercede for you?
This post is more than long enough. I will write a part II that will be up early next week where I will write an "Ode to Orthodoxy" about how the practical aspects of Baptist practice will lead people to the beauty and ancient wonder and wisdom of the Orthodox Church.
Published in Religion & Philosophy