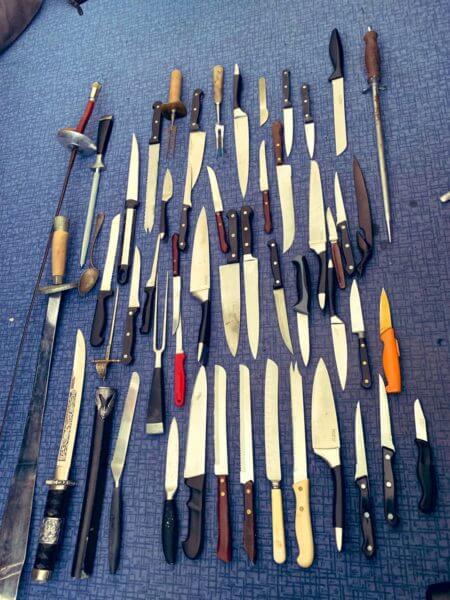 Recently, a British police force tweeted out a picture of a set of knives given to them for safe disposal. The astute among you have no doubt already noticed the spoon in that picture. 'Safely disposing of' kitchen knives is stupid, the fencing foil is just sad, but the spoon? Thank heavens we have these dangerous instruments off the streets! Okay, maybe this is a charity (from a casual internet glance they're St. Vincent's but woke) is just trying to get rid of things which might be illegal and some joker dumped extra bits into the pile. Then a couple of days later the same police outfit (and I caution you that this is, in fact, a police force and not actually a Twitter parody account) tweets out this.
Yeah. You just raided someone's toolbox. No mistaking here; that Phillips screwdriver is a threat to life and limb! I can imagine why you'd want to ban knives to prevent knife crime, but why would you ban bastard files? Tired of the cheap jokes? At this point I can see three possibilities:
It is in fact a parody and I missed on my BS detector. But nothing false has ever been posted to the internet before, so why worry?
The cops are overzealous and foolish enough to post evidence of same to Twitter; a sober platform where mistakes are never roundly castigated.
or most likely, the law was written foolishly such that somehow snub-nosed pliers count as a knife. Cop's just doin' his job, and perhaps publicly pointing out the foolishness of this law as a means of provoking change.
A quick search and I turn up this gov.uk page explaining the law. It's in human-readable words, which means whatever it says doesn't actually count. The only thing that counts in court is lawyer-ese words; relying on anything else is walking on thin ice. The site helpfully fails to quote the actual act being referenced, or offer any evidence for its statements other than the appeal to authority of having a gov.uk address.
Adding 'for barristers' to my query didn't help much, but it did give me one slightly more serious response, which included a section of the law. Searching for that section specifically, and bingo! We've got the sort of language typically associated with summoning Nyarlathotep. In the secret tongue of lawyers, this is what actually gets banned:
this section applies to any article which has a blade or is sharply pointed except a folding pocketknife.
There are exceptions to that; you're allowed to be a chef who takes his knife home with him after work, or a Sikh. If your folding knife is longer than three inches, if it locks into place or it's spring-activated in any way you're out of luck. The law does offer you the defense of having a good reason. That's a terribly subjective term. Given the tweeted tools, wanting to do some repairs around the house doesn't qualify.
What does 'has a blade or is sharply pointed' mean? I'm not seeing either on that hand file. Are snub-nosed pliers sufficiently pointy to qualify as 'sharply pointed'? The law as written clearly applies to scissors. Going by the intent of the law, I guess I could kill someone with any one of those articles if I were sufficiently motivated, so I can see why the bobby would grab 'em.
Were I the homeowner whose tool belt was being pilfered I'd take a dim view of such logic. It's not just the hassle of trying to get your needle-nosed pliers back from the authorities. After your attempt inevitably fails you're going to have to get a new pair of pliers off the black market. Selling knives is criminalized.
And that's where the logic takes you; a national game of Knifey-Spoony where the authorities refuse to distinguish the two. If you zealously ban anything pointy that could be used as a murder weapon you ban every tool which can be used for any useful purpose. You'll bring Britain back to the stone age, and then confiscate some poor sod's fist axe because his hittin' rock has been illegally sharpened. Maybe you don't ban people back to the literal stone age (although I can't see any other logical stopping point, now that they've determined snub-nosed pliers are a deadly weapon). Maybe you successfully clean all the knives off the streets; you've only got tools in the hands of licensed contractors.
At that point you don't have a society anymore; you have a sheepfold. An armed populace (even one armed with something as harmless as hand files) is an essential check on their government. Without some possibility of extracting a blood price from their leaders, the only protection the people have against their leaders turning tyrannical is the goodwill of the public servant. In a civilized country that might even last for a while, but I wouldn't guarantee it.
Thank God we fought a revolution to not have to deal with this sort of nonsense. You can have my slot screwdriver when you pry it from my cold dead hands! Just don't pry it out using your own screwdriver; prying is pretty bad for 'em.
Published in Law