It is running season, and though I don't run, my wife does. So, for the month of April and part of May, I got to drive across Indiana, Illinois, Wisconsin, Minnesota, and Iowa, as well as the very eastern edge of South Dakota and Nebraska. It's Thing a Day; so a few reflections on 28 hours in a car.
1.) I come from Kentucky, where we have small, but reasonably sized, cities every dozen miles or so. A thousand people here, a thousand people there. Five thousand, eight thousand. Sure, we have the larger cities of 20,000 residents, and the three major cities of Lexington, Cincinnati, and Louisville -but we are spread pretty evenly throughout the state. So it was interesting to see the upper Midwest and its great plains of nothing, punctuated by quite large cities. Sioux Falls is 176,000 people. Rochester, MN is 115,000. Cedar Rapids is a quarter million. These cities just spring up, like a copse of trees, on the prairie. I have no deep or interesting point -it was just different from the experience I'm used to. Even in Missouri -along I-70, there are cities at fairly regular intervals, but not that far north -there's not much of anything until there is a major city.
2.) The feel of each of the cities is different, too. I thought I knew what an agricultural hub felt like -after all, Kentucky is an agricultural state. Then I saw Peoria and Cedar Rapids. The cities broadcast their agricultural production. As you drive through them and see the mills, you know you are in a place that processes corn. Sioux Falls, on the other hand, is a banking city -and in many ways feels a lot like Lexington, KY. But where Lexington has the antebellum and post-war architecture combined into a modern city with a past -Sioux Falls still feels a lot like a prairie city of 30,000 that just happens to have a lot of banks. Indianapolis -860,000, feels like a discount New York. The various architectural styles never actually gelling into anything in particular. And Madison felt like a giant suburb.
3.) The US is enormous. I already knew this, but driving across the country makes it obvious. You watch the climate and the geography change as you go. Mountains to hills to plains. Forests to prairie. You drive for hours and you still haven't left Iowa. Hours, and still in Minnesota. And every place is different. The feel of the cities, but also the pace of life. Sioux Falls still has the slow pace of a suburb or small town. Rochester had a faster, more urban pace. Sioux Falls had a lot of young people -many in ROTC uniforms. Rochester felt more urban-professional. These are, of course, impressions. But the cities aren't that far apart, and yet they felt very different.
And Iowa and Peoria are different still.
There are also similarities. I snapped a picture of the below Rotary monument -a snapshot of Americana common to all the cities we passed through -if not in exactly the same way.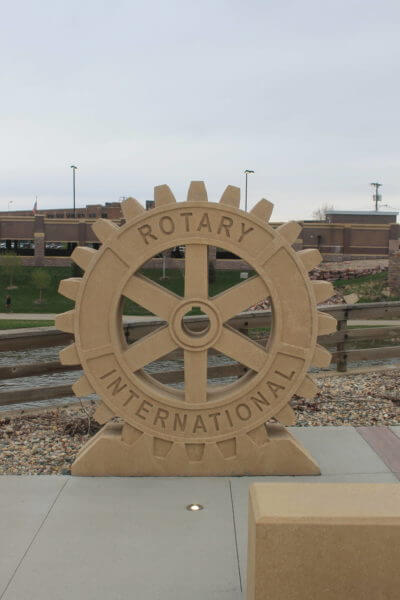 4.) Finally -it's a small thing -but Sioux Falls has a waterfall. I feel like that should have been more obvious to me. They've got a park around it, with monuments. Once upon a time, it was an active rock quarry of Sioux Quartz, and the falls -which drop about a hundred feet over a quarter mile -were used to power grain mills. It's beautiful and worth checking out if you have the opportunity.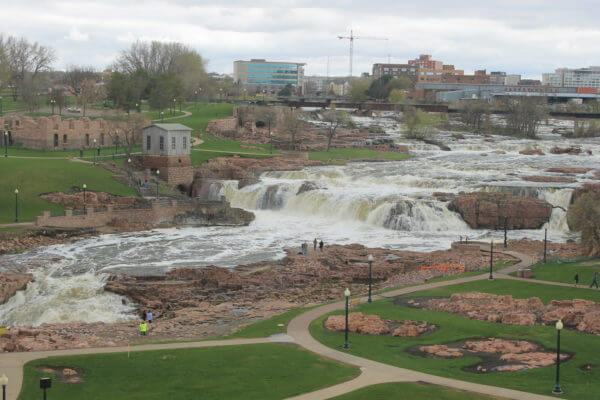 Published in General