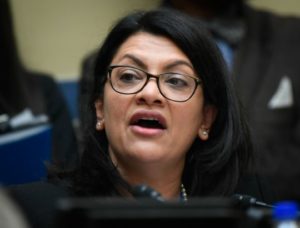 It seems that few people are willing to recognize and say these words about Rashida Tlaib: she is dangerous. So I will. I don't say these words lightly, because they are as destructive as the words that Tlaib utters. The difference is: they're true.
Missing from the heated discussion about Rep. Tlaib is the larger picture. The media, Left and Right, have either been focusing on whether or not she is anti-Semitic, whether she is only anti-Zionist, whether her comments are "inartful" (as I heard one commentator say, or overhyped, as another writer said. I want to establish the case that Rep. is anti-Semitic, intentional, and strategic in her remarks, and why it matters. And that as long as we get tangled in the details, we won't see her true aims. First, I will explain that although she was born in Detroit (not in the Middle East), she is very adept in pressing the case for the Palestinians, her parents' country of origin. In true Palestinian extremist fashion, she is also crafty at demonizing Jews and Israelis through insinuation and lies. Second, I will show why her behavior is not only dangerous to Congress, but to the principles of this country.
Let's begin with her take on the history of the Middle East. Like many Palestinians, she has a distorted view of the ancient presence of Jews in the region. Recently she made the following remark regarding the Jews who went to Israel after the Holocaust:
. . . in a discussion about why she opposes a two-state solution, she was trying to credit Palestinians for providing Jews a 'safe haven,' and saying she's proud of that—not just proud, but that it gives her a 'calming feeling,' because at least her Palestinian ancestors tried to help.
This comment is not only historically untrue but her reference to a "calming feeling" is bizarre and untenable. I can't imagine that a person, who believes the Palestinians were, and still are, so terribly abused by the Israelis, would feel compassion toward the Jews. I think if she believes that the Palestinians provided a safe haven for Jews, she would think they made a foolish decision at that time since Arabs have historically demonized Jews. Let's not forget that the Arab states were going to wipe out the Jews after Israel was declared a state in 1948. I'm pretty sure that Tlaib knows that fact. John King of CNN made the following statement:
 [Tlaib] ignored the fact that Palestinian leaders at the time allied themselves with Hitler and that total war is how the Arab world reacted to the declaration of Israeli independence,' King said Monday. 'She can't rewrite that history and you can't project revisionist history,' he added before introducing his guest, Aaron David Miller, a former adviser to six secretaries of state, who castigated Tlaib for enflaming divisions by resorting to ahistorical Holocaust references.

'They were considering extermination of the entire Jewish community there as well,' Miller said of Palestinian leaders who believed German forces might arrive in the region after defeating allied forces in North Africa. 'So this was ill-timed, ill-advised, and I think it clearly is simply going to antagonize and polarize the already polarized debate in Washington.'
Indeed.
I think Tlaib knows exactly what she is saying, whether she says it poorly or not. Her comments probably are poorly worded because she's making a half-hearted effort to have them pass the scrutiny of Congress.
But instead, she is getting mixed reviews, and is trying to defend herself, saying her comments were misinterpreted:
It allows her, no less than Democratic leaders, to deflect criticism by claiming her words are being taken 'out of context' while couching her views on the Israeli-Palestinian conflict in an incoherent historical commentary.
But the proper context for these remarks is only too obvious, and it leads to the equally obvious conclusion that Tlaib's views on Israel more or less align with those of Hamas and Hezbollah, groups that also oppose a two-state solution.
It's also worth pointing out that she is a regular speaker for the Council for American-Islamic Relations (CAIR) which was formed by the Muslim Brotherhood. Sen. Ted Cruz has been calling for the Muslim Brotherhood in the US to be designated a terrorist group, but so far has been unsuccessful, even though the Brotherhood calls for a "grand jihad" and the destruction of Western Civilization in its mission statement.
These facts bring me to the reasons the Democrats are not criticizing her. First, they don't want to be seen as Islamaphobic, since the Republicans have been branded as such for criticizing Tlaib. Second, she is a woman, which makes her off-limits to judge. Third, the Democrats don't want to offend their Muslim constituents. And finally, and perhaps most distressing, we may be witnessing a renewal of hatred of the Jews by the Left.
Some Democrats realize what is happening:
This week, prominent Democrats announced a new group called Democratic Majority for Israel, led by the pollster Mark Mellman: 'Most Democrats are strongly pro-Israel, and we want to keep it that way. There are a few discordant voices, but we want to make sure that what's a very small problem doesn't metastasize into a bigger problem.'
Let's hope he's not too late.
Finally, I believe that Rashid Tlaib must be called out every time she makes anti-Semitic comments. That's the job of Republicans:
Rep. Liz Cheney (Wyo.), the third-ranking House Republican, doubled down after Hoyer called for an apology.

'I am deeply sorry for our nation that the House Democratic leadership continues to enable the anti-Semitism in their ranks,' Cheney tweeted in response to Hoyer.

House Majority Whip Steve Scalise (R-La.) also characterized Tlaib's remarks as anti-Semitic, saying in a statement that 'there is no justification for the twisted and disgusting comments made by Rashida Tlaib just days after the annual Day of Holocaust Remembrance. More than six million Jews were murdered during the Holocaust; there is nothing 'calming' about that fact.'
President Trump has also been highly critical of her.
The dangers of not condemning Tlaib should not be ignored. Some of our most precious freedoms are at risk: freedom of religion and freedom of speech. Verbal attacks on Jews have been known to escalate; we only need to look at the recent synagogue attacks. Tlaib's comments must be allowed, but not pass without judgment. The fact is, Tlaib can embrace her Muslim heritage and she can speak out whenever she wishes. But the people who abhor her words and deeds can also protect the Jews in this country and all over the world by speaking out. Tlaib can label the people who condemn her all she wants:
Tlaib accused Republicans of engaging in Islamophobia to stoke misconceptions about what she actually said about Israel and the Holocaust.
 'It's more than just silencing a member of Congress. They are using my faith & ethnic background to promote their hate agenda that leads to more violence. The GOP has no policy agenda, and continues to enable a lawless President who doesn't care about protecting our democracy,' Tlaib tweeted.
Get used to it, Rep. Tlaib.
Published in Politics