Could you be persuaded to kill an innocent person? I think so.
The fact is, history is crowded with people much like you who have tortured, maimed, and murdered others. I'm not talking about psychopaths like John Wayne Gacy or Ted Bundy. Neither am I talking about the soldier who kills an armed enemy in state-sanctioned warfare. No, I'm talking about your ordinary plebes, proles, burghers, and Joe Blows like you who kill innocent common folk.
In July of 1941 in the small village of Jedwabne, about forty ethnic Poles, almost all Catholic, murdered the male Jews of the village and stacked their bodies inside a barn. Then they forced the Jewish women and children into the barn and set it on fire. They murdered over 340 that day.
These killers who herded the Jews into the barn were, by all accounts, your run-of-the-mill villagers, the neighbors of the Jews themselves.
Let's say you, right down to the DNA that causes your eyelid to twitch when you're nervous, had been born into that village. As a young lad, your buddies used to laugh when you called the kid down the street a "Jewboy." And you listened with fascination as your history teacher lectured on his favorite topic, the nefarious plot revealed by the Protocols of Zion.
Right now, of course, you're living in the catbird seat and life is easy and non-threatening, so it's hard to project yourself back to that era. But it's also hard to escape the conclusion that you are merely an unrealized murderer, and had you lived under the same circumstances as the Poles, you would have been an actual murderer, happy to be among the torch-wielding mob who set fire to the barn.
In fact, history is replete with terrible slaughters done by common men like you (and me, I suppose). I'm not going to tax your patience with multiple examples from pre-modern eras, but let me give you just one. The Vikings of the ninth-century were marauders who traveled up and down the coasts of England and Europe, attacking villages for the loot. If the villagers resisted, the Vikings would kill everyone who stood in their way. If the women resisted, they were killed too — or taken, with their children, as slaves.
According to the clergyman/scholar, Alcuin, when the Vikings looted the monastery on the island of Lindisfarne, the Vikings slaughtered the monks at the altar and then trampled their bodies "like dung in the street."
Unless these Vikings were aliens, they shared humanity with you. So it's highly likely that if you had grown up in a Viking village, imbibing Viking traditions and ethos with your morning porridge, you would have behaved like the Vikings, killing monks, tradesmen, and yeomen without mercy.
Let's move to the modern era. In 1978, the messianic nutter, Jim Jones, persuaded 913 of his followers to commit murder and suicide. I think we can call the death of the 276 children murder.
"How could this have happened?" people still ask. (Only a few of Jones' devotees ran into the jungle rather than commit murder or suicide.) I can sense you shaking your head. "No, no, I wouldn't have killed my own child." That's only because it's hard to imagine the circumstances that led those mothers to kill their children. But it's highly likely that in similar circumstances, you would not have been immune to Jim Jones' appeal — and therefore you would have shared his malignant fantasies.
Pol Pot's Communist followers, farmers, yeomen, mechanics, and other salt of the earth types, killed their fellow men, a couple million of them, mostly Christians, Buddhist monks, professors, and assorted intellectuals. (Pol Pot died peacefully in his sleep in 1997, a more egregious example of cosmic injustice it's hard to imagine. Let's hope he's roasting in Hell.)
Has this post been a calumny of the human race? No, no. I'm not saying that we Homo sapiens are evil by nature. We're just infinitely malleable. We're saints and sinners, predators and prey, lawbreakers and lawmakers. What we depends not just on our individual character, but also on the circumstances of time and place. For every Vlad the Impaler, there is a St. Francis of Assisi.
Endnote: I've restricted this discussion largely to male killers. But then we men are almost always the killers, aren't we? How many women have gone to a workplace or a school and shot up the place? Two in the last thirty-seven years, according to Mother Jones. 
There's also a short list of female serial killers, a list that includes the infamous Aileen Wuornos, the prostitute who shot her truck-driving victims. (The few other female serial killers have almost all been nurses who poisoned their patients.)
Women just don't take to killing the way we men do. A beautiful woman may slay us with a glance, but she will only rarely garrote us as we lie abed.
You may need some relief after murder and mayhem, so I'm ending with a couple of photos of Bob the dog playing with the buds that he regularly meets on our morning walk. Bob takes no guff from these big dogs, including that Great Dane you see below. Marmaduke chases Bob; Bob chases right back.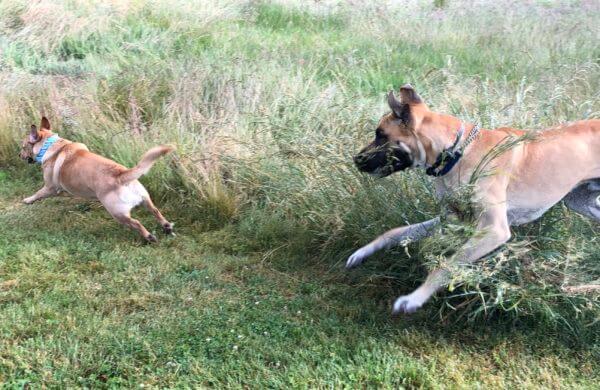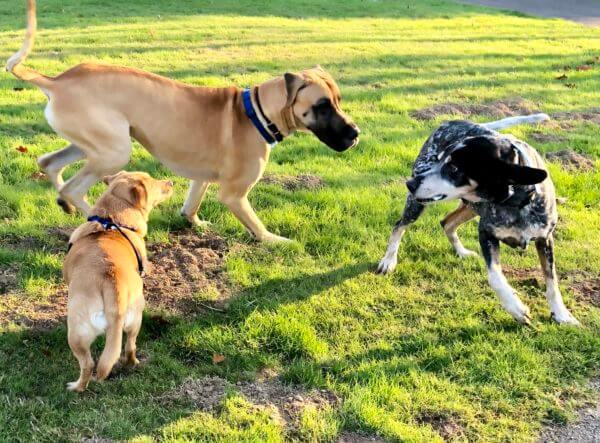 Published in General