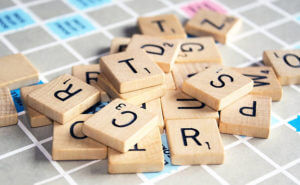 The headline on this recent article at Maclean's is "How Donald Trump Changed Scrabble." Click here, read or skim the brief article, and then come back.
Done? Now, let's talk. Spoilers below…
We play a lot of Scrabble in my family, so the headline got my attention. We know that President Trump is to blame for everything bad that happens, but how could he possibly damage the game of Scrabble? (Are players trying to use the word "Yuge"?) I had to find out.
Well, you could read the article to find out how President Trump has destroyed more norms, but if you did, you'd discover that President Trump is not mentioned anywhere in the entire article.
The article itself is a short and kind of pointless piece about people wanting to use pop-culture terms in Scrabble, eliciting a "so what?" response from me. But not only did the article fail to explain how Donald Trump "changed" Scrabble, the article doesn't mention Donald Trump anywhere. 
The press hates President Trump. But he sure makes for useful clickbait, doesn't he? As were all well aware by now, this is how Donald Trump got himself elected. He leveraged the media's hatred of him into free publicity. He's "President Clickbait."
---
(I realize by linking to the article above, I am guilty of giving Maclean's more clicks, which is just what they want. But for the sake of making an example of them, I'll do it!)
Published in Journalism