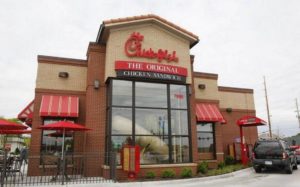 That would be chicken, yes? Finally, a couple of years ago, we got our first Chick-Fil-A here in the Pacific Northwest, and it has met all our expectations. Most stores are busy all day long, with lines at the drive-through and tables filled inside. The employees are as nice and courteous as can be, reflecting the values of the chain's owners. New stores generate lots of excitement and long lines as soon as they open. And the food is wonderful.
But a story I read today on Fox News indicates that they may be contemplating what I consider a very bad move. They are considering adding "fake chicken" to their menu. Why, pray tell, would a restaurant chain that makes the best chicken sandwiches around consider adding "vegan" options? What would a vegan want at a store that specializes in chicken?
Personally, I don't think the owners of Chick-Fil-A should potentially damage their brand by trying to appeal to people who don't want their product in the first place. Besides, what percentage of vegans are the worst kind of progressive, the ones who try to ban Chick-Fil-A from college campuses? And the ones who disparage the owners for their Christian beliefs? If I were the Cathy family, I would drop this bad idea. Am I totally wrong on this?
Published in Culture