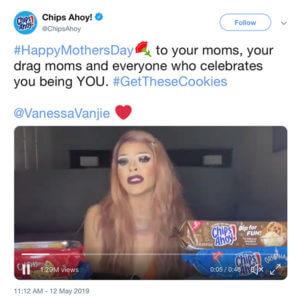 There are certain foods in America that conjure up thoughts of mom – apple pie (of course) and fresh-baked chocolate chip cookies. I'm sure we all have fond memories of our respective childhoods. Like on Mother's Day when our fathers used to put on one of mom's dresses and high heels and make-up and sally forth to the kitchen to cook up a batch of chocolate chip cookies. Ah, those were the days.
Thankfully, the good folks at Chips Ahoy! are here to remind us all of those cherished moments. This Mother's Day on Twitter, the marketing geniuses at Chips Ahoy! decided that a drag queen promoting their cookies was simply the most respectful way to celebrate mothers and women. Well, I say it's about time. For too long, Mother's Day has been set aside for only cis-gendered women when it's clear that men who long to be women or momentarily pretend they're women by dressing up affecting a flamboyant caricature of real women have been oppressively excluded.
Why the sudden marketing epiphany to celebrate the contributions to American life and culture that drag queens have made? Who cares. Let's just all be thankful that Chips Ahoy! has joined the ranks of other woke companies — like Starbucks, Target, Audi, and Gillette. But to be fair, I am curious whether the executives and marketing team at Chips Ahoy! are applying their marketing funds in an equable fashion for other woke causes, specifically:
Promoting transgender identities for children
Promoting a woman's right to choose
Promoting reparations for slavery
Combating systemic racism
Combating white privilege
Combating the patriarchy
Promoting gender neutral, multiple-stall bathrooms
Promoting undocumented immigration
Promoting the Green New Deal
Promoting much higher income tax rates for C-level executives
Advocating that certain harmful religious or political speech on college campuses should be limited
Promoting the efforts of Antifa
Promoting democratic socialism
Promoting the confiscation of firearms
I apologize if I've left out a few causes. I look forward to hearing from the marketing folks at Chips Ahoy! and hope that they can convince me of their complete wokeness, wokieness, wokityness…whatever — or if they feel that excluding these other most noble causes are somehow not worthy of their marketing dollars.
Published in General