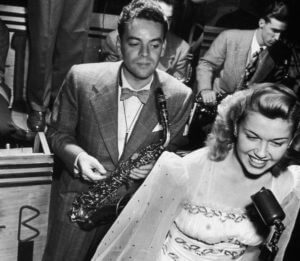 The most tempting cliche in noting the passing of a celebrity is that a death marks "an end of an era." Doris Day's era ended much sooner than she did, but she truly was the last of her kind. She was the last of the great "girl singers" of the Big Band Era, the last of the great musical stars of the Hollywood studio system and the last performer to have headlined a weekly half-hour network radio show.
Rechristened Doris Day because Doris von Kappelhoff was a mouthful and a bit of a stretch for a marquee, she began her career singing on WLW (The Nation's Station) in her hometown of Cincinnati, Ohio. At that time, WLW had a habit of taking local acts and turning them into national sensations. Besides Day, WLW launched the careers of Rosemary Clooney, Andy Williams, and the Mills Brothers. It was in Cincinnati that she hooked up with Les Brown and his Band of Renown. Their partnership resulted in her first number one hit, Sentimental Journey. 
Brown co-wrote the song in 1944 (with Ben Homer, lyrics by Bud Green) but was unable to record it due to the American Federation of Musicians strike against the record labels. By the time the strike ended America and her Allies were sensing the end of WWII. The lyrics of that song, of longing and reunion, was the perfect soundtrack for the return home of the millions of servicemen who had done their duty.
Many words will be written and read today recounting Day's career, her awful choice in men, her abilities as an actress, her love of animals and, unfortunately, the acid words of the late Oscar Levant. Remember her for that golden voice that pours from the past like honey, sweet, satisfying and something that never spoils.
For a sampling of Day's radio work, click here.