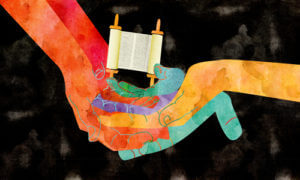 Abandon is a pretty strong word; I could have worded my title differently, but I believe that most of modern Jewry have, for all intents and purposes, left the fold. Only a small number of Jews are observant Jews, and I am not one of them. I decided to explore this question, and hopefully clarify for myself not just what it means to be a Jew, but what it means for me to be Jew. As you look at the lives of Jews whom you know, you might want to explore some of these issues with them. I am including some of my personal experiences as a Jew, and I will leave you to determine the legitimacy of my claims.
First, I was raised in a nearly secular family. We rarely if ever discussed G-d. I don't even know if my father believed in G-d. Although my mother occasionally mentioned G-d, her level of belief (if at all) was unclear. Both my parents were raised in broken homes, with some version of Judaism that might have included keeping kosher, but I honestly don't know if they observed any of the holidays. I know that my father read Hebrew, but I just now realize that I don't know if he was a bar mitzvah. And both my parents have died. When I asked my father why he grudgingly went to synagogue on the High Holidays, he said he didn't need to go there to experience G-d. Whether he experienced G-d elsewhere I'll never know.
But for some strange reason, my mother decided that she wanted us to have some kind of Jewish upbringing. So we went to Hebrew School three times a week after public school for a couple of years. My brother was a bar mitzvah, but when my parents asked if I was interested in being a bat mitzvah, I said no. Mainly, I didn't see a good reason to do it. Besides, my folks had limited funds and I didn't want them to have the expense.
Once I left home, my Jewish practice was mostly abandoned. I picked it up a bit when I was hired to teach an afternoon class at a local synagogue for kids around ten years old. The curriculum was up to me, and I don't remember much about what I taught. But the principal of the school liked me and kept me on for my senior year of college. For some reason, I still felt emotionally connected to Judaism but didn't practice anything. I was a Jew in name only; I wouldn't call myself a secular Jew since I'd always believed in G-d.
So how would I describe my faith through the early part of my adult life? Weak, indifferent, even haphazard. Many of you know that I practiced Buddhism for 20 years, married a gentile, and found my way back to Judaism. Not much of a Jew.
I think I'm typical of modern Jews in many ways. I held on to my Jewish identity (which Buddhism was indifferent to) and made some periodic efforts at observance: a Passover seder here, a Chanukah celebration there. I even went to Israel for a year and fell in love with her. But not enough to change my ways.
The way I'm quite different from today's Jews is my deep belief in G-d. I have also integrated some Jewish daily practices into my life, including a limited observance of the Sabbath; I study Torah with a study partner and have co-written a book on Judaism. And I was never attracted to Leftist ideology, which I think many Jews have used to replace their faith. They don't realize in accepting Leftism, they are betraying many of their Jewish values. More on that later.
So why are so many Jews indifferent to Judaism and have abandoned their faith? Here are some explanations:
Many Jews never found a way to connect to Judaism in a deeply spiritual way. Those raised in some Orthodox families felt beleaguered by the 613 mitzvot ordered by a G-d they couldn't relate to. Many were raised by parents who held disdain for Judaism, due to Marxist leanings or disillusionment with the Holocaust. Many were raised with no Jewish identification at all. Many gravitated to Buddhism, which provides community, and Zen, in particular, focuses on meditation and has no dogma. It was my meditation practice that ironically deepened my connection to G-d, but that isn't the experience of many other Jews. And Buddhism doesn't speak of G-d, so that fact freed them from having to deal with the "G-d question."
Many people became disillusioned with Judaism after the Holocaust, and they passed on that anger and disappointment. People felt that G-d had made a covenant with the Jews to protect us, and many people and their children felt they had been abandoned. For myself, I don't know the reasons that G-d didn't step in, but men were the ones who created the Holocaust, through their free will. Still, those who survived had serious questions:
Was God dead? Was He just indifferent–or worse, a sadist? If He could not be counted on to live up to His reputation for mercy and intervene, what good was He? And if He did not intervene, by what reasoning did He merit our allegiance?

Judaism teaches that maintaining Jewish continuity will bring blessings to one's descendants. But the descendants of identified Jews (anyone with one Jewish grandparent) were the ones who [cynics might argue] fell into Hitler's trap, the observant along with the secular, the pious along with the apikores (apostate). For those left to sort out the implications of the devastation, nothing could possibly justify what was seen as God's brutal and wholesale betrayal of the Jewish people.
Through the centuries, Jews were persecuted by the peoples with whom they lived. When Marxism offered an alternative utopian view in the 19th century, many Jews joined up. And especially when Marxism was lauded after World War II, the Jews were even more enamored. Many found their way to the Left as well, and for many years, much of Marxist belief is found in Leftist doctrine.
Many Jews who are on the Left must suffer cognitive dissonance. On the one hand, they hold on to their Jewish identification, and yet they want to be accepted as part of the Left and promote Leftists ideas. It will be interesting to see whether Jews begin to realize, like the German Jews, that they have never been fully accepted, demonstrated by the Left's acceptance of anti-Semitism.
Judaism in its Orthodox form is demanding. We live in a time when we want life to be carefree and convenient. Many aspects of Judaism require a Jew to make the faith central to life. Many everyday actions call for blessings and acknowledgment. It is easiest for some to simply discredit this ancient and rich faith because it is not easy to develop a coherent practice.
Jews feel little if any responsibility for perpetuating Judaism. At one time, it didn't occur to me that every Jew is called to help Judaism survive. So I married the man I fell in love with since he didn't mind my following whatever practices I wished; he even participated at times. We were even married by a Reform rabbi, who said he wouldn't marry us if my husband had a serious connection to another religion (which he did not). Nearly 45 years later, we are together, but Judaism struggles in our home.
There are many other reasons why Jews have abandoned Judaism, and many of them have abandoned it for the religion of the Left. But here's the truth:
You can't be a Jew and be on the political Left. Jews on the Left have betrayed Judaism in a number of ways. It calls on us to remember that each person is created in the image of G-d; it doesn't leave out Conservatives. It requires Jews not to destroy the reputation of others; presidents and attorney generals are not free game. If we look at the values that the Jews on the Left espouse but ignore, they would not be able to justify their actions and behaviors in many situations. I reject that a good Jew, defined most broadly, can legitimately follow Leftism.
It simply can't be done.