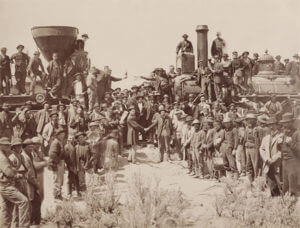 On 10 May 1869, 150 years ago yesterday, the newly reunited United States were tied together, from coast to coast with the first transcontinental railroad. Without any modern construction or surveying tools, the two teams, building towards each other from east and west, met in Promontory, Utah. The Union Pacific and Central Pacific Railroad presidents met and drove a ceremonial final spike. With this, transportation accelerated far beyond any prior technology.
The inherent efficiency of even wood or coal steam engines over animal and sail power meant those modes would change. Horse or oxen would now service hubs defined by rail stops. The stops, necessary to refueling with coal and water, became towns. The glorious era of clipper ships was cut short, the golden spike puncturing their whole business model as surely as the rocky coast of Cape Horn could hull them. @seawriter can tell that tale far better.
The original wire story from AP has been reprinted in honor of the 150th anniversary of linking the United States by rail.
Published in History