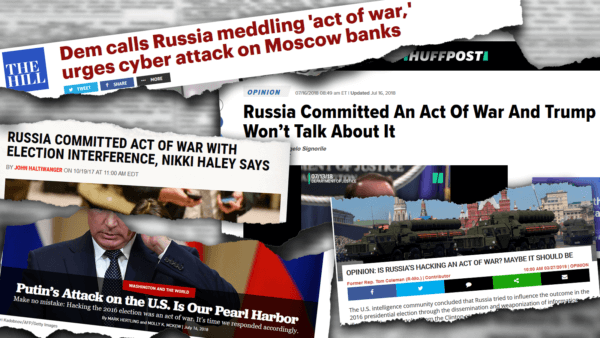 The words absolutely scream from the printed pages and the computer screens: An Act of War.
It has come from both Democrats and Republicans, including members of the current Administration. But it is especially popular with those that are consumed with hatred for Donald Trump as they wish to paint him as a traitor to his country and unwilling to confront the Russians over their activities during the 2016 Presidential election cycle.
If we had a serious media, they wouldn't be parroting these lines but questioning them. No one is asking even the most obvious ones: Do you really believe what you're saying or is it just convenient rhetoric for the moment? And if you do truly believe, how far are you willing to take it? Are those peddling this narrative willing to accept the reality that the saber-rattling may escalate to a point that one of these two nuclear powers may do something tragically stupid because they may feel that the publicity surrounding an event demands an extraordinary response?
On May 7, The New York Times ran an article about US Cyber Command, pulling its headline from a quote from its Commander, Maj. Gen. Charles L. Moore, "We recognize and understand the importance of being in constant contact with the enemy in this space, especially below the level of armed conflict, so we can defend ourselves and we can impose costs." What he did not define was the word "costs."
The most telling sentence in the entire article is this:
The operations in the midterm elections, officials said, showed that Cyber Command could defend against Moscow's interference campaign without jeopardizing the (National Security Agency's) access to Russian networks.
In other words, America's military is doing exactly what the Russians are doing, that is, constantly patrolling a potential enemy's computer infrastructure, looking for vulnerabilities and, more than likely, pilfering information where we can. And it's not just a case of both sides doing it. It's a case of all sides doing it. We have even seen the NSA's cybertools being reverse engineered and deployed against us by the Communist Chinese.
Which brings us to the brouhaha surrounding the Mueller Report. Even after the collusion narrative fell apart, many like to list off the indictments the Special Counsel obtained from the Grand Jury in the District as proof of Trump's malfeasance. Among those were 12 Russian military officers. Does anyone actually think this was done for anything other than a dog-and-pony show? Who among the President's opponents actually expect Vladimir Putin to extradite? And what are the odds that someone in the media will ask any of the Democrats now running to replace Trump as Commander-in-Chief, if the Russian government were to claim US military officers broke Russian law, would they be prepared to hand them over? I certainly won't hold my breath.
Nor do I expect them to ask Joe Biden exactly why the president that he served did not retaliate against these "acts of war." The Washington Post claimed that among the many proposals the Obama White House considered was completely shutting down Russia's computer networks, releasing damaging information the CIA claimed it had on Putin, or the ultimate idea thrown around — cratering the Russian economy. In the end, Obama did very little. He shut down a couple of Russian owned sites and expelled 35 "diplomats" from the Russian Embassy in DC, and only when he and Trump were in the transition phase.
One high-placed Obama official seemed willing to concede that this so-called "act of war" was not really an "act of war" and that they were unwilling to risk a potential escalation. "There have been folks out there who suggest somehow if we went out there and made big announcements and thumped our chests about a bunch of stuff, that somehow it would potentially spook the Russians," he said. "I think it doesn't read the thought process in Russia very well."
That high-placed official didn't get any higher. It was Obama himself.
The irony of all of this war talk is multifaceted. Biden was at the forefront of opposing Ronald Reagan's policies against the Soviet Union and Bernie Sanders was so in love with Lenin and the Soviet system he honeymooned there. Others attack Trump as a warmonger for pulling out of Obama's Iran deal all the while berating him for being "soft" on the Russians. Just a cursory search on Twitter shows the most active elements of the American left is buying this narrative hook, line and sinker. For them, Trump is in Putin's pocket until he proves otherwise.
Their "proof" may be a very dangerous place to be.