My maternal grandfather started his garden every year in the basement with grow lamps. When the Farmers Almanac said the time was right, the plants went into well-prepared soil. Weeds dared not grow there.
My mother inherited the green thumb. My father, who grew up in the country, before it was swallowed by suburbs, is not so much of a gardener but very handy with the tools needed to garden. So, between them, their home has always been alive with all manner of plants.
Every year there are catalog orders and visits to plant nurseries. For some years, they even made an annual road trip to visit the family boy, me, and a series of their favorite gardens along the way. The homeward leg always included a stop at a particularly good nursery in northern California.
The house, in the Pacific Northwest, is surrounded with all manner of plants, both annual and perennial. Every season reveals different colors and textures. There are beds of herbs, vegetables, flowers, and berries. Consider this vertical arrangement of potted plants, on one edge of the patio.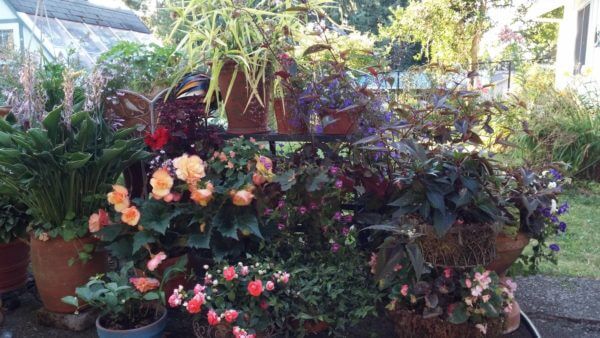 Yes, that is a sun shed in the left background. I helped build that one summer a couple of decades back. It was that well constructed as to hold up to this day. Beyond storage, it provides a head start for plants, leading into the spring planting.
Oh, look!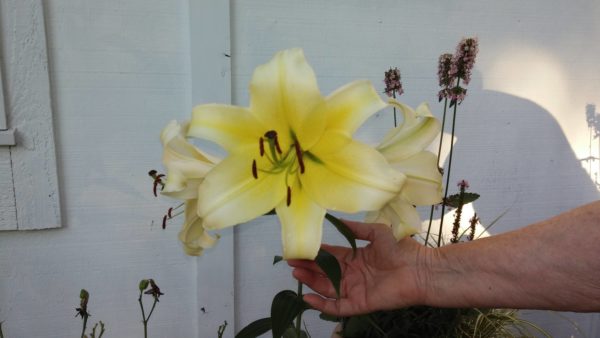 No, I don't know what it is, but it sure is pretty, and my mother was rightly proud of it. Now I do know what these are: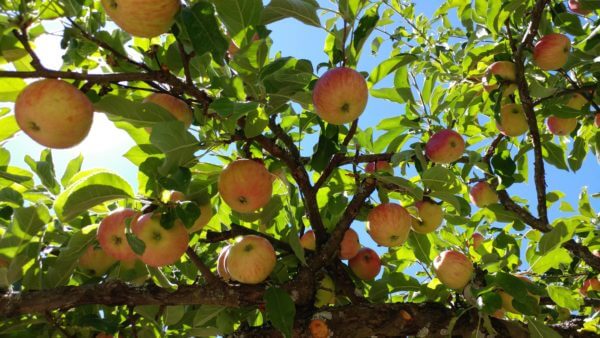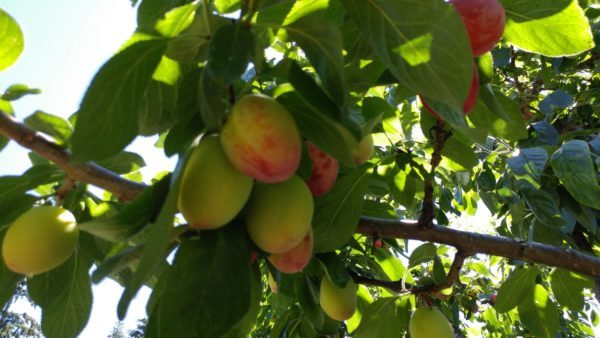 My father, while not much into planning the flower beds, is quite the fruit pie maker. He grows his own apples. Over the years, he has also had plum trees, as you can see. Beyond pies, the folks make and can relishes and fruit sauce. Dad built sturdy shelves in the garage to hold the year's production.
Oh, did I mention the roses? No? Yes. Here is a photograph my mother took some years ago. I like the composition and the roses themselves. This is Jude the Obscure, an English rose from David Austin. Sadly, there is no scratch-and-sniff feature, yet, in HTML 5, because this rose smells even better than it looks.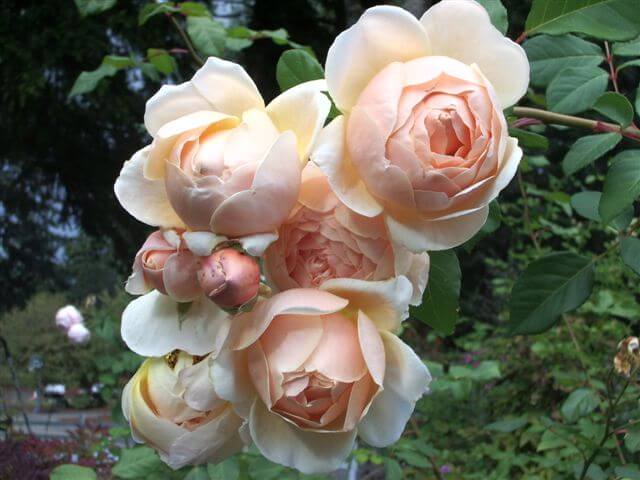 So, how does your garden grow? Do you have your own favorite family garden? Perhaps you treasure visiting a friend or neighbor for their garden.
Published in Group Writing