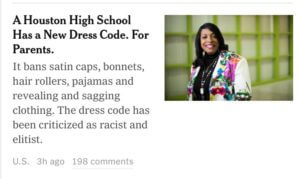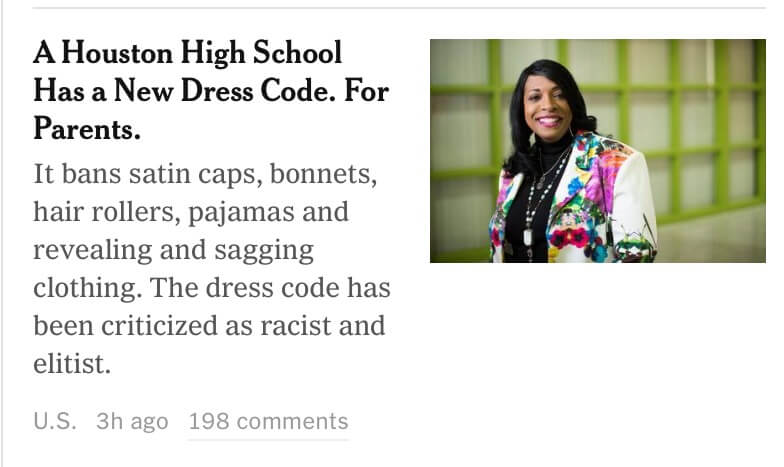 This screenshot is from The New York Times website on April 25, 2019. It was nestled among other stories. So, how do you think this lede got by the brain of the person who posted it alongside this photograph? Really?
You are looking at the school principal. Look at her. Now read the last sentence of the summary, intended to induce you to click and read more. "The dress code has been criticized as racist and elitist." Roll that around your tongue. Swish to get all the flavor notes.
Consider the description of the clothing banned. Does it really describe poor white garb, rather than poor black or Latino? Think for just a moment.
Let's make that image a bit bigger. Now look at the picture. Now look at the text. Who are you going to believe, The New York Times writers, or your lying eyes?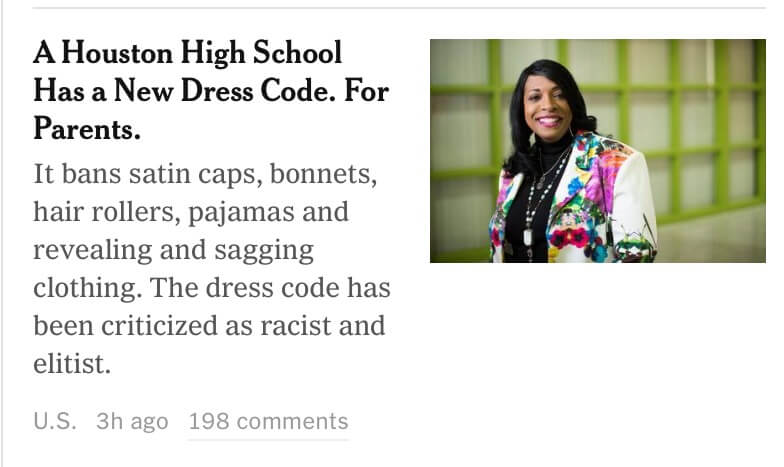 If you fight your way past this insulting nonsense, and read the article closely, you will find a gem of a principal. She has been a proven leader in improving learning outcomes for students. That is why she is in this new school. The students need her help, and so, apparently, do some of the parents. What appears to be going on here is a local swamp resisting the change students and the community need, if they are to have a better future.
Do read "A Houston High School Has a New Dress Code. For Parents." Consider the facts sandwiched among the assertions. Is the Times blowing a white supremacist or classist dog whistle? Suggesting that poor folk cannot take a little pride in themselves, their children, and their school — sure seems like "the soft bigotry of low expectations."
Published in Journalism