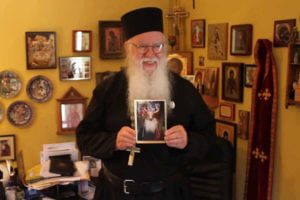 Abbot Tryphon, a monk leading the All-Merciful Saviour Orthodox Monastery on Vashon Island, WA, was assaulted at at a gas station Tuesday. The abbot is a popular speaker, writer, and hosts the podcast "The Morning Offering."
In a Wednesday interview with his podcasting network, Abbot Tryphon said that he was targeted by a man who was apparently angry about Donald Trump. The abbot is not politically affiliated, a fact he regularly mentions in his writing and podcasts.
He was filling up his vehicle in Burien, WA, at about 11:30 a.m. "I saw a man come up to me and he said 'How's Trump?'" Abbot Tryphon said in the interview. "I was kind of startled … and I said, 'well, I have no idea.'"
"The next thing I know, as I turned to look back at the pump, he sucker-punched me in the side of the face," the Abbot said. "He did it with such force that I immediately lost my equilibrium, I reached out to grab onto the car, and I slid to my knees and onto my back."
As the assailant left, the monk traveling with Abbot Tryphon and several bystanders rushed to his aid. The monk noted that the attacker "zeroed in on the cross and that's when his anger turned to rage."
"In my mind I assumed he was approaching me with a request for money, or wanting to know what I was," the abbot wrote on his Facebook page. "Since I try, with God's help, to be kind to everyone, even trying to bring a smile on a stranger's face by saying something self-effacing in an attempt to put them at ease, I was totally caught off guard by what he did to me."
Abbot Tryphon said that he has some hearing loss, headaches, and general body pain. Local police are investigating the incident and have released surveillance photos of the suspect.
If apprehended, the abbot would like to meet his attacker. "I want to go to the jail," he said, "and tell the man that I forgive him and that God loves him."