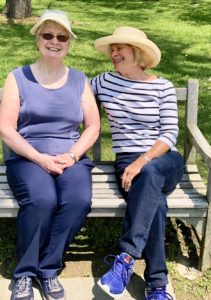 That's a photo of the little woman (Now don't get all hissy. I warned you snowflakes of the female persuasion not to read this) with one of her BFFs. Marie the wife is on the left. 
Marie is fairly typical of her sex, I suppose. I don't know for certain because I don't know many women. What women I know, I don't quite understand, but I'm willing to tell you the little that I do know.
I accompanied Marie one time to one of her regular lunches with the ladies. I've never heard such frivolous talk. They talked about quilts, babies, their outfits, the personality defects of those who didn't show up. Whatever was on the surface of life, they talked about. I heard one of them say that dying wouldn't be half bad if she could take her cute little outfits to the afterlife with her. (I think she was joking.)
They ate little salads and little sandwiches, sometimes with cucumbers instead of meat. Cucumbers between two slices of bread! My god, you might as well get down on all fours and munch on grass and dandelions in your front yard.
I think I cramped their style. I won't be going back anytime soon, even if they let me. Which they won't.
Men, I need to tell you a hard truth: Women have a better time when we're not around.
If it weren't for our almost incidental part in baby-making, women would probably marry women. They just seem more compatible with one another than they are with us.
Women don't want to know how things work. Every now and then I try to mansplain to Marie how air conditioning produces cold air. But she doesn't seem interested. I don't know why.
I like to cuss. Milady doesn't like it. I don't know why.
The thing is, women are ignorant of the important things in life. For the life of her, Marie can't remember automobile marques. When we stop behind a car with four rings, I ask, "What's the four rings car again, Hon?"
"I dunno," she replies.
"What do each of the letters BMW represent?"
"I dunno."
And you know what? She doesn't seem to care. Doesn't care if a car is an Audi or not! Now that's just pathetic.
They buy crazy stuff. We go to Safeway and Marie buys a few flowers for $10.99. They sit on our mantle and wilt in a few days. She buys makeup stuff from the expensive Clinique counter at Macy's, 60 bucks for a couple of little bottles of something or another. You could buy a Bosch drill for the same money, and it'll last a lifetime. Men are just more sensible about these matters.
Marie goes to various meetings largely as an excuse to talk to other women about their lives. Yes, she wants to know about their brothers, their mothers, their latest disease, whatever. She likes this kind of thing. Women are social. If Marie were still in high school, she would be called a sosh. Remember soshes? Women are, by their very nature, soshes.
Marie covets her friends. She takes them on and never lets them go. She started writing to a pen pal in Germany in the fourth grade. She still writes to her. That woman sitting with her on the bench in the photo above— Marie and she were pals in grade school.
Women have their moments. They seem brave in the face of pain that would reduce men to unmanly tears. Babies are cute and all, but to get one down and out the birth canal, women have to go through the most painful process one could imagine. I just wouldn't do it. I once asked Marie if it hurt a lot when giving birth. She said it hurt like the dickens. "Imagine the most hellish bowel movement you've ever had," she said. "Now multiply that by ten." So you have to give them that.
They keep themselves excessively clean. Some of them, I've heard, change their socks and underwear almost every day. I don't know why. Once a week seems just about right to me.
But if you still aren't convinced that they are different from us, not just in degree but also in kind, go into your bathroom and look at the rows of little vials and bottles on their side of the bathroom. Here are a few of what I found on Marie's side: Revitalize Lotion, Lubriderm, Thera-Tears, Fit Me, Triamcinolone Acetonide Cream, Olay Total Effects, Clinique Something or other, City Block Sheer, Lip Sense, and some other liquids without names. And a little angel with wire wings. My side of the bathroom counter has a bar of soap.
So that's the secret life of females. It's not a pleasant sight. We're incompatible, guys. Somehow we tolerate one another. I don't know how.
I usually ask Marie to read my essays before I post them. I'm not showing her this one. I think she would try to harsh my mellow. Women do that. I think they blame us for the pain of childbirth, and that makes them cruel to us.
Published in General