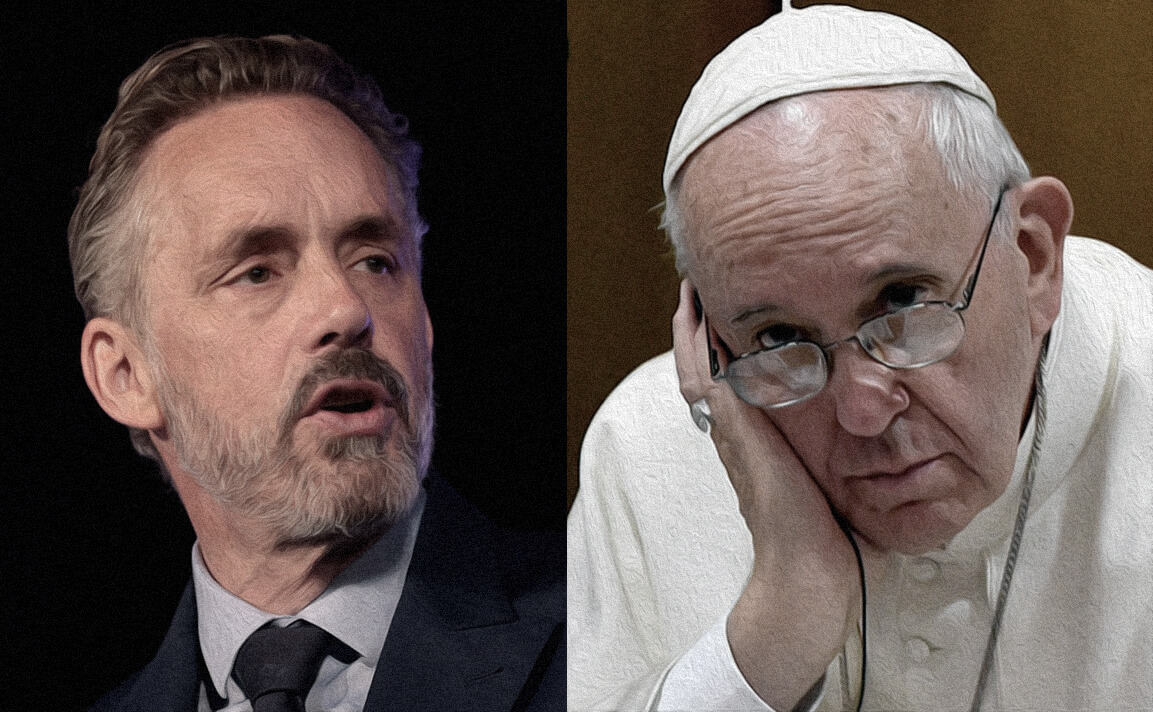 In my occasional wanderings on social media, I've noticed a certain dismissive or snarky narrative cropping up from members of the Catholic clergy about Dr. Jordan Peterson. Though many admire his intellect, Dr. Peterson comes in for a lot of tut-tutting, tsk-tsking, dismay and disappointment because he won't emphatically state that he is a Christian or that he believes in God.
Peterson, is a well-read intellectual grounded in years of listening to his clinical patients and who has adhered to a fairly rigorous scientific methodology. For those who have spent any time watching him speak before a large audience, debate or respond to sometimes hostile interviewers, it's evident that Peterson thinks very carefully before he speaks. At times, one can even see him struggling as his dancing fingers appear to search the ether around him for just the right word to accurately express his thoughts accompanied by an oft repeated question, "…how would you say…?" Peterson has indeed been reluctant to answer whether he believes in God, as he says, because he's not sure what his interrogator means by the terms "believe" and "God" or if the intent of the interrogator is to pigeon-hole him or immediately embrace him as a member of his particular faith or version of Christianity. Some may find Peterson's reluctance to be evasive and perhaps even cowardly. I find it refreshing and intellectually honest.
Recently Father Kevin M. Cusick tweeted:
He mimics Christianity to sound original while claiming not to be Christian. Ultimate responsibility is taking ownership for Faith rather than borrowing piecemeal from it to craft a personal brand.
Note in particular the not too subtle snide phrases "…to sound original…" and "…to craft a personal brand". Peterson has openly and frequently admitted that what he is articulating is not original but grounded in ancient Judeo-Christian ethical teaching. And given his unlikely path to celebrity, which was as a result of posting a YouTube video criticizing Canada's (at the time, pending) compelled speech laws which exposed him to heaps of criticism from government and academic authorities, and threatened his own livelihood as a professor at the University of Toronto, it doesn't seem that Peterson was somehow "crafting" a "personal brand" unlike some celebrities or even certain Catholic prelates who are obsessed with their public persona.
It seems, on the contrary, that celebrity was thrust upon Peterson when he found he had to defend his objections to the notorious and totalitarian Bill C-16 and his exposure, in the news and on social media began to grow. If he has a "personal brand" that he "crafts" it seems to be that he is fearless in articulating his thoughts on the prevailing and militant push by Leftists, post-modernists and neo-Marxists to dominate and distort the English language, politics and the culture at large and the detrimental effect that is having, as well as, the more catastrophic harm that could come of embracing identity politics and socialism to their logical or illogical conclusions. A Catholic hierarchy that is openly embracing the strident LGBTQ+ agenda, embracing Marxist ideology while denigrating capitalism and the idea of national sovereignty, deliberating using ambiguous language, playing fast-and-loose with the truth, flirting with or promoting heresies — would do well to emulate Peterson's so-called personal brand.
Father Cusick aside, we are too often presented with men of God who can quickly invoke The Almighty or Jesus Christ with flourish and flamboyance or even a theatrically-conjured solemnity but whose own lives have little adherence to Christian ethical behavior. The current Catholic hierarchy, from Pope Francis on down, is replete with frauds, deceivers, quislings, cowards, Marxists, embezzlers, outright criminals, modernists and post-modernists, and sexual predators or those that excuse, protect and promote them. Peterson, on more than a few occasions, has said that he acts as though he believes in God. Can that really be said of many in the clergy or the Vatican hierarchy?
Unfortunately, the more humble and holy members of the clergy often refrain from criticizing the wolves in the hierarchy for fear of retribution and demotion. That's what happens when hierarchies become corrupt and in this case, the laity is the worse for it. One has to ask, how many in the Church hierarchy can't seem to adhere to Peterson's 12 Rules for Life or may even be deliberately breaking those rules, particularly Rules 8, 9, and 10: Tell the truth – or, at least, don't lie; Assume that the person you are listening to might know something you don't (Archbishop Vigano, the laity, etc.); Be precise in your speech (particularly applicable to Pope Francis).
So, what explains this apparent antagonism toward Dr. Peterson? Is it jealousy? Is it envy? Or do some in the hierarchy actually feel threatened by the unambiguous message that Peterson is delivering? Perhaps the corrupt Church hierarchy is realizing, as have many in corrupt Left-leaning political, media, and academic hierarchies, that what Peterson has to say is actually an existential threat to their hold on power and so, it might be time to attempt to take him down a peg or two and keep him checked.
To quote Bogart's Rick in Casablanca, "Well there are certain sections of New York, Major, that I wouldn't advise you to try to invade." The late songwriter, Jim Croce also made reference to the potential hazard of tugging on Superman's cape. Thus far, Dr. Peterson has either been too busy to closely examine, or comment at length on what's been happening in the Catholic Church or has been reluctant to be critical of the rampantly corrupt Church hierarchy; but perhaps at some point he will engage if some of the members of the clergy or celebrity-seeking prelates concerned with crafting their own personal brand keeping nipping at him.
Unlike many in the Catholic hierarchy, Peterson is a good father, a good teacher and a courageous fighter for truth. The Catholic hierarchy would do well to follow his example. If they continue to be critical of Peterson…well, it might get ugly.