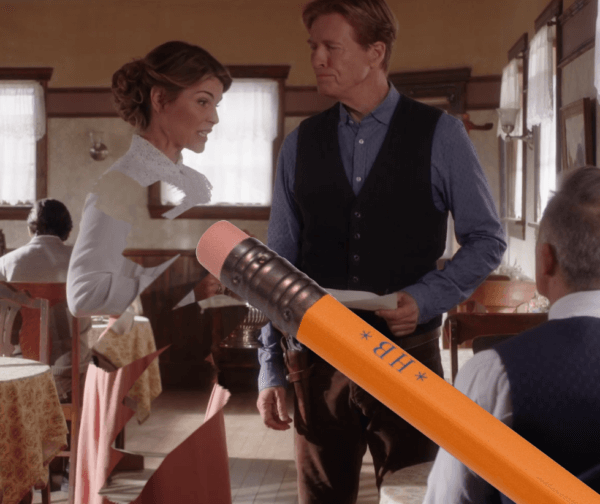 Hallmark Channel has announced that its signature series, When Calls the Heart, returns on May 5th, without Lori Loughlin and with one fewer episode than ordered. Back on March 14th when the news of the college admissions scandal first broke, Crown Media, the studio arm of the Kansas City-based greeting card company, fired Loughlin and announced that all future projects with her had been canceled. The producers of the beloved frontier soaper assured viewers that the series would return and that they would explore all options during a "creative hiatus."
Through editing and reshoots, Loughlin has now been "erased" from the remaining episodes. Like the old Soviet Union we are now airbrushing those who have fallen from grace from society, allowing them to remain on the fringes where their only function is to serve as a warning to others. We are no longer satisfied with the judgments of the courts since due process is too slow and can ultimately be so unsatisfying. From now on we will mete out our own punishments – quickly and decisively – and the rest be damned.
The creators of The Simpsons recently pulled the episode featuring Michael Jackson and all of Bill Cosby's television offerings have been removed from syndication, as have reruns of Roseanne and 7th Heaven. When the digital sub-network Bounce returned Cosby's show to their rotation they were inundated with criticism. "Good to know where your corporation stands on rapists I guess," wrote one viewer. So it's no longer enough to ignore the offerings of those you deem unacceptable, you must deny their creative talents to others. And you must deny those residual checks to innocent colleagues who had the unfortunate luck to be associated with them.
Someday soon the FBI will probably be conducting pre-dawn no-knock raids on those known to have old copies of the Huxtables on DVD. Little old ladies will be frogmarched in handcuffs for trading thumb drives with episodes of Garage Sale Mysteries and the Twitter accounts of the "Hearties" will be archived for future shaming sessions. And despite what those spearheading these erasures may believe, we are not creating a better society. All we're doing is softening ourselves up for censorship, historical revisionism and embracing the sweet siren song of totalitarianism.
Published in General