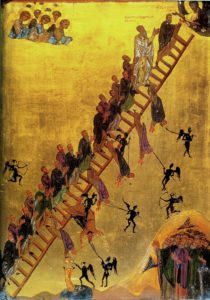 The fourth Sunday of Lent commemorates St. John Climacus (John of the Ladder), a sixth-century abbot at St. Catherine's Monastery on Mount Sinai, and the remarkable book he wrote, The Ladder of Divine Ascent.Abba John, even before writing his book, led a rather remarkable life as a desert ascetic, and his book, which was written chiefly for the benefit of his fellow monastics (and at the behest of the abbot of another monastery), nevertheless is one from which lay-Christians the world over continue to benefit.Moreover, The Ladder is that rarity among such works of being approachable.St. John, for all his remarkable life and service, was still very human, and his humanity and senses of humor and compassion shine forth throughout the work.For this book, and the wealth of spiritual advice it provides to Christians struggling with their passions, St. John Climacus is commemorated on the fourth Sunday, and his book is very frequently read by many during the Lenten season.
It is said that John entered into monastic life at the age of 16, when he arrived at the monastery on Mount Sinai and took orders at that time under the abbot Martyrius.According to the traditions, Martyrius took John with him on a visit to St. Stephen the Cappadocian, who on their meeting immediately washed John's feet, to the scandal of those present.Stephen declared that he was but washing the feet of the Abbot of Sinai, though John would not rise to that assignment for another forty years.Shortly after this, John chose to live in solitude as a hermit in prayer, occasionally traveling to visit other monasteries.During this time he acquired a reputation for spiritual wisdom and counsel, and was frequently sought out by other monastics or pilgrims.Again, according to the traditions, his fame eventually roused the ire (or jealousy) of others, and in response John took a vow of silence.After a year of this, at the many requests of others, John broke his silence and again was sought out for his advice.
And after forty years, he was asked, upon the death of the prior abbot of St. Catherine's, to become the abbot and spiritual elder of the monastery where he had first taken his vows decades before.Traditions tell of miracles surrounding John while abbot, but the most famous one tells how, during the feast the followed his ordination, a young man in obviously Jewish garb was seen helping to serve the hundreds of monastics and guests, and directing things in the kitchens.After the feast, he could not be located.John said that this man would not be found as he was Moses."Let him go.The lord Moses did nothing strange in this same place where he has served before and which belongs to him."
At some point after his elevation, John was contacted by the Abbot of Raitho, another monastery elsewhere, to ask John of Sinai to write back with advice for struggling monastics.John, in turn, wrote The Ladder of Divine Ascent, a work wherein John, based on Jacob's vision centuries before, spoke of a ladder of 30 rungs, each representing a different spiritual discipline necessary for living out one's life in faith and repentance.Some of these should be familiar to any Christian, while others on their surface apply more to monastics, but even these can be taken as lessons for Christians on what a life of prayer and repentance entails.As such they are considered valuable lessons and disciplines for the life of sacrifice and restraint, and the mastery of one's passions, for all Orthodox Christians.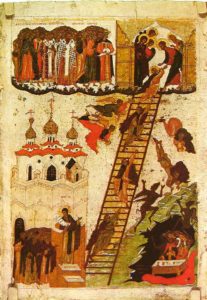 The lower rungs of the ladder are the basic masteries: Renunciation (of the world), Detachment, Banishment (Living as a Stranger), Obedience, Repentance, Remembrance of Death, Lamentation, Liberty from Anger, etc.These are seen as the first steps one must master in monasticism, and here the emphasis is on living in the world while keeping one's mind on Heaven, and remembering that we are all eventually doomed to death.The chapter on obedience can make for especially difficult reading as monks are exhorted to obey even seemingly capricious elders because doing so teaches them to set aside their own will in things — after all, if one can obey flawed earthly elders without question, then one will find it easier to obey God himself in all things and truly live out that part of the Lord's Prayer: "Thy will be done".
As one ascends the rungs, John turns to more physical issues: loquacity, lying, despondency, hunger, chastity, love of money, poverty, apathy, and so forth.John's chapter on hunger is rather amusingly titled (depending on the translation) "On The Boistrous, Yet Evil Lord, The Belly."John is frequently honest in his own daily struggles with these matters.
We have been struggling with ourselves in everything which we have discussed, and this is particularly so when we speak about the belly. For I doubt if anyone can free themselves of this lord before resting in their tomb. Gluttony is the belly's hypocrisy. Because when it is gorged it protests of scarcity, and when it is full and close to bursting it complains that it is hungry. Gluttony is the master of garnishes, the origin of tasty dishes. You plug one spurt, and it appears somewhere else. You plug that, and another one appears.The Ladder of Divine Ascent (p. 65). Kindle Edition.
John is equally frank when discussing Chastity, and quick to remind his readers to never judge the struggles of another on these matters, as we ourselves are as apt as they to likewise fall.
In the final rungs of The Ladder, John turns towards spiritual matters.The renunciation of vainglory and pride take two chapters on their own, and John considers Pride to be among the worst of all sins, and therefore the one that most will struggle with (himself included) all their lives.From there he discusses matters of the heart and soul, only touching on prayer quite near to the end.These chapters are often quite meditative and philosophical, and discuss difficult matters such as spiritual discernment, and how to judge properly when one must weigh one's struggles against the needs and expectations of others, and how to properly discern truth.
Saint John's commemoration on the fourth Sunday of Lent is meant as an encouragement as Great Lent has passed its halfway point by now.The Lenten fasting and the added services can begin to take a physical and spiritual toll on the faithful, at a time when we should be joyfully anticipating the coming Resurrection.Two more weeks yet remain, and it is rather an easy temptation at this point to be anticipating the feast instead of Christ.John Climacus and the Ladder of Divine Ascent remind us that the struggles against our sins and passions should always be ongoing, and to keep the faith as the remaining weeks progress.
O holy father John, truly has thou ever carried on they lips the praises of the Lord, and with great wisdom has thou studied the words of Holy Scripture that teach us how to practice the ascetic life.So has thou gained the riches of grace, and thou hast become blessed, overthrowing all the purposes of the ungodly.(From the Vespers of Saturday Evening – The Lenten Triodion, page 353).
The icon of The Ladder shows many monks attempting to ascend the ladder, while demons try to hook and tempt the monks to fall off, some to their own destruction in the maw of a great black face representing satan.Other monks cheer their brethren on from below, while Christ Himself waits at the top to receive those who triumph in their life's struggles.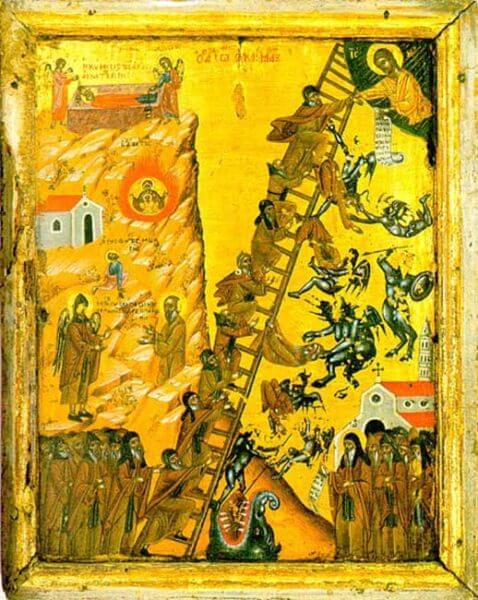 Sources:
Alfeyev, Hilarion (Andrei Tepper, translator), Orthodox Christianity: Volume IV, St. Vladimir's Seminary Press, Yonkers, New York, 2016
Farley, Lawrence, A Daily Calendar of Saints, Ancient Faith Publishing, Chesterton, Indiana, 2018
Kidd, David (ed) and Ursache, Gabriella (ed), Synaxarion of the Lenten Triodion and Pentecostarion, HDM Press, River Junction, Michigan, 2005
Poulos, George, Orthodox Saints: Volume 4, Holy Cross Orthodox Press, Brookline, Massachusetts, 1992
---
Author's Note: You can obtain The Ladder of Divine Ascent for the Kindle (and perhaps elsewhere) for just a couple of dollars. There is also a very nice cloth-bound edition which contains a nice history of John, and the correspondence the abbot of Raithu. The translations are fairly easy reading, and are not at all what one might consider "High Theology," but they are at times peculiar for modern readers. The desert monasteries of 1,400 years ago are essentially a foreign culture to us today, but the monks in them were still very much human, and it's clear that John loved them as brothers and friends, just as it should be clear to us that for all our advances, human nature itself has not really changed.
Published in General