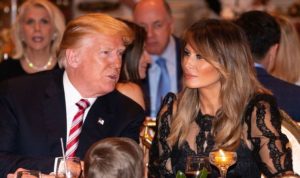 With all the turmoil and conflict surrounding the Trump presidency and the Trump family, I have to wonder how Donald and Melania Trump are finding their way through it all. I have no idea what their marriage was like before the Presidency, but the stress must be enormous, especially with the constant attacks launched by the media.
So you can imagine my surprise at seeing a short CNN report while I was working out at my fitness club about the romantic dinners the Trumps have at Mar-a-Lago. I watched the entire piece, waiting for some kind of snark. There wasn't any.
Apparently, Laurence Leamer, a part-time resident of Palm Beach, has written about their holidays:
Mr Leamer said: 'What married couple spends three hours together alone at dinner? They're there so long, other people are leaving and they're just there.

'They dine for hours. He likes a small table, a four-person table, so people can come over to say hello but there's not enough room to invite people to join.'
A White House official confirmed Mr. Leamer's account.
Gosh, who would have thought that the evil Donald Trump and his mysterious wife might actually like to talk to each other? That they might even like each other?
When was the last time you went out for a romantic, candlelit dinner and talked with your spouse alone for two to three hours?
Published in Culture