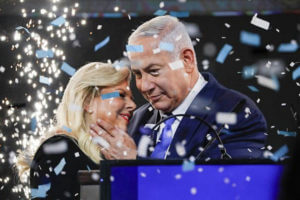 With 95 percent of the votes in, Prime Minister Benjamin Netanyahu is poised for another electoral victory. His Likud party is tied with its chief rival, Blue and White, but the right-wing bloc holds a clear lead. Netanyahu will work with them to form a governing coalition.
As of 11 PM ET, Likud had 26.28% of the vote compared to the Blue and White party's 25.97%. From the Times of Israel:
Prime Minister Benjamin Netanyahu declared himself victorious in the 2019 general election Tuesday night, as updated exit polls and early results showed him with a clear path to forming a new government.

"I am very moved on this night," he told exuberant supporters. "This is a night of an incredible, incredible victory."

Though initial exit polls at 10 p.m. had shown Likud and Blue and White either even at 36 seats (Channel 13 and Kan) or with an advantage for Blue and White (37 to 33 on Channel 12), updated results accounting for the final hours of voting on both Channel 12 and 13 showed Likud leading 35 to 34.

And regardless of the horse race between the two major parties, the right-wing bloc was projected to win a majority in the 120-seat Knesset. The results mean Netanyahu will likely sweep back into power for an unprecedented fifth term, despite pending bribery and fraud indictments hanging over him.
That's right: Netanyahu's own Attorney General is about to indict him, but Israeli voters still preferred his leadership over the less conservative options. Congratulations, Bibi.