In Paradise of old the tree stripped me bare; for by giving me its fruit to eat, the enemy brought in death. But now the Tree of the Cross that clothes men with the garment of life has been set up on earth, and the whole world is filled with boundless joy. Beholding it venerated, O ye people, let us with one accord raise in faith our cry to God: His house is full of glory. Third Kathisma for the Holy Cross
The 3rd Sunday of Lent is The Sunday of the Veneration of the Precious and Life-Giving Cross. We are now at the midpoint of Great Lent proper, and then at halfway through the week following the 3rd Sunday also halfway to Pascha (Holy Week is not considered part of Great Lent). In some outward respects, the purpose of the Sunday of the Cross is similar to the Elevation of the Cross commemorated in the early Autumn, yet it is also different. Christ is coming and will enter Jerusalem on Palm Sunday, and as one writer expresses it, "…before the arrival of a king, his royal standards, trophies, and emblems of victory come in procession and then the king himself appears in a triumphant parade… so does the feast of the Cross precede the coming of our king, Jesus Christ." (Synaxarion of the Lenten Triodion, p79)  
Every Sunday during Lent serves to remind us of the coming of Pascha – the death of Jesus Christ on the cross, and His resurrection signaling the defeat of Death, and the restoration of Mankind to communion with God. We have had two commemorations of Orthodox history and theology, first with the Sunday of Orthodoxy (with the final affirmation of the Incarnation of God in the flesh), and then the Sunday of Gregory Palamas (affirming that while God is unknowable, He makes Himself known to us through His energies), and now the affirmation of how the symbol and tool of a painful death is turned in its purpose into a symbol of eternal life. Throughout the services of this day, we are reminded of this counterpoint time and again. As Adam brought death into the world through consuming fruit from a tree, the Cross has instead become the tree of life, and the curse of Adam has been broken. The outstretched arms of Moses before the Red Sea are compared to the Cross as well. There are many more besides, referenced throughout the Canticle read during Orthros.
The Cross has, especially since the end of the Roman persecutions, been adopted universally by all of Christendom as the one true and universal symbol of the faith. Regardless of whether one is Catholic, Orthodox, or Protestant, while many other symbols have been disputed (the icons, the altar, the real essence of Communion or the Eucharist, and even baptism to one degree or another), the Cross remains the eternal symbol of unity. It is rare that a church will not have a cross featured prominently somewhere in the sanctuary or nave, or on the exterior of the church building. While not all Christians will cross themselves, a great many will wear a cross of some time quite frequently, some prominently while others tucked quietly under their shirt. Without the death on the cross, and the resurrection, Christianity would be meaningless and vain. And on the third Sunday of Lent, all Orthodox Christians venerate the Cross, the tree of death that also became the tree of Life.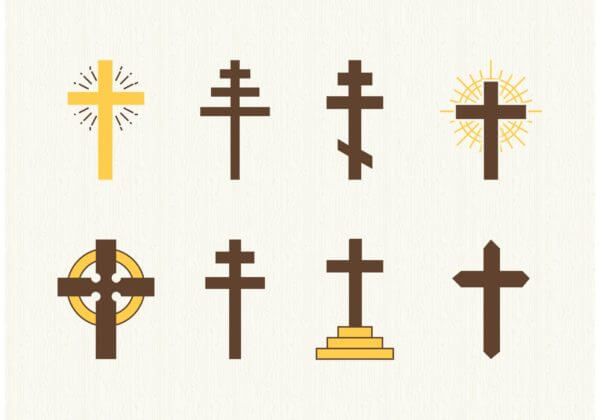 Examples of some of the many different variations of the Cross in Christianity today.
---
Author's Note: OK, it's only a week late this time. But I've already started on the 4th Sunday, The Sunday of John of the Ladder, and that one should almost certainly be posted before the 5th (and final) Sunday of Lent – St. Mary of Egypt.