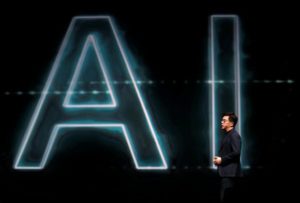 The American economy accelerated nicely in the middle of last year. A Two Percent Economy no more! Well, at least for a bit. Economic growth now seems to be reverting to the humdrum pace seen over most of the post-Financial Crisis recovery. (The Trump White House, it should be noted, sees things more optimistically.) The combo of slower labor force growth and productivity growth means the economy's growth potential isn't what it once was.
But maybe artificial intelligence can accelerate economic growth on a sustained basis by boosting productivity growth. In their 2018 paper, "AI and the Economy," economists Jason Furman and Robert Seamans point out that many experts think "AI and other forms of advanced automation, including robots and sensors, can be thought of as a general purpose technology that enable lots of follow-on innovation that ultimately leads to productivity growth."
How much more productivity growth? There are plenty of guesstimates. Maybe AI's impact will be like that of robots, which one study found may have added 0.4 percentage points of annual GDP growth between 1993 and 2007 on average for 17 advanced economies. Or maybe AI will be far more consequential. A 2016 analysis by Accenture found AI could greatly benefit the US economy "increasing its annual growth rate from 2.6 percent to 4.6 percent by 2035, translating to an additional USD $8.3 trillion in gross value-added. Or maybe it will be somewhere in between. A 2014 paper by economists John Fernald of the San Francisco Federal Reserve and Charles Jones of Stanford's business school noted that AI introduces "a fundamental uncertainty into the future of growth."
But that "uncertainty" doesn't mean policymakers have to sit on their hands. In their new working paper "The Wrong Kind of AI? Artificial Intelligence and the Future of Labor Demand," economists Daron Acemoglu and Pascual Restrepo worry that recent technological change "has been biased towards automation, with insufficient focus on creating new tasks where labor can be productively employed." Moreover, Acemoglu and Restrepo argue that there are "prima facie reasons for worrying about the wrong kind of AI from an economic point of view" and "rather than undergirding productivity growth, employment, and shared prosperity, rampant automation would contribute to anemic growth and inequality. "
So why the wrong kind of AI, the sort that merely replaces humans rather than enhancing them or giving them new things to do? The researchers consider a number of possibilities, including insufficient public research investment and the lack of "critical complementary inputs" such as the education and training needed to capitalize on the new tasks created by AI. On that latter point:
Another set of factors blocking the path of novel AI applications reinstating labor is that these new technologies might need critical complementary inputs that are not forthcoming. … Educational applications of AI would necessitate new, more flexible skills from teachers (beyond what is available and what is being invested in now), and they would need additional resources to hire more teachers to work with these new AI technologies (after all, that is the point of the new technology, to create new tasks and additional demand for teachers). In the case of healthcare, limited resources are not the problem (the share of national income devoted to health is continuing to grow), but the requisite complementary changes are likely to be organizational. In fact, highlighting other barriers to the use of new technologies to create new tasks, the way that hospitals, insurance companies and the whole medical profession, as represented by the American Medical Association, is organized is likely to be in the way. If empowering, and increasing the productivity of, nurses and technicians is perceived to reduce the demand for the services of doctors or challenge the current business model of hospitals, it will be strenuously resisted.
Along similar lines in the new paper "Digital Abundance and Scarce Genius: Implications for Wages, Interest Rates, and Growth," Seth Benzell and Erik Brynjolfsson point to the scarcity of highly skilled "superstars" as one factor limiting economic growth from "dramatic advances in digital technologies." One policy solution would be for government to "focus on increasing the number and productivity of top-percentile workers. This could be done by encouraging high-skill immigration, encouraging creative skills in education or widening access to top universities."