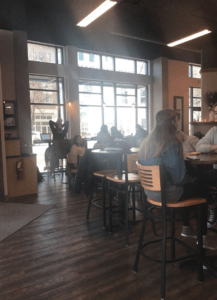 I was thinking about all the stuff everyone says these days about the loss of community over the last few decades, and about this article I had just read (tl;dr: even the coasty lefties at Vox agree, the Midwestern model works better for people), in which a millennial expresses gratitude for having found community, as exemplified by her neighborhood coffee shop where "everybody knows her name", so to speak. I (very belatedly) started watching Cheers, curious to see what insights it might offer. I thought back to my own experiences as a busboy and waiter at a restaurant, where it was deeply important to the regulars to know and be known.
I wondered why I didn't feel that way about any of the local coffee shops I've gone to.
I went to a local coffee shop to get some work done. At some point, as a handful of customers and staff concentrated around the bar, one of them asked, "Who's this quote from?"
"Huh, I don't know—hey, who's this quote from? 'To err is human, to forgive divine'?"
"Um—not sure."
"Shakespeare? I think it was Shakespeare."
"Alexander Pope," I ventured, but I was seated halfway across the room, and they play the music pretty loud at this coffee shop, and I lost my voice a couple of days ago. "Alexander Pope!"
"You know, I'm pretty sure he's right. It was Shakespeare."
Eventually someone looked it up. "Huh—it says Alexander Pope."
"Alexander Pope? I don't even know who that is."
"'An Essay on Criticism'."
"Is it possible Shakespeare stole it from Pope?"
"Yeah, I'm pretty sure it's also in Shakespeare."
"I mean, not 'stole' it, but used it. Borrowed it."
I bet there's a metaphor or a moral somewhere in there.