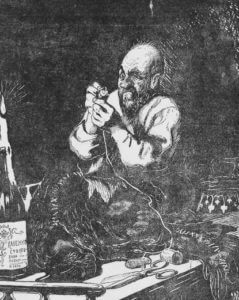 "Every year, back spring comes, with nasty little birds, yapping their fool heads off, and the ground all mucked up with arbutus." — Dorothy Parker
The curmudgeon in me grins whenever I read Dorothy Parker, and I regret only that she didn't address the pollen issue in her springtime lament. Still, her work stands as a testament to the glory of the (sometimes) unexpressed thought. Her essay entitled, simply, "The Waltz," is a masterpiece of contrasting the comments one makes in public with the thoughts that simultaneously go whirling about in one's mind. After a gentleman asked Parker to dance, she replies, "I'd adore to," while seething to the reader, "Well, might as well get it over with. All right, Cannonball, let's run out on the field. You won the toss; you can lead."
Out on the dance floor, she wonders:
…Why does he always want to be somewhere that he isn't? Why can't we stay in one place just long enough to get acclimated? It's this constant rush, rush, rush that's the curse of American life. That's the reason that we're all of us so — Ow! For God's sake, don't kick, you idiot; this is only second down. Oh, my shin. My poor, poor shin that I've had ever since I was a little girl.
And later…
…Look at the spirit he gets into a dreary, commonplace waltz; how effete the other dancers seem, beside him. He is youth and vigour and courage, he is strength and gaiety and — Ow! Get off my instep, you hulking peasant! What do you think I am, anyway, — a gangplank? Ow!
If I could narrate my own thoughts during the course of a typical day in the world of retail, why I'd, …I'd get fired most likely. There was the case of the nice but somewhat linguistically challenged lady who, apparently looking for a Casio G-Shock watch, asked me, "Do y'all carry them g-spot watches?" If I had been drinking coffee, or anything else for that matter, I'd have immediately shot it through my nose on hearing that question. Rather, I stifled all natural reaction and politely led her to our impressive array of G-Shock watches and sold her one (along with a complimentary pack of cigarettes). Nope, nope — can't say that. See what I mean?
There are certain things you simply can't say! Ditto with the graceful, white-haired lady who stopped in her tracks to turn to a co-worker and I to ask whether we watch "Game of Thrones"? After we both replied in the negative, she felt compelled to bring us up to speed on a series in which neither of us had the slightest interest.
I'm not sure, but I believe there it involves a white dragon and a red dragon, and the red one is the biggest one. I think. Also, there is a character (or maybe it's a dragon) that can incinerate you with his eyes. No biggie, I thought. The librarian at my high school could do that much. Well, almost. One time, she chastised me during study hall and tried to stare me down. I was stupidly impervious and refused to avert my eyes from her gaze. "You may lower your eyes," she said after a protracted staring contest. "Sorry," I shot back, "they're stuck right here on my face."
I later regretted talking that way to a kind lady who rightly upbraided me for my mischief. In fact, I regretted it almost as much as I now regretted the still-unfolding saga of Game of Thrones, with its interminable and confounded twists and turns, castles and dragon eggs, warlords and damsels. We hoped that her long-winded narration would eventually lead to a question about a watch, or a piece of jewelry, or anything having to with the existence of the department store and our employment therein. Alas, there was no end game to this Game, as she continued, calm and composed as concrete, to persecute us with detailed analysis of characters in which we had no knowledge nor the slightest interest.
My co-worker, apparently fearing I might not be able to politely contain my growing stupefaction, politely told me that another co-worker in the jewelry department was trying to get my attention for something. Relieved, I begged our guest's pardon and headed straightway to jewelry. Actually, I would have headed to the gallows if necessary.
In a similar respect, it is the knowledge, inconsistently applied in my own life, that one must nearly always resist the temptation to respond reflexively to the unpleasant words and actions of others that prompted me to temporarily withdraw from public comment on political issues for a while. I can't truly say whether there was an actual increase in the snark and hostility of the comments I saw, some directed at me and others directed at friends and colleagues, or whether my growing weariness made those comments seem worse than they really were. Either way, when I realized that the temptation to respond in kind, or respond in a gratuitous fashion, was becoming increasingly difficult to resist, it was time to step back.
Likewise, I regret terribly the situation in which my friend Denise McAllister now finds herself. A powerful intellect and gifted writer, Denise has the nearly unique ability to compel the reader's attention in very difficult and complex issues by communicating from (and to) the heart. Whatever snark I've had directed at me positively pales in comparison with the death threats against her family, and the venomous attacks she has endured for taking stands on the sanctity of life of the unborn, or against ludicrous attempts to equate the word "masculinity" with the word "toxic."
Criticism, of course, always comes with the territory when one engages provocative issues, especially when one engages with tremendous passion and conviction. The balance between engaging the public and allowing oneself to become literally absorbed into the muck that increasingly passes for commentary on social media can become elusive enough even without the personal threats. Under the circumstances, my own rule of thumb is to respond sparingly, A) because of the demands of time, and B) to avoid the creeping sensation that one must respond to Every. Single. Taunt. It is indeed a difficult needle to thread.
I would have preferred that Denise disengage from the exchange rather than let anger's inertia carry her into territory where no civil person should venture. And she is indeed a civil person, and a caring lady with a gracious spirit, and a loyal friend. Should she choose to do so, I have every confidence that my friend will be back. People make mistakes, and (most) learn from them, emerging stronger.
As for me, I'll be back as well. My respite, prolonged a little by the recent flare-up of a back injury, is drawing to a close. The podcasting and writing will resume presently, and I look forward to many interesting exchanges, on just about any topic except "Game of Thrones." After all, a guy has to have standards.
Published in General