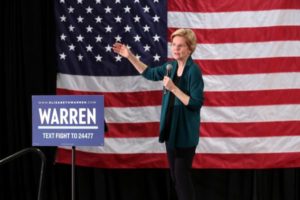 Policy wonks have a soft spot for bold ideas. Doubly so if those ideas are new or making a comeback after years in the wilderness. The New York Times columnist David Leonhardt recently heaped much praise on presidential candidate Elizabeth Warren for her "bold" and "ambitious" agenda that's appropriate "to the scale of our challenges."
Voters are no different. Plenty of folks on the left seem giddy about the idea of a "Green New Deal" that would put the US economy on a war footing against climate change. And it's not just Democrats and progressives. Many on the right fondly recall how Ronald Reagan in the 1970s said Republicans should raise "a banner of no pale pastels, but bold colors."
But at some point, bold ideas will collide with boring reality. And the sooner bold ideas are subjected to a reality check the better. Let's take one of Warren's biggest and boldest ideas, a wealth tax. It's a nearly $3 trillion plan involving a two-percent annual tax on wealth over $50 million plus an additional one percent on wealth above $1 billion. She says her plan would raise $2.75 trillion over ten years. Definitely big and bold.
Yet if I were someone initially attracted to this idea as a way of tackling wealth inequality, there would be a few things I would want to consider. For instance: Of the 15 European countries that tried a wealth tax in recent years, only four are still sticking with it. (This piece outlines some of the reasons why the wealth tax is failing internationally.)
What's more, those seemingly tiny tax rates of two and three percent are deceptive, hiding de facto income tax rates of 67 percent and 100 percent. In a lengthy analysis in The Boston Globe, economists Natasha Sarin and Larry Summers point out that a "50-year-old who has accumulated a substantial fortune can expect to pay more than half of it in taxes before she dies."
Does that matter if you're not that rich, middle-aged person? More from Sarin and Summers — who prefer to tackle inequality through more traditional tax reform such as closing loopholes and capping deductions — on the wealth tax and much higher income tax rates:
There is the further point that wealth taxes are likely to be burdensome on entrepreneurial businesses in their private phase, when entrepreneurs are liquidity-constrained. Perversely, this could disincentivize transformative innovation. … Bill Clinton was right when he said that he wanted to see an economy with more millionaires, because that meant an economy with more job-creating successful businesses. Turning the tax code into a vehicle for confronting what some call "oligarchic drift" would undermine business confidence, reduce investment, degrade economic efficiency, and punish success in ways unlikely to be good for the country or even to be appealing to most Americans.
Now a skeptic might see this debate, at least the part happening on the left, as just a way to increase the chances of much higher taxes on the rich. Some Overton Window expansion. ("Sure, Summers is calling for big tax hikes, but at least it's not that crazy Warren wealth tax!") Maybe. But at least Sarin and Summers are discussing the potential trade-offs and unintended consequences that flow from big and bold ideas. As should all policy wonks.