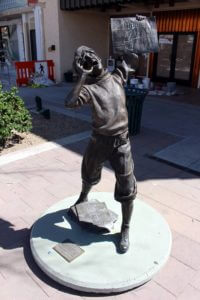 Walking through downtown Mesa, AZ, the Monday after the Mueller report news broke, one of the public art statues leaped out at me. A newsboy stands astride his stack of newspapers, waving a copy over his head and shouting out the news. The front page has a one-word headline, all caps and bold: "TRUTH." What a contrast to the sordid state of our current "journalism."
The background is littered with paint cans and construction barriers. This is part of a facade renovation for downtown Main Street. How much more does our news business need renovation?
Walking by the same spot a few hours later, the facade work was done. Yet, there was no change in the businesses behind the facade. This was no reality television business makeover, with retrained staffs and refreshed concepts.
From the evidence of the New York Times, Washington Post, and CNN, the weekend intervention did not even change the facade, let alone prompt retraining or refreshing of their business concepts. And why would we expect otherwise? After all, these people are still running on the myth of Woodward and Bernstein, and Dan Rather is treated as an elder statesman.
Remember that Rather and CBS nearly succeeded in throwing the 2004 election to John Kerry. But for the intrepid efforts of a handful of independent bloggers, including members of the fledgling blog, Power Line, the election might have been thrown to Kerry.
At the beginning of the week, after Attorney General Barr released his memo summarizing his assessment of the Mueller report, the New York Times showed no signs of reform. Instead, they were busy blocking and pivoting to their next line of attack. As Paul Mirengoff noted at Power Line, there was "Less than full disclosure from the New York Times:"
Given the role of [NYT op-ed writer Bob] Bauer's law firm in ginning up the collusion narrative, the Times should not have run an op-ed by Bauer about the Mueller investigation and where things stand in light of the collapse of the narrative that led to it. If the Times was going to run such an op-ed, it should have disclosed Bauer's affiliation with Perkins Coie — both his leadership role as of 2016 and, arguably, the ongoing affiliation cited in the 2018 announcement (assuming it persists).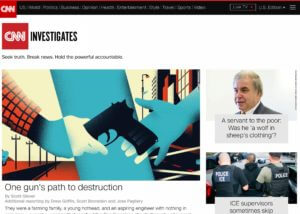 The Washington Post ran out Max Boot, who lost his mind to Trump as Garry Trudeau lost his mind to Reagan. Never mind the Mueller report, we are urged: "Let's not lose sight of the real scandal: Trump was elected with Russia's help." The truth dies in Trump Derangement Syndrome.
As to CNN, Jeff Zucker felt comfortable uttering a barefaced lie, when any visitor to CNN.com could see the truth.
CNN has an entire specials section on their website called "CNN Investigates" https://t.co/WWsoTa0f9Y https://t.co/346KC0BJPK

— Stephen Miller (@redsteeze) March 26, 2019
But, surely NPR felt some compunction about serving the interest of a public that pays a significant chunk of their bills. All Things Considered did have on Harmeet Dhillon, committeewoman for California's Republican National Committee, to address the aftermath of the Mueller investigation. It did not go well for NPR, indeed, as Scott Johnson of Power Line wrote:
The NPR baloney meets the grinder of a most capable advocate in this all too brief interview. You can almost hear the NPR interviewer begging "no más." Instead she just summarily wraps it up.
Go to the link and listen to the three minute audio to hear how a powerful professional woman deals with nonsense. Harmeet Dhillon gives us the rest of the story:
I'm flattered to be compared to a meat grinder to NPR's baloney in this blog. NPR cut 10 min. to 3 min. when I refused to honor their biased and false premises such as should @realdonaldtrump apologize to Mueller? Blowin' in the NPR wind https://t.co/OvU0uIYZr3 via @powerlineUS

— Harmeet K. Dhillon (@pnjaban) March 25, 2019
The problem, then, is endemic. The left has completed its long march through the institutions. The New Yorker fired a fact-checker, Talia Lavin, who falsely claimed a disabled combat veteran had a Nazi tattoo, so Media Matters hired her, and now New York University has hired her as a journalism professor.
Meanwhile, "fact-checking" website Snopes, has demonstrated again the ideological corruption of this media niche. Read Scott Johnson's account of "My Day with Snopes." The sheer laziness of the unprofessional conduct is eye-opening.
The major media and the social media gatekeepers have openly relied upon the ill-named Southern Poverty Law Center. They have done so even in the face of multiple million dollar judgments against the SPLC for liable, falsely calling conservative individuals and groups "hate groups." Now, a senior executive has departed in disgrace, other staff is leaving, and ugly stories are coming out about gender and racial bias within the organization.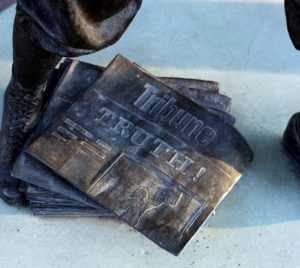 The left ruins everything it touches, everywhere and always. Perhaps if they suffer major electoral defeat and lose more control of the courts in 2020, there will be space for real reform. For the sake of our common future, we should all work towards that end.
Perhaps then, good journalists on the left, like Matt Taibbi, will be more than voices crying in the wilderness. Perhaps then journalists will take "truth" out of scare quotes in their minds. Perhaps then we will even see news organizations start to value hard facts more than hot takes.