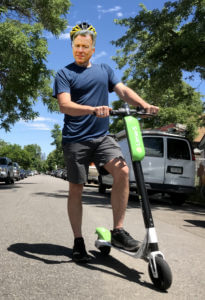 Have you ever wondered about the scooter economy? No, not that Scooter. We are talking about the electric scooters, which have largely supplanted undocked bicycles. The undocked bicycles were, themselves, a leap forward from docked bicycles. All of these transportation modes attack the "last mile" problem, with increasing efficacy. "Docked," undocked," "last mile," what is all this about? Read on and marvel, or at least gain a nice break room, coffee shop, or dinner table story.
The last mile problem:
In transportation of persons, as in transmission of data, the last mile is the toughest challenge, and limits the efficiency of the entire system. Think back to when cable and telecommunications companies were racing to bury many thousands of miles of cable in literal pipelines. The pipelines shielded and allowed maintenance on the wire and fiber optic cables forming data infrastructure "pipelines."
The companies, and customers, could not realize the full potential of this massive investment until these pipelines were properly connected into offices and residences. That is the last mile problem. Public transportation, and its promoters, has faced a similar problem. How do you connect people, without cars, to the beginning and end of the public transportation routes you hope they will use?
Planners have surveyed publics in multiple countries. It turns out that people will generally claim that they are willing to walk about a quarter mile to catch mass transit. So, how do you get past the quarter mile, to a last mile solution?
Would-be master public planners, obsessed with total control, have dreamed of inducing everything from housing to possible employment to cluster within short walking distance of iron rails and bus routes. As a limited concession to a stubbornly nonconforming public, they have long offered small shuttle buses, orbiting off of the master plan's route. Neither the planned development, nor the limited loops, have significantly changed American populations' behaviors.
What's Up Dock?
For some years now, small fleets of bicycles have been locked to specially designated bike racks by u-locks. These racks are positioned next to mass transit stops and spots in urban areas where people without cars would find them useful. These bikes are "docked" in the sense that you pay to unlock them and then stop the meter by locking them again to a designated "docking" rack.
The docked bicycles are durable and comfortable for most people to ride. They come with a basket in which you could place items you were carrying in your hands. Within their defined parameters, these seem a good answer to the quarter-mile walk limit on mass transit interest, defined above.
On the other hand, you have to start and end, ultimately, at a docking station. The cost to the vendor limits ubiquitous deployment and easy adaptation to people's actual behavior, their patterns of movement. So, you either really get it right with local market research or you fail to capture significant numbers of potential users. But why use a docking system at all?
Undocked Bicycles: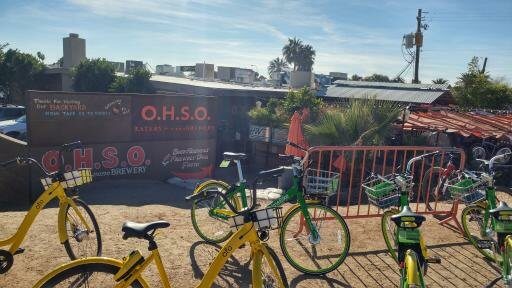 Entrepreneurs asked this question and came up with a far more flexible solution. Change the model from bikes limited to specified docks to bikes with a locking system on the rear tire. Unlock the bike with a signal from a smartphone app. Tell customers and vendors where the bikes are by GPS signal interpreted as a marker on a map in the app.
Now the customers were determining how bicycles would be distributed to meet their need. The undocked bike companies either hired crews or opened opportunities to independent piece work contractors. These people did maintenance and re-positioned the bikes in small groups to meet the pattern of demand.
A venture capital firm, Andreessen Horowitz, explained their investment in LimeBike in this way:
Andreessen Horowitz is proud to announce our investment in LimeBike, which aims to bring the "smart" bike-rental revolution to the United States. First of all, "smart bikes" bring an important twist to their docked predecessors: The bikes themselves are enabled with GPS and wireless communication, and come with a remotely powered locking mechanism. Because of this, there's no need for a dock; riders simply leave and lock the bikes at their destinations, where they become available to other users. And because the bikes are connected to a mobile application that provides bike management and in-app payment, consumers have a map that lets them know exactly where available bikes are located. Getting (and unlocking) a bike is as quick and easy as a few taps on your smartphone.
This system works so long as you have sufficient bicycles in the market to assure users that they can count on picking up a bike at their furthest point of travel. That is, if you are pedaling away from work, home, or a transportation hub, you need to have confidence that you can park the bike at shopping or entertainment, then walk out and find a bike waiting for your return trip.
Why pay per ride instead of buying your own bicycle? You need not worry about theft or vandalism or maintenance. You get a sturdy cruiser bike to go shopping, to entertainment, or from a mass transit hub to your school or job. The photograph above was taken from a canal path within bicycling distance of a university. Notice there are two color schemes, reflecting two competing dockless bike companies.
It was a fine idea, getting people to do a bit more exercise instead of riding in a car. What was not to like? Well, bikes were left all over the place, often blocking sidewalks. So, it was not long before college administrators and city hall struck back.
Edicts and ordinances came rolling out, restricting or effectively banning the dockless bikes. In response, the businesses refused to pay ruinous tribute. Soon the news stories changed from bikes blocking sidewalks to massive tangled piles of bikes left at the city dump. Atlas shrugged … sort of.
From Bikes to Scooters: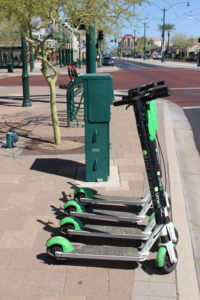 Bikes almost vanished midway through 2018. If you turned away for a moment and looked back in 2018, you found electric scooters had replaced bikes, some in the same colors, like Lime. Others were new. Bird flocked into the market in black and white plumage. Then came Uber and Lyft, linking scooters to their ride-share apps. Lyft went with a purple gradient theme. Uber's play was a bright red brand of scooters and bikes: Jump.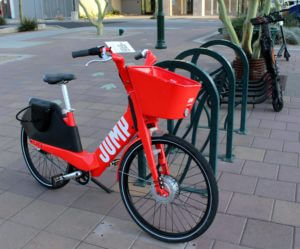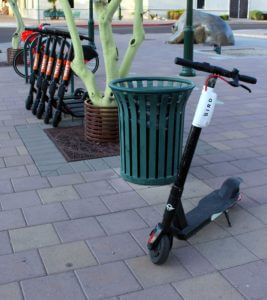 This story from Nashville, about electric scooters was typical:
Like Uber or Lyft, Bird riders use an app to find the nearest electric scooter, then log in and start riding. Bird's scooters are meant to be ridden in bike lanes, which is why the company gives local governments $1 per vehicle daily to reinvest in improved bike lanes. Once riders complete their trip, they're supposed to leave their scooter on the sidewalk so the next user has easy access. All scooters are picked up at 8 p.m. each night by Bird employees to be recharged.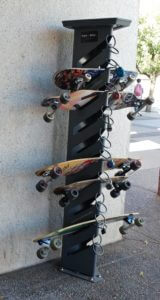 While some companies use employees, others use piece-work contractors to recharge, reposition, and in some cases fix the scooters.
The downsides of scooters are the same as bikes. People complain about them being left strewn across sidewalks, blocking pedestrians and those in wheelchairs or mobility scooters. Some cities in the Valley of the Sun are using old laws, aimed at heavier gas-powered scooters, to block e-scooters, at least until they can find a way to "regulate" them into submission to city hall.
College administrators have again postured against this expression of free enterprise amidst their ivory tower sinecures. College administrators have banned the new scooters for "safety" reasons, a claim controverted by the skateboard locking racks outside college buildings. The skateboard rack shown here is just outside a major university's recreation center, a university that has banned electric scooters. Meanwhile, students, are ignoring the ban when they can grab a scooter on the way to where they are going. Students are the customers of both the universities and the ride-share scooter companies.
Another concern about the dockless mobility solutions, both bikes and scooters, is how they actually make money. Is this an attempt to make a profit strictly from riders' mileage and time charges, or are they capitalizing on all the data they are gathering? When the question was put to several of the scooter companies, they denied they were exploiting user data, at least right now.
"There are no other revenue streams we're interested in," said Travis VanderZanden, CEO and founder of scooter company Bird. "We think our business model is renting the vehicle. We think that's the best way to monetize the service. We will never advertise on the Birds and we would never share or sell customer data or anything silly like that."

LimeBike's Dreiman said ridership is "our primary revenue stream right now. We are exploring other revenue streams through partnerships, whether it's advertising or partnering with other private companies. But right now because ridership is actually quite high, we're able to run a sustainable business."

Ofo's Taylor said revenue in San Diego is coming "100 percent" from bike rentals. As far as data sharing, Taylor said, "That's not something we're interested in at this point."
How long will that plan hold? Perhaps until shortly before borrowed money runs out, as these electric scooter companies face profitability challenges.
Bird and Lime, the two most dominant startups in the fast-growing (but still money-losing) dockless scooter game, both rely on independent contractors to collect and charge its scooters each night. Other companies, like Uber-owned Jump, use full-time employees to manage the ground operations.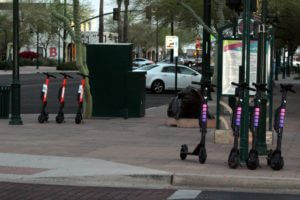 Some stories posture the scooters as competing with drivers for Lyft and Uber. Bloomberg recently claimed:
People don't pay much to rent a scooter for a mile or two, but remember the important difference compared to a car: There's no driver in the equation when Lyft rents a scooter or bike, so the company keeps almost 100 percent of the fare. With a car ride, the driver effectively ends up with the majority of that money.
An Australian publication, Architecture and Design, better laid out the balance between drivers and scooters:
Uber is interested in e-scooters and e-bicycles because many of its ridesharing trips are short ones that could be made by e-scooters.

If Uber could shift its short-distance passengers from cars to e-scooters, it would be able to use fewer drivers and reduce operating costs. The remaining drivers would be transporting passengers over longer distances for higher fares.
The trips which people take with a scooter are not desirable fares for Uber and Lyft drivers. The distances are just too short to make a day's fares, meeting the drivers' expenses plus net earnings needed to make a go of it. So, in reality, the rideshare companies are adding a transportation mode without necessarily harming their drivers' earnings.
Perhaps the largest challenge to breaking even and moving to profitability is the effective useful life of a scooter in heavy use. Segway is one of a couple of producers of the scooters these companies are using. Or rather, the Chinese firm Ninebot bought Segway and got into personal mobility:
Segway-Ninebot plans to join in the fun with its next-generation scooter, the Shared Scooter Model Max, which has been designed to reduce maintenance costs.

Shared scooters suffer a lot of wear and tear, shortening their lifespans on the street. The company designed the Model Max to handle complex shared usage scenarios, consumer overuse of vehicles, operation models, and maintenance costs. The scooter is built for weather resistance, operator customization, and rider comfort. Details will be provided later.
It has been about a year since the scooter explosion. They have not yet drawn the same level of ire from city hall as the much larger bicycles. Will they prove a viable solution for the last mile problem? Will we see a significant segment of the population scooting around town, singly and in groups, for years to come? What might be the alternatives?
In researching this piece, two songs kept playing in my mind. The first is by Queen. This is from their official channel, but NOT the original music video, which is not workplace friendly!
Naturally, the other song from a certain era, was "Bad Motor Scooter."
What songs came to your mind as you read this post?