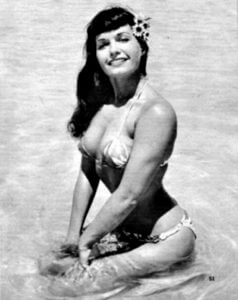 My grandma was a fat woman trapped in a thin woman's body. Or rather, she was a woman for whom thinness required more mortification of the flesh than is usual, eating like an anorexic (they do eat — sometimes) simply to get her BMI down to normal. At times, this meant weeks of her eating nothing but carrot broth. More generally, it meant cooking deliberately unpalatable food (justifying it as "healthier") for her whole family, to discourage "overeating". She was also a hypothyroidic woman who came of age in an era when thyroid supplementation was not widely known.
Trouble keeping weight off isn't the only sign of an underactive thyroid. The other signs — frizzy, thinning hair, the perpetual frog in the throat, catching chills — grandma had those, too. Not that you'd know it when you met her, since she wore a wig and retained just enough foreign accent to dress up her chain-smoker's growl (in one who never smoked) as the smoldering alto tones of another Marlene Dietrich. My grandma was an elegant lady; built like a brick house even at her thinnest, but trim and sexy, very sporty; the kind of woman who'd pester the local rowing club into admitting women in the morning, then doll herself up for the evening in a dress looking far less shabby than it really was to go out on the town, dancing and pretending to sip fancy cocktails (not really sipping them, though — calories). My grandma had an iron will, not just iron but huge, rolling and inevitable, a steamroller. Her physical beauty was a manifestation of this, winning her several proposals when she was widowed before her time. For grandma, thinness was a moral issue.
My mother, inheritor of the same complex of maladies that had dogged my grandma (including but not limited to an underactive thyroid), felt differently. Once Mom took anatomy in high school, she learned about the thyroid gland and demanded to see an endocrine specialist. Mom was tired of years of being the fat kid, tired of being judged by her own mother as immoral (a liar, a sneak, weak-willed, etc, etc) for not slimming down on ever-more-restricted diets. The spartan eating habits that had worked for my grandma clearly weren't working for Mom. Maybe my mom's problem was weakness of will — compared to my grandma, that is. Compared to the rest of the population, Mom was also a steamroller. Just a fatter steamroller.
***
One Mom got tested and put on thyroid supplements, she "lost weight, regained [her] hair, and perked the hell up," just as Megan McArdle describes. In her prime, you might have mistaken Mom for Betti Page with a boob job.
It is true that once Mom had kids, her work schedule plus the general insanity of keeping a household filled with, well, us from catastrophe encouraged her to self-medicate with food and plump up again, despite thyroid supplementation. One consequence of a childhood spent being scolded for one cookie as if it were the Original Sin is that thoughts like, "Dammit, I'm an adult now, and tired, and stressed, and no-one's here to boss me — I'll have all the cookies I can!" might become harder to suppress. Still, one of her kids' treasured possessions is a photo of Mom before she had us, lounging poolside, not trying, I think, to look every inch the pinup girl, but definitely succeeding. We treasure this photo because we witnessed how much our grandma morally shamed Mom for being a hopelessly fat fatty, even once Mom was a grown woman raising kids of her own, with bigger worries, frankly, than her dress size.
***
The shame my grandma rained down on the fat was both counterproductive and understandable. Counterproductive because it was obvious to everyone not my grandma that normal people could afford more luxury in their eating habits than she could without inflating like zeppelins. Understandable because she could not. She thought sustained mortification of the flesh is just what normal people had to do to look normal, just as she did. Consequently, people who failed to mortify themselves accordingly — as judged by the imperfect proxy of how much flab they carried — really were exceptional moral failures in her eyes.
Grandma not only achieved fitness despite her low metabolism but also despite considerable pain and other setbacks. Her achievements of bodily discipline in the face of those obstacles is commendable. Less commendable, though, was her failure to recognize that these were obstacles that people, quite reasonably, often won't overcome, especially if they don't get outside help, help like Mom got once she realized thyroids are A Thing.
***
However we are, are we "born that way"?
Retaining a residuum of choice in the face of circumstances we don't choose means we do have some choice, but choices often come at a cost not everyone will afford. People often use, "I was born this way," as shorthand for, "For as long as I can remember, I've faced more obstacles to conforming to your expectations than I could reasonably be expected to have overcome."
@ArizonaPatriot (AP) emphasizes that the "big choices" we make in life aren't one single choice, but the culmination of many smaller choices:
There is a "strawman" version of the "choice" hypothesis, which assumes that proponents of "choice" as causal factor believe that a person would sit down one day and decide, hey, I'm going to be a homosexual. A more sophisticated hypothesis would be that a variety of choices could lead to such an outcome. As an analogy, and certainly an imperfect one, it seems very unlikely that anyone sits down and "chooses" to be an alcoholic. But it seems plausible to me, at least, that a series of choices can be a causal factor in leading a person to alcoholism. This is perfectly consistent with the existence of other factors, including genetic and other environmental events.
As I replied, a "big choice" as AP describes it is not only a culmination of many smaller choices but of many choices made in the face of a great many things we did not, in any reasonable sense, choose.
Since we cannot change the past, our past choices, too, become part of the weight of what we can no longer choose, only amend by better choices going forward. Warnings about "the primrose path" warn us against accumulating harmful choices to begin with, but these warnings, too, cannot change the past. Moreover, which choices will prove most harmful to us, most burdensome to our future selves, often aren't obvious at the time.
Much as we conservatives might be loath to admit it, the consequences of our choices often have an accidental character. Why did twisting my knee on some carpeting in college cause me lifelong lasting pain, while none of my underage drinking did? That I never drank very much is only a partial answer. It explains why I was less likely to be punished for drinking, not why I was also punished all out of proportion for a dumb (albeit perfectly sober!) move on some rug. Everyone has stories like this. For good or ill, these stories make up our lives.
***
When people say, "I was born that way," they might mean it literally. They might mean some genetic or other pre-natal anomaly explains why they are the way they are. More often, I suspect, they mean it figuratively, and perhaps we should extend them the grace of taking them seriously but not literally. They may mean it's just how life has always been for them, and that changing hasn't been worth the effort. "Worth the effort" is obviously a subjective judgment. Some won't change because they won't try. Others have tried — God knows how they've tried — but setbacks have beaten the "try" out of them. An iron will is a remarkable quality precisely because most people don't have it.
And even iron can be broken.
Published in General