The afternoon of 20 March 2019, President Trump rocked out with a group that makes real heavy metal. The event was different from other presidential appearances, but featured many of the same themes. Two themes, American defense revival and energy dominance, stood in stark contrast to news from Germany. In the midst of the prepared remarks, with the usual riffs, President Trump elaborated on his criticism of the politician John McCain, who the appointed Senator from Arizona, Martha McSally, is unconditionally defending, raising questions about her viability or suitability in 2020. President Trump's visit to the Lima Army Tank Plant was a great political messaging success on several levels.
The setting:
The Lima Army Tank Plant, in Lima, Ohio, is where the components of the M1 tank, in all its variations, are assembled into a heavy metal instrument that can rock your world. The plant has a uniformed Army oversight contingent, partnered with a skilled civilian workforce centered around proud UAW workers. President Trump spoke to the assembled plant crew, to repeated cheers from these skilled tradesmen, proud UAW members.
If you had not been paying attention, this plant, the only one of its kind in America, had been idled by President Obama. Their workforce was slashed as upgrades for our main battle tank, the world's most lethal direct fire system, were halted. President Trump was visiting to highlight renewed upgrade orders and hundreds of highly skilled and well paid workers back at work.
The event was not a MAGA political rally, not organized by the Donald J. Trump campaign team. Rather, this was an official presidential visit, more like one of his troop visits. Unlike all previous appearances, President Trump rolled out briefing charts, as any CEO would do. Instead of just repeating the good news numbers, from employment to progress against ISIS, he called up charts that made his point.
President Trump proved very comfortable integrating visual aids into his presentation. Indeed, after a few good news slides, he joked about a trend line chart: "you don't even need to know what it is about, that line just has to be good." This observation, which everyone who has ever been in a meeting with charts understood, drew a great laugh of agreement.
Themes:
Workers have amazing opportunities now, with growing opportunities to take great jobs at higher wages. The president repeated the general employment news, again highlighting historic low unemployment for groups that are supposed to be Democrats' long term voters. He tied this general good news into praise of the tank plant workers and pointed out how, where other presidents had written them off, he has been dedicated to bringing skilled manufacturing jobs back.
He pointed to trade and regulatory moves that created competing demand for these skilled tradesmen. Countering China's unfair trade practices was helping a steel plant reopen. Approving pipelines meant massive private sector infrastructure employment for pipeline construction, and supported American energy dominance in the world.
Regulatory relief and trade policy supported the president pressuring American corporate chieftains to put American workers first. Indeed, President Trump went from praising the UAW workers to serving notice that he was leaving Lima to go browbeat GM executives into either reopening or quickly selling a newly idled plant to a more competent manufacturing entity. At the same time, Trump positioned himself on the side of union workers against their union bosses.
The president pointed out that the union bosses were all Democrats, and were only supporting politicians who were destroying good trade union jobs. He even called for the bosses to lower the dues on union members. The UAW workers cheered President Trump repeatedly.
America has the greatest military in the world, it does great good, and American workers have provided the arsenal of democracy. President Trump recalled the Lima Army Tank Plant's history, going back to modifying M4 Sherman tanks for the amphibious landing at Normandy. He recited this plant's role providing tanks to the Army in every war since then. He called out every state in which major components of the M1 are made, from the specialized armor to the 120mm smooth bore main gun. This part of his presentation offered the chance to praise the shipyards building the Navy's latest supercarrier and Texas as the center for F-35 construction.
America has achieved energy dominance in the world. President Trump has removed roadblocks to pipeline construction, speeding the transmission of crude oil and gas to refineries or ports. By ending presidential attacks on carbon based energy, he has made investment and energy infrastructure construction attractive. This is bad for Russia and other malign actors who need high energy prices to finance their activities, and very good for our nation and American workers. See this new Popular Mechanics article: "America's New Energy Coast."
Unspoken Contrasts with Germany:
Germany has pursued a course of national weakness, in marked contrast to frontline Eastern European states, who have met the 2.0% GDP commitment for annual defense spending. The evidence of readiness rot has mounted and been reported for years. Consider the latest alarming report from Deutsche Welle:
German armed forces commissioner Hans-Peter Bartels demanded Tuesday that Finance Minister Olaf Scholz "reliably" implement funding boosts for the Bundeswehr in line with Germany's NATO pledge.

The Finance Ministry said Monday that an extra €2 billion ($2.27 billion) was planned for the military in 2020, but Germany's military spending would drop in 2023 to 1.25 percent of its gross domestic product — well short of NATO's 2 percent target set for 2025 and Germany's promise to meet 1.5 percent by that year.

Next year's intended outlay of €45 billion — compared to €43 billion this year — would not suffice for a "fully equipped" Bundeswehr, said Bartels, who has often highlighted defects in aircraft, tanks and submarines and the "monstrous" military bureaucracy.
Yet the leader of the German government, Angela Merkel, was contemptuous of NATO commitments:
Merkel said Tuesday defense spending has increased as a share of GDP even as the economy has grown. She said long-term budget plans contain "minimal data," and actual spending has always been revised upward.

She highlighted the importance of foreign aid, saying Germany will continue its efforts on defense "but not at the expense of development aid."
This long term gross national negligence has turned the German military into a straw giant. In 2018, when the Germans were preparing to take the NATO lead in a quick reaction force, to counter Russian armed incursions, German news sources told a grim tale of Bundeswehr tank readiness:
Specifically, the Bundeswehr's ninth tank brigade in Münster only has nine operational Leopard 2 tanks — even though it promised to have 44 ready for the VJTF — and only three of the promised 14 Marder armored infantry vehicles.

The paper also revealed the reason for this shortfall: a lack of spare parts and the high cost and time needed to maintain the vehicles. It added that it was also lacking night-vision equipment, automatic grenade launchers, winter clothing and body armor.
How far has the German tank force fallen? About 90%!
Developed in the 1970s by Krauss-Maffei as a replacement for the Leopard I, the Leopard II tank is still one of the best main battle tanks in existence. […] Unfortunately, there are way too few of them.

[…]

West Germany procured 2,125 Leopard IIs — enough to equip nearly twelve panzer (tank) and panzergrenadier (mechanized infantry) divisions. The end of the Cold War and declining defense budgets caused Germany to shed nearly 90% of its tank force, and today the Bundeswehr has just 225 Leopard II tanks.
At the same time the government of a unified Germany has disarmed in the face of resurgent Russian ambitions, that same government has rendered itself dependent upon Russia for the energy necessary to sustain its economy. Angela Merkel is the first East German to lead modern Germany. She used the excuse of the Japanese nuclear power plant failure, caused by a tsunami, to take Germany's nuclear power plants offline, at the same time as she led a massive transfer to wind, solar and biomass. Yes, solar in Germany! The green energy disaster was perfectly predictable.
Now she has chosen to cut a deal with Putin for a new gas pipeline, Nord Stream 2, providing a long-term subsidy to Putin's ambitions while making the European economy more vulnerable to Russian meddling. So, here we have a national leader who was raised in Communist East Germany, where the Stazi kept files on every citizen. We have a former KGB colonel in charge of Russia. We have the German national leader pursuing military and energy policy that weakens Germany and NATO, while helping Putin's Russian.
Naturally, our politicians and pundits are all over the story as one of likely compromise, of dossiers, of collusion. Oh, you haven't seen those headlines and nightly panels? Funny, that.
Real Russian Collusion?
Given the marked contrast between at least the functional equivalent of Russian collusion by Germany's leader, and the robust opposition to Putin by President Trump's energy, trade, diplomacy, and military actions, any rational observer would conclude that Putin has the partner he wants in Europe, but got exactly the opposite here in November 2016. Yet, Democrats have not been willing to concede the legitimacy of any effective Republican president since at least George H.W. Bush.
What is shocking now is the support by bitter "conservatives," who bet on the wrong horses in the 2016 election, for weaponization of law enforcement and spy agencies to de-legitimize the object of their hatred. The old KGB colonel would keep lists of people and groups outside the Party who served the Party's ends. Some were willing partners, each side believing they were getting what they wanted. These were called "fellow travelers." Far more numerous would be people or groups who were cluelessly helping one or more Communist Party objective. These were labeled "useful idiots."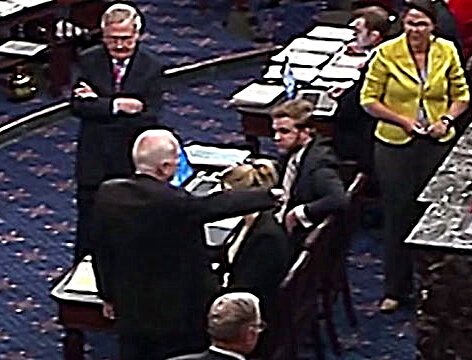 I leave it to you to choose which category applies to a U.S. Senator who presses a British/Russian disinformation instrument on our intelligence agencies to damage a domestic political rival. Such utterly egotistical, blind aid to Russia's goals has not been seen since Senator Ted Kennedy contemplated collusion with the Kremlin to stop Reagan's election. Remember that Putin, and his predecessors, have always been about preserving their own power and weakening us by stoking American internal strife and questions about the legitimacy of our system.
Of course, establishment Republican politicians did not help shore up public faith in our system when they cynically made campaign promises about building the wall on the U.S.-Mexico border and repealing Obamacare. Senator John McCain proved a faithless politician, whose supporters have sought to wrap his stained political career in the honor of McCain the military officer. Yet, we are not supposed to notice that of all the POWs who spent years in North Vietnamese captivity, there have been two career politicians.
Sam Johnson stands in marked contrast to John McCain. He not only flew fighters in both Korea and Vietnam, he was a leader in training other Air Force fighter pilots. When he was shot down on his 25th mission over Vietnam, he endured longer captivity than McCain and he was one of 11 prisoners who were isolated from the rest of the Hanoi Hilton population, kept in what was called "Alcatraz." Read at least these excerpts from his account, Captive Warriors.
Now, having read that, consider that Sam Johnson served his congressional district from 1991 until he retired in 2018. Consider that you have likely never heard of him. Why would that be? He was a co-founder of the conservative Republican Study Group in the House. His life in public office was unmarred by scandal, and marked by steadfast conservative action, keeping faith with his voters and his party. That is, his whole public life was one of selfless service, unmarred by the bitter demands of a brittle ego.
In seeking to protect a flawed politician from political criticism, people like appointed Senator Martha McSally do a disservice to the truth, to public trust, and to the legacy of consistently selfless public servants like Sam Johnson.