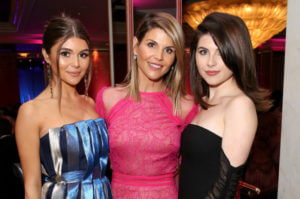 When the college admission scandal broke a couple of days ago, I didn't think it would be a big deal. (I'm known for my brilliant predictions.) I thought, "We're supposed to be offended because kids are getting into colleges that they would not normally qualify for? Call me when we dump affirmative action. Then, maybe I'll get offended by this." But this has been a huge story. It's all my patients want to talk about on our office visits. So people clearly got more upset about this than I anticipated. I just couldn't figure out why. So after giving it some thought, I have a theory. I'm still not sure I understand this, but hear me out…
Again, my confusion arises from the fact that we admit unqualified applicants all the time. Depending on the college, it can be 30-50% of the incoming class. The classic example is a black male college applicant. The qualifications he needs to get into, say, Stanford, are a lot different than the qualifications that would be needed for an Asian applicant. You might say, then, that black race is a qualification for college, just like a high SAT score or a high class ranking. That is objectively true, but I look at it slightly differently.
Blacks are a privileged class. At least in terms of college admissions. More so than being a legacy at Harvard or having a famous parent. And it's understandable to treat the privileged differently than everyone else. Such is life. Nothing new there.
I think what offends people about the college admissions scandal is that certain people are buying privilege that should not be for sale in their view – it is so precious a resource, that it should be controlled and regulated by the government, like ground water or liquor licenses.
Leftists don't trust capitalism and personal liberty because it is unpredictable and uncontrollable. What will a phone look like ten years from now? Impossible to say what private industry will come up with. But Social Security hasn't really changed in nearly 100 years. That is comforting to some people. In a free society, who will be the winners? Who will be the losers? Hard to say. And it's not always fair, at least not by my reckoning. Wouldn't it be better to have government control things? At least we can vote on our leaders, rather than subjecting ourselves to the rule of Bill Gates. Who chose him? Power should be controlled by the people.
Of course, there are a few problems with the, um, logic in the previous paragraph. But a lot of people think this way, to varying degrees. It's one of the few things that Democrats can talk about these days that actually resonates with people. Alexandria Ocasio-Cortez doesn't talk about banning air travel or killing babies. She talks about Bill Gates. It's standard simplistic populism, playing off the jealousies of the masses. It's not pretty. But it works.
What I'm getting at is that we don't mind taking black students who normally couldn't get into Ohio State and putting them at Harvard. That's ok, as long as we all voted on it. Affirmative action is the law of the land (…although I think it's also illegal, so, um, work with me here…). We've agreed as a society that the races should not be treated equally, so it's ok to use race as a qualification for admission, even if it may not seem fair.
But if someone buys such privileged status – that is different. We didn't get to vote on that. It's ok to vote on unfair advantages, but it's not ok to sell it to the highest bidder.
I was kind of hoping that this would make more sense once I wrote it down. I often don't really understand my own points until I take the time to write a persuasive essay. That didn't really work this time, which means either that I'm not writing very well today, or I'm full of crap. Perhaps I should set this aside and think about it a bit more.
Ha! Just kidding! I'll just post it and let you folks figure it out for me. Much easier.
So what do you think? Are people offended by the purchase of government regulated goods? Or do you have a better explanation? Again, we admit unqualified college applicants all the time. Why is this different?
Published in General