On Friday afternoon, 15 March 2019, New Zealand time, there was a horrific terrorist attack at least two mosques in New Zealand. They are 20 hours ahead of the U.S. West Coast time. According to the initial reports, an attacker livestreamed the event. The image, at right, was captured by media before the video was taken down. There apparently was a lengthy manifesto. There have been multiple people arrested. It appears this was an attack by white New Zealand and Australian citizens on Muslims.
New Zealand Prime Minister Jacinda Ardern said: "This can only be described as a terrorist attack." The linked BBC page has a series of videos. The PM is not inclined to tweet. Indeed, you can see her last communication was in October.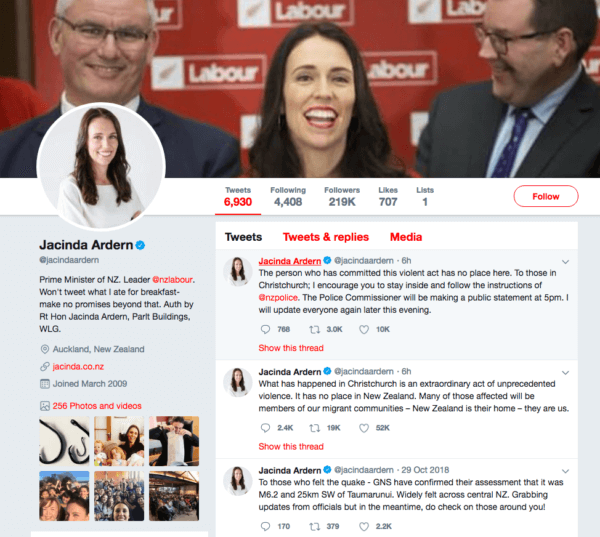 The initial casualties being reported are 40 killed and over 20 wounded at two mosques in Christchurch, New Zealand:
Of the confirmed 40 people killed, 30 were killed at Al Noor mosque and 10 killed at Linwood mosque. That 10 figure includes three people who were outside Linwood Avenue mosque at the time.
The casualty reports have trended up to 49 dead and 48 being treated in area hospitals. Follow the live blog on the Christchurch mosque shootings, at the Strait Times, out of Singapore, for a regional view.
Initial reports indicated a single shooter, self-identified as "Brenton Tarrant," methodically gunning people down, starting with worshipers who had just begun their Friday evening prayers.
Australian Prime Minister Scott Morrison has confirmed that one of the four people taken into custody is Australian. Media reports had said that a man who called himself "Brenton Tarrant" – a white, 28-year-old Australia-born man – claimed to be the shooter and livestreamed the shooting for 17 minutes.
If it was only the one shooter, not only was he uninterrupted in his slaughter, but he had the freedom to drive from one mosque to another and continue his killing spree.
So, our intelligence and law enforcement community has to be asking if this is a small cell trying to make itself look significant on the internet? Is anyone in the U.S. following, interacting with, the individuals or network implicated in the attack? Are there any signs emerging overnight of people who start chattering about a copycat attack here?
The clock is ticking towards Friday evening prayer services at mosques in the United States. So, what steps are being taken to prevent an attack on one or more mosques here? At the same time, are there signs of Muslims or other Jew-haters deciding that this is as good an excuse at the last one for attacking Hasidic or Orthodox Jews on the streets, or targeting Jewish businesses or places of worship come Saturday?
A lot of professionals are surely working through our nighttime. Before waking President Trump, DHS Secretary Nielsen and National Security Advisor Bolton had better have a clear assessment and recommended a course of action.
Rest assured that the Jew-haters, led by Rep. Ilhan Omar, will shout Islamaphobia, and the media arm of the left will blame guns and President Trump. The Democrats' failure to properly censor targeted hatred of Jews will now be praised as just the right, balanced message. In New Zealand, there is both widespread gun ownership and very strict controls and inspections for ownership fitness. Their history is not ours, and their politics are not ours. Accordingly, we should be careful in any attempted analysis or drawing of conclusions.
---
Update—midday Friday, U.S. West Coast time:
* The most comprehensive straight news summary, updated regularly, is in the Strait Times article "'One of New Zealand's darkest days': At least 49 killed in terror attacks on Christchurch mosques."
* National Security Advisor John Bolton spoke to reporters on the White House driveway, prior to joining the president, vice president, and national security team for a national security meeting at the Pentagon. Bolton was very measured in his words on both the New Zealand attack and North Korea developments.
* Secretary of State Pompeo had an excellent statement on the terrorist attack in New Zealand, followed by a very strong statement on Yemen, and the International Criminal Court. He echoed the New Zealand PM's language, calling it an "hour of darkness."
* President Trump's first tweet of the day read:
My warmest sympathy and best wishes goes out to the people of New Zealand after the horrible massacre in the Mosques. 49 innocent people have so senselessly died, with so many more seriously injured. The U.S. stands by New Zealand for anything we can do. God bless all!
Published in General