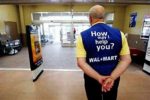 Did you ever see the movie with Jim Carrey called "Fun with Dick and Jane", where he loses his high profile job and is forced to become a greeter at a local store? It's so funny, but what was on the news this evening was not so funny.
Our local news reported that Walmart is eliminating the greeters at the front entrance. The person in the segment that is losing the job in April is an elderly veteran. He said this job keeps him going. They showed him saluting the patrons as they entered the store, and they smile and salute back. The local news person interviewed many of the Walmart customers who said they would no longer shop there if he wasn't present. Wow! They were adamant that they look forward to seeing him, talking to him and that it adds to their overall store satisfaction.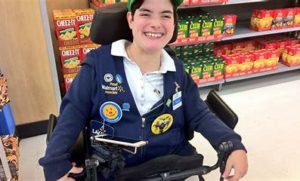 At our local Walmart, it has usually been a disabled person in a wheelchair. They greet you with a smile, and offer flyers on specials throughout the store. There have been times when I've had to wait with my cart at the entrance, while a group of people chatted with the greeter.
My sister said at her local Walmart Super Center, that they are not only eliminating greeters, but they are also eliminating cashiers. They have half the cashiers they had last year, and are encouraging more people to use self-checkout. I've used the self-checkout at several stores when I have a couple items, but if I have a full buggy, I not only appreciate a cashier, but someone to bag the stuff and even appreciate the chat. These people are our neighbors and community. The physical interaction is more than important. It is part of a human need to communicate and interact with a real person.
I have seen cashiers in Walmart with a black eye, and I refrain from asking why; she is still pleasant and engaging, there are those who limp and sigh while they ring up my order, and clearly they are there because they have to work, they need the income, the benefits and they are part of society who need that job. They may also need the interaction, the pleasantries, to feel like they are contributing, and obviously, according to the people interviewed today, they are. They are more than a welcome sight.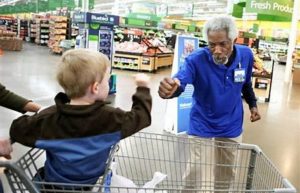 As more low income jobs become robotic, and eventually eliminated, what will the more fragile in our society do – the veteran, the disabled or mentally challenged, the older person with an ailment who may be struggling, divorced or widowed, that needs this job, and human interaction? Walmart is eliminating greeters – who cares? I do.
What do you think of this policy? Would it change your view of Walmart as a company? How will the elimination of low-income jobs change the quality of life for those that depend on them?
Published in General