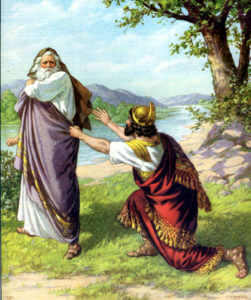 Groggily stirring from a deep sleep this morning, the Haftorah reading for the week came to mind. (Not being a Torah scholar, I was surprised and perplexed.) I had read it over the day before and thought that it was pretty straightforward. But as I lay in bed, I realized there was a prescient message that spoke to the present times. I wanted to share that with you.
I Samuel, 15:2-34 was about G-d telling the prophet Samuel to instruct King Saul to defeat King Agag and the Amalekites, destroying all the people and all of their animals. (The Amalekites had viciously attacked the Hebrews previously.) Saul was not the brightest bulb and decided that he'd just slightly adjust the commands from G-d. So when he defeated the Amalekites, he kept the King alive (probably figuring, what could he do now without an army to support him) and also saved many of the best animals, figuring they could be used for sacrifices. Hey, you can never have too many sacrificial animals.
Samuel, to whom G-d had expressed his anger and disappointment, confronted Saul, who tried to make excuses for himself, but Samuel would have none of it:
"Does the Lord delight in burnt offerings and sacrifices
As much as in obedience to the Lord's command?
Surely, obedience is better than sacrifice,
Compliance than the fat of rams.
For rebellion is like the sin of divination,
Defiance, like the iniquity of teraphim.
Because you rejected the Lord's command,
He has rejected you as king."
Saul begged for forgiveness, but Samuel rejected his pleas and killed King Agag himself.
On first reading, there were obvious messages I could glean. When we receive direction from G-d, we step up. We just do it. G-d wanted King Agag destroyed so there would be no vestiges of that idol worshipping civilization. And He called for the potential sacrificial animals destroyed for the same reason. Using one of those animals from an unholy people as a sacrifice was just not kosher. Everything had to be destroyed, so there was nothing to tempt the Hebrews to idol worship and separate them from G-d. Another message was that sacrifices were a way for Jews to connect with G-d. But Samuel, in his words above, pointed out that obeying G-d is most important. And why? This is where the story relates to our own times.
Today we see people worldwide who think they have the power, intelligence, and authority of G-d.
In our own politics, we have people who not only don't believe in G-d, but defy everything G-d stands for: humility, knowing our limitations, remembering that everyone is created in G-d's image. Instead, we have a political wave of people who believe they are entitled to their power, to forcing it on others because they have a mission to save all of us, a belief that they know what is best for everyone, and a certainty that they are superior to all of us. They have made themselves into gods.
My hope is that they will be trapped in the miasma of their own arrogance.