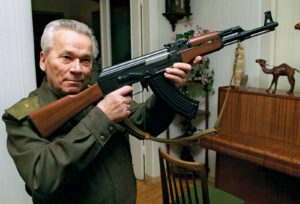 Across the country, law enforcement agencies are telling their legislatures that they've had enough. From several states, they have decided to join forces in refusing to enforce laws that inappropriately limit the Second Amendment. The movement is called "Second Amendment Sanctuary":
For instance, in New Mexico, 30 of 33 county sheriffs have signed a letter pledging to not help enforce several gun-control measures supported by Democrats in Santa Fe, according to the state's sheriff association. The sheriffs, who are elected, say they are heeding the wishes of voters in the counties they serve. More than two dozen counties in the state have enacted 'sanctuary' resolutions backing the sheriffs and affirming that no tax dollars in their jurisdictions should go to enforcing the proposed laws.
Those fighting back against the sheriffs have accused them of "going rogue."
In New Mexico, the legislature is moving forward to require background checks for most private gun sales; they are also proposing a "mental health" measure to confiscate weapons from people who others identify as a threat. "Red flag" legislation has caused most of the resistance:
A New Mexico bill passed by the state House would allow family members or those close to a gun owner to ask a court to temporarily confiscate the person's gun if they think the person poses an immediate danger to themselves or others.

New Mexico sheriffs say that they already have legal ways to disarm dangerous people in emergencies and that the bill fails to protect the due-process rights of gun owners subject to seizure orders. If the 'red-flag' bill becomes law, the sheriffs say they are prepared to get judges to reconsider seizure orders if they feel the gun owner hasn't been granted due process, according to Cibola County Sheriff Tony Mace.
In Illinois, 60 counties have approved Second Amendment Sanctuary Resolutions; sheriffs in the state of Washington have also stated that a measure approved by voters last year is "unconstitutional and unenforceable." Sheriffs in Colorado, California, Iowa, Idaho, and New York have also protested these new gun laws.
Why is this resistance happening now? For one, it is symptomatic of a disagreement between rural and urban areas. An entire state is being held accountable for enforcing stricter gun laws although overwhelmingly, most gun violence occurs in the cities. In addition, law enforcement is watching the continuous erosion of the Second Amendment and know these actions not only bode poorly for the citizenry, but eventually could limit law enforcement's access to and use of guns.
I think the sheriffs and prosecutors are setting an excellent example of just one way to make life more difficult for those on the Left who want to impose foolish restrictions on the public for political gain. Could the sheriffs be pandering to the gun lobby? Perhaps. Ultimately, though, their own agencies could be at risk, and the time to act is now. I like what Sheriff Bob Songer of Klickitat County Washington told Reuters :
Unfortunately for the governor and the attorney general, they're not my boss. My only boss is the people that elected me to office.
I hope we see even more resistance at many different levels against the infringement of our gun rights.
Published in Guns