Jimmie Wilson as a coach for the Cincinnati Reds (1940)

To die, to sleep;
To sleep: perchance to dream: ay, there's the rub;
For in that sleep of death what dreams may come
When we have shuffled off this mortal coil,
Must give us pause: there's the respect
That makes calamity of so long life.
— Hamlet (Act III, Scene I)
Jimmie Wilson was in pain. There was a reason he had retired from baseball. His knees ached and accurately reflected his 18 years and 1,500 games behind the plate. The muscles in his legs felt like someone had ripped them out of his body, tied them into knots and shoved them back into his 40-year-old carcass. He was back in the runway of old Crosley Field, his pants down around his ankles, while the team doctor rubbed a burning salve into his calves. He hadn't caught more than four games in the last two years but this was the World Series, dammit. The Deacon needed him and so did his team. How he got there is a singular story in the history of the game.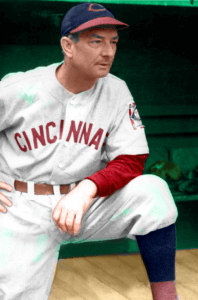 "The Deacon" was William Boyd McKechnie. A light-hitting infielder in the deadball era of baseball, McKechnie became known as a miracle worker in the dugout. His specialty was taking second-division clubs and turning them into winners by emphasizing good pitching and a tight defense. He was also the antithesis of his counterparts on other clubs. In an era when managers ruled their teams with an iron fist, McKechnie – a devout Christian – ran his according to the Golden Rule, treating each man as he would have wanted to be treated. He brought Pittsburgh a World's Championship and St. Louis a National League pennant.
Now he was in Cincinnati. He took over a club in 1938 that had finished dead-last in the Senior Circuit in 1937 with a 56-98 record. He led them to a 26-game improvement in his first year and the pennant in 1939. But that '39 World Series had left everyone in the Reds organization with a bad taste. Their last World Title was tainted by the Black Sox scandal and now they were swept in four by the mighty New York Yankees. In Game Four of that series, catcher Ernie Lombardi took a knee to the testicles from Charlie Keller and it allowed two runs to score in extra innings. The press called it "The Big Snooze from the Big Schnozz," playing on Lombardi's prominent proboscis.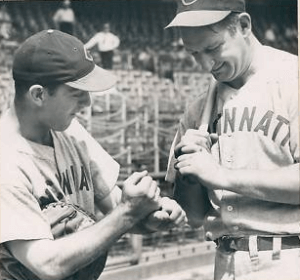 In 1940, the team was on a mission. By the end of July, the Reds had a nine-game lead on the 2nd place Brooklyn Dodgers. During a series at Ebbets Field, Lombardi injured his ankle, leaving his backup, Willard Hershberger, to do the bulk of the work behind the plate. Hershberger was a fan favorite in the Queen City. A young man of slight build he and Lombardi were a study in contrasting styles and appearances. Lombardi was a hulk of a man. It was said "Big Slug" could have hit .400 if he hadn't been so slow. Infielders played him so deep it took Lombardi two seasons to figure out that Pee Wee Reese was the Dodgers' shortstop and not their left fielder. "Little Slug" on the other hand was agile and swift, easily backing up plays at first, and in limited playing time racked up five triples in his Major League career.
But Hershberger was a troubled young man. He grew up in Fullerton, California, a teammate of future Hall of Famer Arky Vaughn and a classmate of future President Richard Nixon. Hershberger was a happy-go-lucky kid until that fateful day in 1928. An ardent outdoorsman, Hershberger was 17 when he came home from a long day of hunting and instead of cleaning his shotgun and putting it away, he left it leaning in a corner and left the task for morning. His father, Claude, recently demoted from his job at Shell Oil and drowning in debt, picked up the gun and a shell, retreated to the bathroom, aimed the gun at his left breast and pushed the trigger with his cane. Willard's bedroom was right above and the blast awoke him. He was the first to get to his father's body.
From that day forward, Willard became something of an introvert. He rarely socialized. Teammates in the minors and with the Reds remembered him having insomnia. His roommates would often find him up in the middle of the night, sitting at the window just staring into the night, puffing on a cigarette. While he could have had his choice of women he never dated. He told his friends that the only women he wanted to concentrate on were his mother and his younger sister. The Reds' appearance in the '39 Series had allowed him to fulfill his greatest goal – to build his mother a new house and get her out of the one his father had committed suicide in.
He also showed signs of being bipolar. Like his Dad, Willard would often be subject to wild mood swings and he was a certified hypochondriac. Where others avoided the team doctor like the plague because the slightest complaint could cut down their playing time, Hershberger regularly sought him out for a variety of ailments. His teammates kidded him and would stuff his locker with empty pill bottles.
With Lombardi on the shelf, he was now tasked with being the everyday catcher. Every failure at the plate, every pitch he called that didn't go as planned weighed on him like his woolen uniform in the summer heat. Playing day games and a lot of doubleheaders in 100° heat, Hershberger lost 15 pounds. He especially took a loss to the Giants hard on the last day of July. With the Reds leading 4-1 with two out in the 9th, starting pitcher Bucky Walters fell apart. He walked two and gave up three consecutive home runs to lose it. Instead of blaming Walters or his manager for leaving his starter in too long, Hershberger took the loss and put it on himself.
"If Ernie had been catching, we wouldn't have lost those ball games," Hershberger told third baseman Bill Werber. "We'd have never lost that game tonight with Ernie behind the plate."
The Reds got swept by the Boston Bees (nee, Braves) on August 2nd. Late in the second game, a Boston batter chopped one in front of the mound and Hershberger was like a statue behind the plate. The man with the cat-like reflexes just stood there as the play unfolded. McKechnie asked for time and ran out to talk to his catcher.
"What's the matter, son? Are you sick? Is there anything the matter with you?"
Hershberger looked at him and said, "You bet there's something the matter with me. I'll tell you about it after the game."
Later in McKechnie's hotel room at the Copley, Hershberger poured his heart out to The Deacon. He told him the story of his father, he confessed his own dark thoughts, he complained about the world and "that sonuvabitch Hitler." The two went out to dinner, came back and talked some more. By midnight, Hershberger assured his manager he was going to be OK and the two parted ways. McKechnie went to bed believing he had saved a life. Hershberger went back to his room and spent another sleepless night.
When Hershberger failed to show up for batting practice the next day, McKechnie had the Reds traveling secretary Gabe Paul call his room at the hotel. Even if he didn't play, The Deacon wanted to see him in the stands watching. He assured Paul that he'd show. But he didn't.
Instead, he turned on the game on his portable radio, rummaged through his roommate's toiletries, took the blade out of a safety razor and stood in front of the bathroom mirror. Moments before that he took all the towels and carefully covered the floor between the sink and the bathtub. Now he took the razor blade and dug at his neck until he found the jugular vein. He tried to control the bleeding until he could make it to the tub, got down on his knees, leaned over the side and allowed the life to ooze out of his body.
McKechnie became alarmed and dispatched a friend of Hershberger's, Cincinnati businessman Dan Cohen to go back to the hotel. When he returned to the ballpark with the news, McKechnie turned the team over to coach Hank Gowdy and told him to give the team the news at the end of the game. Later that night McKechnie called a team meeting.
Without revealing too many details, McKechnie assured the Reds players that he had done everything he could for his catcher. He also assured them that they weren't to blame. "Hershie" had been bothered for a long time he told them, he even had several of his paychecks left in his pocket. He told them about his father's suicide and that his problems were deep and personal and not about anyone on the team. "Big Slug" sat there and wept.
"The thing for us to do now is win the pennant and vote Hershie's mother a full share of the World Series money," he said. "And I know we'll win it."
The Reds went on to win 100 games and took the pennant by a 12-game margin. With Lombardi's ankle still bothering him and dissatisfied with the catching he was getting from the minors, The Deacon looked to his coaching staff and activated the 40-year old Jimmie Wilson. Playing through the intense pain, Wilson started six of the seven World Series games against the American League Champion Detroit Tigers. He hit .353 (6 for 17) including a crucial sac bunt in Game 7 that set up the game and series win for Cincinnati.
To this day, Willard Hershberger is the only active Major League player to take his own life in the middle of the season.
Epilogue
The Reds indeed voted Hershberger's mother a full winner's share from the World Series. She collapsed when she heard her son had followed in his father's footsteps and passed on herself in 1947.
Ernie Lombardi was traded to the Boston Braves in 1942 where he spent one season and won the batting title for the second time. From there he played five seasons with the New York Giants. After his playing days he fell into a deep depression and was on his way to a sanitarium in 1953 when he tried to commit suicide by slashing his throat with a razor. His family denied that he was trying to emulate his late friend Willard. He was bitter about not making the Baseball Hall of Fame and was last seen in public pumping gas as an attendant in an Oakland service station. He died in 1977 and was elected to the Hall posthumously in 1986. He has a statue in his likeness outside Great American Ball Park in Cincinnati.
Jimmie Wilson left the Reds when The Deacon did. He retired to Bradenton, FL and entered the citrus growing business in 1946 and died of a heart attack the following year.
Dan Cohen, the man who found Willard's lifeless body in that Boston hotel room took his own life in 1961.
Bill McKechnie's team would spiral downward during the war years. By the time he resigned in 1946 they were back in the basement. The Deacon would return to baseball's penthouse in 1948 as the bench coach of the Cleveland Indians. Some say it was McKechnie, not Lou Boudreau, that guided the Indians to their last World Series title. He would follow Boudreau to his next managerial gig with the Boston Red Sox, retiring in 1953. He was elected to the Hall in 1962.
Reflecting back on Hershberger's suicide, McKechnie once said, "He told me what his problems were… It was something personal. He told it to me in confidence, and I will not utter it to anyone. I will take it with me to my grave."
And in 1965 he did.
This season, the Cincinnati Reds will commemorate 150 years of professional baseball in the Queen City. On March 28th they will open the season at home against Pittsburgh. Hopes are high that a new manager and new faces will lead the team to better things.
For a more detailed accounting of the Reds 1940 season, The Razor's Edge from the Sports Illustrated Vault is an excellent start. A tip of the baseball hat to the Society for American Baseball Research for individual articles on the players mentioned in this post.
Published in General