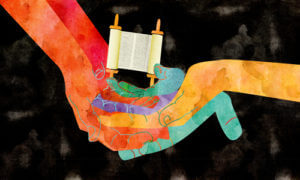 I don't think I'm especially good at partnerships, except in my marriage (I think). I'm too stubborn, am not always prepared to compromise, and have a short attention span. So I rarely partner with a person, because I generally fear the worst—damaging or losing a friendship.
This opportunity was no exception.
One day I was exchanging emails with @iwe, and casually mentioned that if he ever took on another book project, I'd be glad to serve as proofreader and/or editor. Looking back, it's a miracle that the heavens didn't erupt with thunder and lightning.
As it happens, iwe had been thinking about writing another book for quite a while and was put off by the demands of the project. He wanted to write primarily for Jews that were not steeped in Judaism, but might be experiencing a spiritual call and might be ready to re-engage with their faith; he found daunting the idea of tackling his over 100 essays to organize for a book, and wondered how to accomplish all that while editing it for the less-informed reader, and trying to run a demanding business.
And then I suddenly stepped up: a retired, teshuvah/returning Jew, who was a pretty good writer and editor, who loved learning about my faith and was acquainted with iwe and his family. iwe thought I'd be the ideal partner.
Partner?? All my past experiences of partnering flashed before my eyes. Plus a hearty dose of insecurity struck me. Eventually, @iwe convinced me that we should do the project together. I was thrilled at the prospect: an unexpected gift.
So far, it's been a joy. iwe calls it our time for learning, which indeed it is. He is learning about writing for a novice like me; I am learning a huge amount about Torah. We both feel that Hashem is engaged, guiding the process.
That, too, is an unexpected gift.