Florida's new governor, Ron DeSantis, has been going at warp speed to make changes in the state. His latest effort is to deal with a 14,000-student waiting list for a state tax credit scholarship program. But he's getting resistance from the usual suspects—the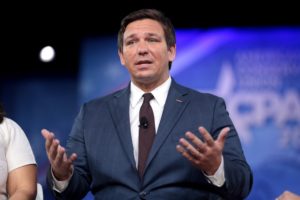 school unions and traditional administrators. I realized, however, that the fight is about much more than union control; it's about who controls the minds of our children.
Gov. Jeb Bush started the first-in-the-nation private voucher program, enacted in 1999. Unfortunately his efforts were stopped:
In a 5-2 ruling in 2006, justices ruled that Bush's voucher [plan] violated language in the state constitution by giving children in the state's lowest-rated public schools taxpayer money to attend private or parochial schools.
In the meantime, the state provided for corporations to receive tax credits for funds donated to a scholarship program for low-income students, a way to side-step the ruling:
About 100,000 lower-income, mostly black and Hispanic students in almost 1,800 private schools receive scholarships ranging from about $6,500 to just over $7,000 each. But Step Up for Students, the largest of two state-approved scholarship organizations, has seen a large waiting list grow for scholarships this year.
As a result, a new program called the Family Empowerment Scholarship, may have a better chance of succeeding in funding the voucher plan. And if the legislation is challenged in the courts, Gov. DeSantis has appointed three new justices to the state Supreme Court. The House Speaker Jose Oliva points to Bush in his support for the proposal:
'I think we're celebrating the 20th anniversary of the first step toward an education savings account,' Oliva said, citing the term used for one method of giving parents public money and control over what kind of school their child will attend.

'Through those two decades, there have been numerous attempts, and there have been legal fights and political fights, but I think ultimately, we have been always very clear. We feel the money should follow the student.'
Of course, critics of the legislation point to their usual concerns: taking money from the public schools; falsified fire and health inspections, run-down facilities and hiring teachers with criminal records and without college degrees. In contrast to these objections, substantial research has been done to validate the benefits of school choice programs. Although private schools are not required to report directly to the state, there are many ways to track violations.
What struck me is that no one has mentioned perhaps the most positive aspects of funding schools other than public schools: the public school leftist propaganda machine could be severely wounded.
Think about it: the Leftist educational establishment will not be able to dictate the curriculum for private and parochial schools. Certainly, some of the new schools could allow the Leftist agenda, but if enough schools and their administrators decide to take back the schools, who will stop them from offering a balanced curriculum?
Imagine having teachers encouraged, if not required, to speak about the Founders and the heroes of this nation. Imagine explaining the pluses and minuses not only of free enterprise but the failures of socialism. Consider that our students could actually learn how this country was formed, how it grew and how today it is the most successful country in the world.
In a poll taken by the Foundation for Excellence in Education in January, 80% of voters surveyed broadly support school choice, or options outside an assigned neighborhood school. The Foundation was started by Bush and has grown into the largest school-choice effort in the nation.
This could be one small step to taking back our education system, one state at a time.
I vote yes!