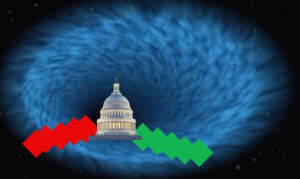 Prime Minister's Questions this past week foreshadowed the American government's future. Such a future had been seen as years, or decades, away, but events of this past week suggest the United States has entered a wormhole, as in a science fiction story. Indeed, it seems that one party has created an artificial wormhole, or hyperspace jump gate. Are we now being hurled towards convergence with British politics and society, with truth becoming stranger than fiction?
Prime Minister's Questions, on 6 March 2019, featured questions about what Labour MPs called "knife crime." While the Conservative PM lightly pushed back with talk of "drug gangs" as the problem, she effectively conceded the left's position by citing an "offensive weapons" bill as a part of the government's response. The accepted range of debate in Britain is now over how helpless the subjects of the realm should be rendered, firearms having long been restricted to near non-existence for ordinary people.
Compare this to the U.S. House Democrats rushing through bills on gun control. While our truly bicameral legislature will provide some check, for now, the Democrats, in the grip of the left, are moving as fast as they can towards removing the ability of deplorables, of "normals," who "cling to their guns and God," to resist. They do so even as their left-wing flaks for the socialist Venezuelan thugocracy, empowered by Cuban and other foreign bully boys, whose reign of terror depends on a helpless, unarmed population.
Leading the British Labour party, aspiring to be Prime Minister after the next election, is Jeremy Corbyn, a stone cold Jew-hater. Far from being hurt or limited politically by his bigotry, Corbyn has nurtured Jew-hatred in his party as a means to the end of securing his leadership and steering Labour to victory at the ballot box. An in-depth essay lays this out as "The Genius of Jeremy Corbyn," and concludes:
Jeremy Corbyn reminds us that anti-Semitism is not just an irrational hatred, harbored by madmen at the fringes of British society. He has achieved something new, not only infiltrating anti-Semitic language, tropes, and accusations into mainstream British political discourse but successfully wielding anti-Semitism as a means of dramatically increasing support for his larger program of "transforming British society." No matter how much the British Jewish community cries "Enough is Enough," for Corbyn it is never enough; to the contrary, to renege on his "anti-Zionism" would be to repudiate his entire worldview and renounce a core strategic key to his political success.
Corbyn has maintained this course even as seven sitting members of Parliament left the Labour Party in protest over other members' bigotry and bullying of those who dared speak up against the Jew-haters. The Labour Party is now driven by a red-green axis: the alliance of convenience between secular-supremacist leftists (red flags) and Islamists (green banners).
Until this week, such moral darkness was seen as a future threat in America, to be warned against and invoked carefully in political campaigns. At the beginning of this January, Steven Hayward, at PowerLine, quoted Robert P. George of Princeton:
Similarly, today's leading Democrats will move from support for Israel, to merely nominal support for Israel, to neutrality, to quiet, somewhat ambiguous opposition, to something effectively indistinguishable from "Zionism is racism." The left calls the tune, and just as the left settled in on abortion in the early 1970s and marriage redefinition in the 90s, it has now settled in on opposition to Israel–not merely the policies of its government, but its very existence as a Jewish state and homeland of the Jewish people. Do you doubt me? You can do a test of your own. Go to the center of campus at your local university and hoist a placard bearing a large blue star of David and the words "Long Live Israel!" (Notice: Please make sure your health and life insurance coverage are in good order before conducting this experiment.)
Politico detailed the Democrats' collapse on condemning anti-Semitism and Rep. Ilhan Omar's words.
[Rep. Karen Bass (D-Calif.), chairwoman of the Black Caucus], as well as Rep. Pramila Jayapal (D-Wash.), who leads the Congressional Progressive Caucus, were adamant Wednesday they would not support any resolution that specifically named Omar — something that several Jewish Democrats had privately pushed for in the resolution.

Several members from those caucuses also said they thought the measure as drafted, which did not specifically name Omar, was an unfair rebuke.

"We need to have an equity in our outrage," said Rep. Ayanna Pressley (D-Mass.), a close friend of Omar's and a member of both the CBC and CPC. "Islamophobia needs to be included in this. We need to denounce all forms of hate. There is not hierarchy of hurt."
As another Ricochet member commented: "'There is not a hierarchy of hurt.' Oh yes, there is. Grievance hierarchy is at the very core of identity politics." The Congressional Black Caucus is fully on board with throwing the Jews under the bus. Progressives are at the core of denying Jew-hatred and defending it, in part by recharacterizing Jews as "white." From Rep. Jayapal's home town, Jason Rantz asked: "Why does Seattle's Pramila Jayapal partner with an anti-Semite?"
[W]hen Congresswoman Ilhan Omar (D-MN) uses negative stereotypes and tropes to attack Jews and Israel, like she did again last week, she's a Muslim woman going after privileged white people. Many of Progressive allies don't see her attacks as anti-Semitic because we're white and, as such, we're responsible for the world's problems.

[…]

At a recent town hall event, Omar grinned when an audience member shouted "It's all about the Benjamins!"– a reference to an earlier anti-Semitic tweet she published, then pretended it wasn't meant as bigoted. While Omar grinned, Jayapal looked uncomfortable, and it seemed like she realized it was an inappropriate comment. But she didn't say anything. If she was with Trump and someone in the audience shouted a bigoted comment, would she also stay silent? I don't think so.
Rep. Pramila Jayapal is at the heart of the red-green alliance. She has been building her political capital on this game ever since 9/11. Oh, and Jayapal is squarely on the red side, not green, as she identifies religiously as Hindu. Her support for Islamists has been for reasons of intersectional political power. As John Hinderaker notes:
Ilhan Omar hates like a Democrat, and she openly expresses that hate like a Democrat. The problem is that she hates people who mostly support the Democratic Party. Not only that, by openly expressing her bigotry she has exposed an important rift among the Democrats. Like the Labour Party in Great Britain, the Democratic Party has become a haven for anti-Semites. (Actually, it has been that for a long time: see, for example, Crown Heights and "Hymietown.") Today, the fact that many Democrats don't like Jews is becoming harder to conceal. Omar has made it harder still.

I thought the House Democrats' original resolution condemning anti-Semitism, without naming Ilhan Omar, was anodyne. I thought she probably could vote for it. But that resolution, which referred only to anti-Semitism, was withdrawn by leadership, reportedly because of an outpouring of support for Omar within the party. That support didn't come from people who doubted that she is an anti-Semite–she has made that blindingly clear, repeatedly!–but rather from people who share her particular bigotry.
House Resolution 183, and Speaker Pelosi's floor speech supporting it, represent a defeat for decency and an adoption of the European posture on Israel and Jews. Indeed, it gives credence to the claim that it was Omar who was the victim of bigotry, not the purveyor. This is the line leading Democratic presidential primary contenders took:
"What I fear is going on in the House now is an effort to target Congresswoman Omar as a way of stifling that debate. That's wrong," said presidential hopeful Bernie Sanders, the Vermont independent.

"Anti-Semitism is a hateful and dangerous ideology which must be vigorously opposed in the United States and around the world," the senator said. "We must not, however, equate anti-Semitism with legitimate criticism of the right-wing, Netanyahu government in Israel."

Other Democratic presidential contenders tried to walk a similar line.

California Democratic Sen. Kamala Harris said "we need to speak out against hate." But she said she also believes "there is a critical difference between criticism of policy or political leaders, and anti-Semitism."

A statement from Sen. Elizabeth Warren of Massachusetts said, "Branding criticism of Israel as automatically anti-Semitic has a chilling effect on our public discourse and makes it harder to achieve a peaceful solution between Israelis and Palestinians." She said threats of violence, including those made against Omar, "are never acceptable."
After the U.S. House collapse in the face of blatant Jew-hatred by a Muslim woman, who faithfully represents her Somali Muslim and white secular leftist constituents, we are now plunged into a political wormhole, moving at incomprehensible speed towards convergence with European social democratic politics. The wormhole, as in a science fiction story, has been artificially generated by the power of the red-green axis.
The red-green axis has powered leftists to office in the U.S. House of Representatives. It helped power Barack Obama into the Senate and the Presidency, although he apparently believes in himself as the center of his universe and submits to no other god. Congresswoman Ilhan Omar may be the catalyst for the triumph of the red-green axis in the Democratic party.
Ilhan Omar is a poster child for the Red-Green Axis — the unholy alliance between the radical Left and terror-connected, anti-American Muslim groups. She has been supported by, and is networked with, some of its most virulent members.

On the heels of her non-apology, Omar will shortly share the stage at a Florida fundraising event with Yousef Abdallah, who has rejoiced at the murder of Jews on his social media posts. The event is sponsored by Islamic Relief USA. Quin Hillyer writes in the Washington Examiner that IRUSA "has been branded a terrorist financier by the governments of the United Arab Emirates and Israel," and that "Russian authorities, the Swiss bank UBS, the British bank HSBC, and reports by governmental entities in Germany and Sweden all have determined that Islamic Relief has supported radical Islamist organizations such as the Muslim Brotherhood."
Read the rest of this PJ Media article for a long list of additional public affiliations, at least as unsavory as these. Then consider that Ilhan Omar, immediately after her victory over those in Congress who oppose her Jew-hatred, turned her sights on the first black president of the United States. Omar did so in an interview with Politico.
Omar says the "hope and change" offered by Barack Obama was a mirage. Recalling the "caging of kids" at the U.S.-Mexico border and the "droning of countries around the world" on Obama's watch, she argues that the Democratic president operated within the same fundamentally broken framework as his Republican successor.

"We can't be only upset with Trump. … His policies are bad, but many of the people who came before him also had really bad policies. They just were more polished than he was," Omar says. "And that's not what we should be looking for anymore. We don't want anybody to get away with murder because they are polished. We want to recognize the actual policies that are behind the pretty face and the smile."
Within a day, Rep. Omar tried to claim she had been misquoted, yet this non-denial denial seems of a piece with her earlier pattern of obfuscating earlier anti-semitic comments. Consider that her attack puts Joe Biden and Michelle Obama on notice, as people talk of them being the saviors of the 2020 Democratic presidential campaign. Will Michelle Obama be ready to answer why she never went down to the border to see the kids in cages? Will Biden be ready to claim he always opposed President Obama's drone war? The marker has been put down, to the benefit of left-wing presidential candidates.
Rep. Alexandria Ocasio-Cortez strongly defended Rep. Omar, then appeared on a South by Southwest stage, where she denounced capitalism and called Reagan, and effectively all Republicans, racist. Bloomberg had the story on AOC's denunciation of capitalism (free enterprise).
"Capitalism is an ideology of capital –- the most important thing is the concentration of capital and to seek and maximize profit," Ocasio-Cortez said. And that comes at any cost to people and to the environment, she said, "so to me capitalism is irredeemable."
Ryan Saavedra, at the Daily Wire, gives us the rest of the AOC SXSW story:
"One perfect example, I think a perfect example of how special interests and the powerful have pitted white working-class Americans against brown and black working-class Americans in order to just screw over all working-class Americans, is Reaganism in the '80s when he started talking about welfare queens," Ocaiso-Cortez said. "So you think about this image of welfare queens and what he was really trying to talk about was … this like really resentful vision of essentially black women who were doing nothing that were 'sucks' on our country."

"And it's this whole tragedy of the commons type of thinking where it's like because these one, this one specific group of people, that you are already kind of subconsciously primed to resent, you give them a different reason that's not explicit racism but still rooted in a racist caricature," Ocasio-Cortez continued.

[…]

"It's just that now we've strayed so far away from what has really made us powerful, and just, and good, and equitable, and productive, and so I think all of these things sound radical compared to where we are but where we are is not a good thing," Ocasio-Cortez continued. "And this idea of like 10% better from garbage, is, shouldn't be what we settle for, it's like this like it feels like moderate is not a stance it's just an attitude toward life of like hmmm."
The red-green coalition is facilitated by the long-standing, background level, antisemitism of the party of the KKK. Jesse Jackson, and other black politicians had to abandon the moral positions of the black church to become politically relevant in the Democratic Party. See, for instance, Jackson's 1977 strong pro-life argument, and his pro-choice conversion to run for president in 1988. Yet, Jackson and Sharpton had no compunctions, and paid no real price, for spouting vile antisemitic tropes. Democratic politicians embrace the minister of hate, Louis Farrakhan.
Omar is really not that remarkable in the context of her party. Rep. Ilhan Omar has attracted a bit more attention than her peer, Rep. Rashida Tlaib, who wore a traditional Palestinian dress to her swearing-in, and took the oath of office on Thomas Jefferson's Koran. Tlaib just unfollowed a Jew-hating conspiracy theorist on Instagram on 9 March 2019, after it was publicized. She had no problem with the views of this extremist because Rep. Tlaib believes in a "one-state solution," where political control of the current state of Israel is taken from the Jews by the Muslims. Leftists who identify as Jewish must cover for and accommodate, rather than ostracize, such politicians, in marked contrast to any Republican they can smear.
So, will establishment, corporatist Republicans accommodate this leftward leap? Or will they align with the deplorables and President Trump against the real bigotry, real hate, and real danger of the left? The failure of Minority Leader McCarthy to line his caucus up and whip their speeches and votes into a solid bloc of rejection for the abominable accommodation of Jew-hatred by House Democrats is a bad sign. It should not have been left to Congressman Lee Zeldin, a Republican who is Jewish, to make the strong moral case.
H.Res.183 was spineless, watered down & filled w moral equivalency & double standards. Watch my floor speech explaining my NO vote to this resolution. Name names & remove Rep Omar from @HouseForeign. No double standards! pic.twitter.com/Rj17P6MHFI

— Lee Zeldin (@RepLeeZeldin) March 7, 2019
Senator Tim Scott (SC-Republican) seized the opportunity of Representative Steve King's knuckle-headed phrasing to hector the Republican Party from the platform of the Washington Post.
Some in our party wonder why Republicans are constantly accused of racism — it is because of our silence when things like this are said.
Now, his lack of the same level of outrage, and failure to demand that the black community acknowledge and reject Jew-hatred speaks volumes. Steve King was a safe and politically convenient target, but attacking a black woman, supported by the Congressional Black Caucus, might create problems for this moral leader of the Senate.
Waving an anti-antisemitism bill around won't do. Failing to speak against the House Democrats as clearly as President Trump is a mark of moral failing or cowardice. It is time to launch a massive series of truth bombs, saving the republic by collapsing the leftists' worm hole before they emerge in power.