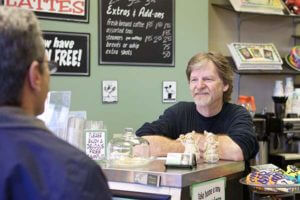 Colorado's Civil Rights Commission announced Tuesday that it will dismiss its latest charges against cake artist Jack Phillips. You might remember Phillips from his victory at the US Supreme Court last summer. With SCOTUS's backing, why on earth would the state of Colorado attack Phillips again?
The cake artist first came to prominence when he declined a custom design to celebrate a same-sex wedding in 2012. Same-sex marriages were illegal in Colorado at the time but the state's Civil Rights Commission punished Phillips anyway. After that case had proceeded for five years, the high court agreed to hear his case. That same day, an attorney demanded Phillips design another custom cake, this time to celebrate a gender transition. This same attorney also asked for a cake with satanic themes and images. In accordance with his religious beliefs, Phillips politely declined both.
After the Supreme Court ruled in favor of Phillips, the Colorado Civil Rights Commission decided to attack him on this new charge. Instead of watching another case slowly creep through the courts, attorneys at the Alliance Defending Freedom went on the offense, suing the bureaucrats for their anti-religious bias.
When you stand up to a bully, they fold. And that's just what the Colorado bureaucrats did Tuesday.
"The state of Colorado is dismissing its case against Jack, stopping its six and a half years of hostility toward him for his beliefs," said ADF's Kristen Waggoner, who argued on behalf of Phillips at the Supreme Court.
"Jack's victory is great news for everyone," she added. "Tolerance and respect for good-faith differences of opinion are essential in a diverse society like ours. They enable us to peacefully coexist with each other. But the state's demonstrated and ongoing hostility toward Jack because of his beliefs is undeniable."
Congratulations to Jack and to ADF.
Published in Law