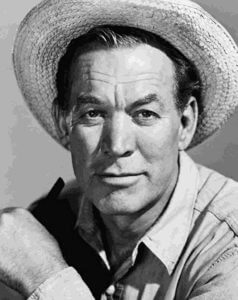 There's no real point to this post other than to briefly discuss and celebrate the career of one of the great character actors of all time — Ward Bond (1903-1960). First, I have to admit I don't know much more about Bond's life than that presented in his Wikipedia biography.
Let's see … I did know that he'd played football at the University of Southern California along with John Wayne and that he and Wayne began their acting careers when they and other USC footballers were hired by director John Ford to appear in "Salute," a 1929 movie about football. I also knew about the drinking and the conservative politics (among other things he was an early and proud member of the Motion Picture Alliance for the Preservation of American Ideals). I didn't know about the B.S. degree in engineering nor did I know that he suffered from epilepsy.
Bond and Wayne, who would remain lifelong friends, had somewhat similar career paths although with widely divergent trajectories. Wayne, after a decade or so, would rise to the peaks of stardom, while Bond, after a decade or so, would establish himself as a solid, highly sought-after character actor. Bond appeared in over 200 movies in his career, including some of the best ever made. It's likely most moviegoers of the time would not have recognized his name although they would have recognized him as soon as he appeared on screen. In any event, Bond made every movie he was in just a little bit better than it otherwise would've been.
Many of those 200-plus movie roles for Bond were quite small — a scene or so, a line or so. However, he also had his share of meaty roles and he made the most of them. He has a large role in John Ford's The Searchers as Rev. Captain Samuel Johnson Clayton and he owns this scene:
He had a much smaller role in the 1934 Academy Award Best Picture winner It Happened One Night:
Did I mention that Bond was a member of what came to be called the John Ford Stock Company? He appeared in 22 Ford movies (John Wayne appeared in 24). Looking at the list, I'm surprised that Jane Darwell only has a seven next to her name. Seemed to me she was in many more than that.
OK, back to Bond. Let me show a couple more scenes featuring Mr. Bond in a John Ford picture. First up, from 3 Godfathers.
Next, a scene from The Quiet Man:
He played boxer John L. Sullivan in the Errol Flynn vehicle Gentleman Jim:
I was hoping to include a scene from The Wings of Eagles in which Bond plays fictional movie director John Dodge (a thinly veiled portrait of Bond's movie benefactor and long-time tormentor Ford) but I couldn't find a clip. This still from the movie will have to do. I'll bet he had fun with this part!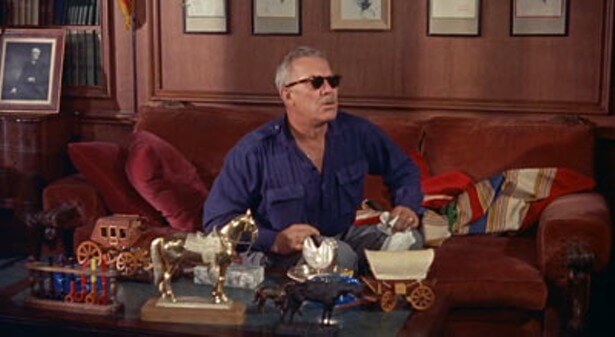 Bond would become most famous to the American public by his starring role in the TV western "Wagon Train" from 1957 through his untimely death by heart attack in 1960 at age 57. Below, I've included an episode from the show's first season featuring Charles Laughton. It lasts about 50 minutes.
.
Published in General