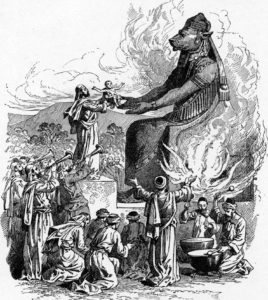 A recent meeting of the DNC Planning Committee for the 2020 Democratic Party Convention was held at the Marriott Marquis Hotel in Washington, DC. The planning committee discussed the various attributes and logistical challenges of finalist cities in the running to host the convention, as well as other topics on proposed stage designs, the size and shape of the speaker's podium, and the placement and material to be used for the statue of Moloch where the live human child sacrifice would take place.
There was final agreement that it was necessary that the statue be much more solid and impressive than the ancient Greek temple backdrop for Barack Obama's 2008 acceptance speech at Denver's Invesco Stadium but also be made of recyclable materials and definitely not plastic which could end up further polluting the oceans.
One innovative idea was offered up that the statue incorporate an animatronic mechanism that would move its arms to receive and then hold aloft the newborn child before the sacrifice took place. Some on the planning committee voiced concern that such a mechanism would have to be tested with live infants during rehearsals prior to the live telecast to make sure that the "living" statue wouldn't accidentally drop the child before it crushed it to death and to make sure that cameras around the convention center had optimal viewing angles to telecast the sacrifice.
After confirming with a representative of Planned Parenthood that locations in each finalist city would be happy to provide the necessary newborns for the rehearsals and the final televised sacrifice; and after a Hollywood production company was chosen to construct the Moloch statue, the meeting was adjourned. Every member of the committee seemed quite pleased that they had made some substantial progress.
The preceding may be satire…or not.