I've written various professions of my love for Bernie Sanders in the past – all, sadly unrequited – but things are quickly ratcheting up in the hunka-hunka Bernin' love department.
So, without further ado, let's just get this out of the way: Bernie Sanders will be the Democrat nominee for President in 2020. To say that this is good news for me in terms of my recommended daily intake of humor does the situation no justice.
Why do I think Bernie will emerge victorious? Math, essentially. You see, I've learned my lesson from 2016 where I posited the "Trump Ceiling" effect; the notion that Donald Trump's support within the party was essentially capped at around 40%. I think I was right about that – Trump got about 45% of the total Primary Vote against a highly fractured field, but that turned out to be more than enough when there are 16 other clowns in the car with you.
The same situation is currently befalling the Democrats.
A panoply of other reasons contribute to Bernie's inevitable victory as well. The well-worn chestnut of American Politics is that the Republican party always nominates "the next man up" in its national primary contests – indeed, when you examine history, the second-place candidate of the party frequently captures the Nomination in the subsequent open Presidential election. Reagan, Bush 41, McCain and Romney are all the most recent examples of this phenomenon. But until recently, that hasn't been the case with the Democrat party.
Now, it's the Democrats who are in the business of nominating the "next man…" or woman as the case may be. Hillary Clinton and now Bernie Sanders are both alike in their having come in second place in their party's prior Presidential nominating contest… and amateur observers should take note of who comes in second place this time as well. His 2020 announcement essentially caused a catharsis among his small, but dedicated cadre of followers, who collectively gifted $6 million to the Junior Senator from Vermont. Why are they so loyal, and eager to give their money to a man who owns 3 houses?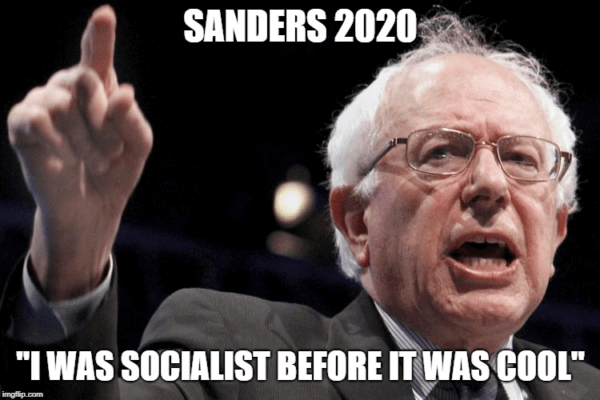 This, in a nutshell explains why Bernie will win… even if he has about 35% of the vote by the time all is said and done. Socialism is so hot right now. All of the hipsters are into it, and Bernie's cred in this sphere is so deep that he doesn't even have to explain it in order to win the "woke" primary. The man honeymooned in Soviet Union while thousands starved in Gulags. That's authenticity that pansy statements about transgenderism, wealth inequality and 70% tax rates just can't touch.
Next, you have the primary map itself, which is heavily favored towards Bernie. In Iowa, Bern earned a virtual tie with Hillary Clinton in 2016. It's arguable that Bernie's popularity there was a function of his being not-Hillary, but it's impossible to discount the notion that name recognition alone will carry him across the finish line in the Caucuses.
Next, the map shifts to New Hampshire… which conveniently sits next to Bernie's home state of Vermont. Bernie won there in 2016 by a count of 60/40 over Clinton. Advance polling in the "Live Free or Die" state puts Bern up by 15% over the next most popular Democrat that has announced, Kamala Harris. Joe Biden doesn't count. He isn't running.
Not that it matters, really. Did you notice something here as well? Over 50% of New Hampshire Democrats prefer candidates that fit the definition of being "old white guys." This forms the leg of my final argument regarding why Bern will win.
Strangely, I think the fact that Bernie's old whiteness is going to be an asset in the 2020 campaign. Democrat voters – well, a significant portion of them – are in many ways just like us. They're sick of being condescended to and called names (Racist, Sexist, Bigot, Homophobe) and they also want somebody whom they believe can take on Donald Trump at a visceral level. Bernie accomplishes this goal by being the same thing as Trump: an irascible old coot who doesn't care what you think about him. That sort of toughness and unwillingness to budge in the face of pressure from whiny wheedlers on the left flank of the party are going to be a talisman that wins him what's left of the Democrat party's center.
The other candidates in the race are tripping one another in their attempt to win the "woke" primary, but Bernie is just going to be able to look up at them from over those Coke bottle bottom glasses and ask: "What took you guys so long? I've been here for 30 years!"
The future for the Democrat party is going to be awesome. Their nominee is going to be 78 years old should he win the contest. A doddering socialist with one foot in the grave; a man who isn't even a member of their party will be the archon for Democrats in 2020.
A more fitting epitaph for a political movement is hard to envision.