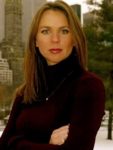 Lara Logan's outspoken comments in recent days regarding the biased media and the death of journalism came and went quicker than a lightning bolt. Yet this flash of light lingered long enough to spark a fire. Her comments were read across conservative radio, highlighted in the Washington Examiner, and talked about on Fox News. When I heard that she spoke out, claiming to commit journalistic suicide, my ears perked up. She called the left-wing media propagandists.
"Former CBS News foreign correspondent Lara Logan said, "responsibility for fake news" begins with journalists as she berated the "liberal" media in a recent interview. "The media everywhere is mostly liberal," Logan said during a podcast with retired Navy SEAL Mike Ritland on Friday. Logan, who said the interview was "professional suicide for me," also blamed the media for not pursuing objectivity anymore, arguing journalists have evolved into "political activists.
I have been a fan of Ms. Logan for some time. Her journalistic passion for truth was evident in an outstanding investigation which aired on 60 Minutes, October 14, 2015, called The Hidden Holocaust.
The story unfolds with an Italian priest named Father Desbois, who uncovered a mass grave of buried Jewish bodies in Ukraine, deliberately covered up, unmarked forgotten earth, lying silent since The Cold War. This priest followed and recorded lead after lead, interview after interview, and when he found the truth, revealed it to the world. Lara Logan brought this previously untold story to the forefront when no one else did. As she talked to the priest, they paralleled this genocide to the Christians being slaughtered by ISIS in the Middle East and across the world. He received a distinguished human rights award for his work, presented to him by Lara Logan.
I Googled Lara Logan's name and found mud. Only one link came up and that was her recent interview. The rest were about her earlier dismissal from CBS in 2013, regarding factual errors revealed in a story she presented on Benghazi, also on '60 Minutes'. She said she was misled on some of the facts and profusely apologized for the error, yet was still fired. Imagine that? She made a mistake in reporting a story and was fired. Obama still reined and anyone that questioned the handling of Benghazi was quickly put in their place.
Logan hails from South Africa, but her young career spans the globe. Her resume is nothing to sneeze at, filing reports on the sexual assaults going on during the Mubarak uprisings in Egypt while in the middle of the protests, and criticizing the Obama administration more than once regarding foreign policy decisions, where she saw the fallout first hand. Logan has lived and worked in the thick of war, telling Sean Hannity last night, that one convoy that both she and Heraldo Rivera were in, was attacked. Lara made a decision to scale back the extent of the danger zones that she covered when she became a mother.
"In October 2012, Logan delivered a speech before the annual luncheon of the Better Government Association in which she sharply criticized the Obama Administration's statements about the War in Afghanistan and other conflicts in the Arab world. In particular, Logan criticized the Obama Administration's claims that the Taliban was weakening in Afghanistan, calling such claims "a major lie" made in preparation for ending the U.S. military role in that country. "
Logan was hired back on '60 Minutes' and continued to document from the trenches, those dark places where men and angels fear to tread. Her reporting is engaging, sensitive, and riveting. I hope the talented Lara Logan, who to me is a champion for truth, is picked up by a media outlet that appreciates this kind of old-school journalism: boots on the ground, face-to-face, no matter how challenging, no matter the topic, digging for truth, a voice for our day and time willing to risk a job, to call out the unprofessional and biased press that we are witnessing today.