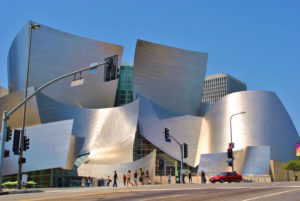 A recent comment by Ricochet member extraordinaire James Lileks discussed an article from Forbes which stated "Frank Gehry, the world's most famous architect, recently said that "98% of everything that is built and designed today is pure [crap]. There's no sense of design, no respect for humanity or for anything else."*
The Forbes article continues with "insulated architects are "increasingly incapable … of creating artful, harmonious work that resonates with a broad swath of the general population, …this has been a problem for over forty years, and that things are even worse today." The article also shows a pretty "Katrina cottage" vs. another modern monstrosity in New Orleans. As we have little power over what's chosen by politicians, we can (still) choose our residence to reflect both our needs and wants.
When I was young, I enjoyed drawing superhighway exchanges and houses, so I thought of becoming either a Civil Engineer or an Architect. My older cousin went to a special four-year program at Michigan State University in Architecture Engineering but then became an Urban Planner instead. After I graduated with a Computer Science degree in Engineering, my Architect dream never faded, and within ten years I designed the first of two houses.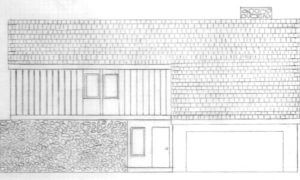 I spent many nights and weekends not only drafting plans but also learning about all the subsystems (Electrical, Plumbing, Heating/Air Conditioning, etc.) and construction details. The two-story house was "solar ready," with a 45-degree pitched roof on the south side and three bedrooms upstairs. The first floor had a bedroom/office with a full bathroom for guests or special needs. The downstairs Family Room and upstairs Master Bedroom both had a fireplace within a common wall. For the façade, I found a modern design with an extended stone wall (a required covenant) to help hide the outside air conditioner unit. After making mistakes on the first house, I returned six years later with a bigger house and better floor plan, and tackled designing the façade. It was also "solar ready," trying to anticipate future modifications.
Like fashions, house designs go through fads. In the 1970s, houses had intercom systems that played music and also incorporated the doorbell. Upscale, one-story houses in Texas included "conversation pit" in front of the fireplace. Frank Lloyd Wright developed this idea before World War II, but it wastes space by being inflexible. Since then, we've gone through the McMansion stage, where people buy the biggest house to sell later at a profit. The present Open Floor Plan (Kitchen, Dining, Family) tries to compensate for smaller houses, but it mimics the 1930s Usonian homes of Frank Lloyd Wright and others. In my daughter's apartment, the noise from the kitchen made it difficult to listen to the TV or read a book, so another enclosed room is still needed.
If you want help designing your home, I recommend reading the following:
A Pattern Language "The wonderful places of the world were not made by architects, but by the people."
I especially liked the first book, as it gives templates such as a "sheltered entrance with a sitting space" (e.g. a short wall) as an example. In Georgian architecture, the "five (widows) over four with a door" is pleasing, but it doesn't have an entry sitting space and sometimes not even a roof for the rain. Georgian designs work in London's tight city streets by reducing the exterior entry space.
The second book was written by an architect who adds functionality with less space. Because so few homes are custom designed, her experience tends to be very upscale. From Goodreads with a positive and negative comment:
What a concept. Small is beautiful. And yet we continue to build MacMansions. This book made me rethink what I want and need in daily living. I guess I am not alone because Susanka has spun off about a dozen books reflecting this sensible concept. "Return to Simplicity" is now my mantra.

The biggest challenge was the totally open floor plan, with kitchen, living room, and dining room all in one rectangular space that didn't lend itself to built-in dividers such as ceiling beams or bookshelves;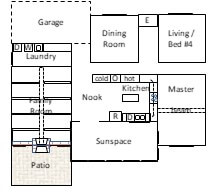 Even after designing two houses, I still have the bug and have purchased a half-acre lot. The present design is focused around a south-side sunspace. The main rooms (Family, Room, Nook, Kitchen, and Master Bedroom) share solar heat in the winter and cross ventilation during the summer. The small Living Room is isolated using doors and can become a fourth bedroom. Removable panels allow Dining Room adults visual contact with children in the Nook, with hot and cold food areas around the oven. It's designed to be Americans with Disability Act (ADA) ready, with the large lot and "reasonable" size/cost appealing to young families.
Do you have comments on good/bad house designs throughout the years? Is a smaller house with more architecture details better than more space? Do you think the Open Floor Plan is a fad again?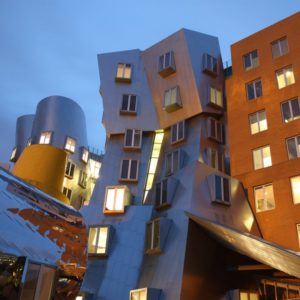 * Gehry's designs like the Walt Disney Concert Hall above (one of his "best") still put him in the 98 percent yuk category. Gehry's design method has been satirized as "dropping sugar cubes on the floor, throwing water over them until they mold into an interesting shape" and then drawing the result, as shown in the Massachusetts Institute of Technology building on the right. In Architecture, form follows function is not an absolute, but it is a good starting point.